Market Overview
According to Reed Intelligence the Accessories for Commercial Door Operators Market will approximately grow at a CAGR of 4.7% during the forecast period.
Company doors may benefit from a range of additions that increase their usability, convenience, and security. The market is driven by factors such as the increase in the construction of commercial buildings, the emphasis on security and safety, and the use of automation and smart technologies. The need for accessories is being driven by the increase in industrial buildings, warehouses, and shopping malls, where efficient and secure door operations are essential. Remote access systems and other safety accessories make commercial doors simpler to operate and monitor. Safety gear is necessary to uphold safety standards and prevent mishaps.
The industry has also benefited from technological advancement. The Internet of Things (IoT) integration with smart buildings has the advantages of centralized administration, automation, and remote access. By enhancing security standards and optimizing processes, businesses may gain from this.
Market Dynamics
Market Drivers
The focus placed on safety and security by commercial organizations is driving the need for accessories that enhance door security features. Access control systems, modern locking systems, and surveillance integration are accessories that may assist create a secure environment for personnel, customers, and assets.
The use of automated and intelligent technologies in commercial buildings is growing, which has boosted the need for equipment that complements commercial door operators. The remote control, monitoring, and automation capabilities offered by these accessories increase the practicality and operational efficacy of the system.
Market Restraints
Some businesses, especially those with limited resources, may not be able to afford the cost of commercial door operator accessories. These accessories' widespread use may be restricted in certain cases due to the high initial investment, installation, and maintenance costs.
Compatibility and Integration Issues
Some commercial door operator accessories could have compatibility and integration issues. Their widespread usage is limited by the potential difficulty and length of time involved in retrofitting older doors or guaranteeing faultless compatibility with different brands and types.
Market Opportunities
Existing commercial doors may gain from the addition of features to boost use, security, and energy efficiency. By substituting outmoded systems with modern add-ons, businesses wishing to enhance their door operations may discover affordable solutions.
Demand for Energy Efficiency
As energy efficiency and sustainability gain importance in commercial buildings, opportunities for promoting accessories expand. The employment of intelligent controllers, insulating accessories, and energy-efficient sensors may save energy usage and running expenses.
Market Scope
Report Metric
Details
Market Size by 2031
USD XX Million/Billion
Market Size in 2023
USD XX Million/Billion
Market Size in 2022
USD XX Million/Billion
Historical Data
2019-2021
Base Year
2020
Forecast Period
2023-2031
Report Coverage
Revenue Forecast, Competitive Landscape, Growth Factors, Environment & Regulatory Landscape and Trends
Segments Covered

Segmentation By Type

Safety Devices
Wall Controls

Segmentation By Application

Garage
Warehouse

Geographies Covered

North America
Europe
APAC
Middle East and Africa
LATAM

Companies Profiles

Chamberlain Group
Overhead Door
Raynor Garage Doors
FORESEE
Sommer
Nice
B&D
Nortek Control
Guardian
SUPERLIFT
PowerMaster
Manaras-Opera
Segmental Analysis
Segmentation By Type
Remote Access - Remote control
With the aid of the accessories offered by this industry, storefront doors may be controlled and seen remotely. Some examples of remote access technologies include mobile apps, wireless transmitters, and key fobs. Users now have the quick and simple ability to unlock doors while still outside of them.
By adding safety features, this series of accessories enhances the security features of commercial doors. When a door is being opened, safety features like photoelectric sensors, safety edges, and infrared beams may detect obstructions and prevent accidents or damage.
This group of accessories comprises devices that let you keep an eye on and regulate the entrances of neigh boring businesses. Using wall control panels or switches that are mounted on the wall, users may open, close, or stop the action of the door in the immediate vicinity.
Segmentation By Application
In this application field, "garages" refers to machinery used in parking garages, auto repair shops, and other commercial garages. Garage door accessories may enhance performance and address security problems. Examples include wall controls, safety equipment, and tools for remote access.
Commercial warehouse door accessories are designed to improve productivity and security. Remote access devices make it simpler to enter and exit a busy warehouse, while safety precautions help to avoid accidents. Wall controls provide centralized administration for efficient operation.
Regional Analysis
The Global Accessories for Commercial Door Operators Market is segmented by region as North America, Europe, Asia Pacific, Latin America, and Middle East and Africa.
The market is established and well-served in North America, which is home to a large number of warehouses and retail locations. The need for accessories like safety devices and remote access systems is influenced by the region's strict safety rules and security requirements. Innovative construction methods and technical improvements allow for the inclusion of contemporary modifications that improve security and comfort.
The market for commercial door operator accessories is sizable in Europe. The area places a high priority on sustainability, building safety, and energy efficiency, which raises the need for accessories that adhere to these standards. The current large manufacturing facilities and warehouses support an expanding market. Opportunities for high-tech accessories that interact with building automation systems are created by the movement toward smart cities and intelligent building systems.
The development of e-commerce and commercial building have been the main factors contributing to the enormous expansion of the accessories industry in Asia and the Pacific. Commercial door operator accessories are being used increasingly often in China, India, and Japan as corporate areas and warehouses expand. The region's emphasis on smart building technologies and the need for effective logistics systems are driving market progress.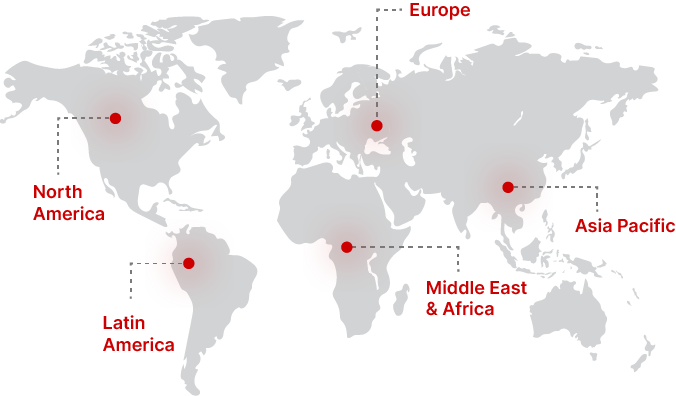 Regional Growth Insights
Download Free Sample
Key Players
Chamberlain Group
Overhead Door
Raynor Garage Doors
FORESEE
Sommer
Nice
B&D
Nortek Control
Guardian
SUPERLIFT
Manaras-Opera
Recent Developments
Additional Safety Features: Accessories that emphasize safety have been developed to ensure that commercial doors operate safely. Self-monitoring systems, obstacle-detecting sensors, and emergency release mechanisms are a few examples.
Accessories for Commercial Door Operators Market Segmentations
Segmentation By Type
Safety Devices
Wall Controls
Segmentation By Application
Frequently Asked Questions