Market Overview
The Global Air Core Inductor Coils Market Size is projected to grow at CAGR of approximately 3.5% during the forecast period.
An air core inductor is a wire coil without a solid core within.Air core inductors may have their inductance changed by increasing or lowering the number of circuit turns by using sliding contacts or many taps. An inductor is a passive electrical device that stores a magnetic field as energy; its power is determined by its inductance. They have a broad range of industrial usage in sectors including electricity, automotive, military & defense, RF & communications, and consumer electronics.
Market Dynamics
Market Drivers
Increased Demand for Air Core Inductor Coils

Technological Advancements in Air Core Inductor Coils

Government Regulations & Policies
Market Restarints
Inductors are often made of iron, copper, and ferrite due to properties including strong electrical connections and large power losses. Because of the metal's superior mechanical and thermal characteristics, copper coils are employed. This is an everyday basic material used to make inductors.
Market Opportunity
Electric car production has recently expanded dramatically and is expected to continue to do so in the years to come. In addition, the development of electronic vehicles has accelerated dramatically. As more people switch to driving electric vehicles, the usage of linked vehicles and enhanced driver assistance systems will become more widespread, which will raise the need for electronic components.
Market Scope
Report Metric
Details
Market Size by 2031
USD XX Million/Billion
Market Size in 2023
USD XX Million/Billion
Market Size in 2022
USD XX Million/Billion
Historical Data
2019-2021
Base Year
2022
Forecast Period
2023-2031
Report Coverage
Revenue Forecast, Competitive Landscape, Growth Factors, Environment & Regulatory Landscape and Trends
Segments Covered

Segment by Type


Air Core
Organic Material
Ceramics

Segment by Application


Consumer Electronics
Vehicle Electronics
Communications Industry
Industrial Application

Geographies Covered

North America
Europe
APAC
Middle East and Africa
LATAM

Companies Profiles

AVX
Wurth
Sagami Elec
Dayton Audio
Jantzen Audio
Mundorf
Coilcraft Inc.
ERSE Audio
Automated Industrial Motion
Segmental Analysis
Segmentation By Type
Air-core transformers, which are constructed of two or more coils wound around a solid insulating material or a coil-shaped insulator, are used to transfer the currents required for radio transmission. Iron-core transformers operate similarly in the audio frequency region.
Impedance-matching transformers are used to match the impedance of a source to its load for the most efficient energy transfer. Isolation transformers are often needed to unplug a piece of equipment from the power supply safely.
The organic food market in America is the one that is expanding the quickest. Sales of organic food increase by double digits annually, above the sector's average growth rate. An original research that has now been shown to be reliable establishes a connection between organic farming and economic well-being. In order to determine how these organic hotspots affect important county-level economic indicators, this study first identifies 225 counties in the United States that are located in organic hotspots - counties with high levels of organic agriculture production that have nearby counties with high organic activity. Organic Hotspots increase family incomes and lower poverty rates more quickly than both general agricultural activities and even substantial anti-poverty interventions.
Clay, earthy materials, powders, and water combinations in the proper forms are often used to mold ceramics. After being created, the pottery is next heated to a high temperature and burnt. Glazes are often used to coat ceramics because they resemble beautiful, impervious paint.
An example of an inorganic, nonmetallic material that is necessary to our everyday lives is ceramics. The techniques that may be utilized to produce these items are developed by ceramic and materials engineers, along with new forms of ceramic goods and a variety of applications for ceramic products in daily life.
Segmentation By Application
Consumer electronics are among the goods that are most often used worldwide. Devices used for non-commercial reasons are known as consumer electronics. The worldwide consumer electronics industry has seen phenomenal development as a result of the residential sector's growing adoption of a larger range of consumer electronics. Manufacturers are expanding their attention on giving customers exceptional experiences while also making significant expenditures in integrating different digital technologies into consumer electronics goods. The decrease of electrical items is a rapidly spreading trend worldwide. Electronics that are small and light are becoming more and more popular with customers. The worldwide consumer electronics industry has grown as a result of the use of small electric components.
Automotive electronics refers to all electronic components found in cars, such as the radio, car computers, telematics, in-car entertainment systems, and engine controls. Trucks, motorbikes, off-road vehicles, and other internal combustion-powered equipment like forklifts, tractors, and excavators also include ignition, engine, and transmission electronics. Both hybrid and electric cars have similar components for controlling important electrical systems.
Only a few of the many different sorts of industrial applications include process control, factory automation, energy management, and application. Process control is used in the nuclear, petrochemical, chemical, and food industries. Big data systems and machine numerical control are two examples of industrial automation applications. Additionally, to roads, ports, trains, and distribution, control is used in the transportation of gas and oil.
Regional Analysis
The Global Air Core Inductor Coils Market is segmented by region as North America, Europe, Asia Pacific, Latin America, and Middle East and Africa.
Asia-Pacific
Asia-Pacific accounted for around 37% of the worldwide market, according to the regional analysis of the global inductor industry. Additionally, it is anticipated that the Asian market would probably continue to dominate for a while. Manufacturers of consumer electronics are known to be heavily concentrated in this area.
North America
With around 28.93% of global sales, the North American inductor market is the second-largest after the Asia-Pacific region. The rapid expansion of industrial automation, the rising popularity of smartphones and tablets, and the existence of an already well-established ICT industry are the main factors driving this market's development.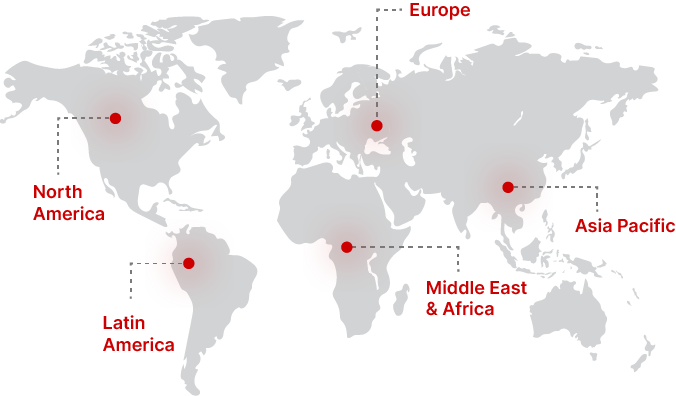 Regional Growth Insights
Download Free Sample
Key Players
AVX
Wurth
Sagami Elec
Jantzen Audio
Mundorf
Coilcraft Inc.
ERSE Audio
Automated Industrial Motion
Recent Developments
Feb. 20, 2022 Bourns Inc. increased the mechanical resistance for difficult vibration application scenarios with the advent of two new automotive-grade high current shielded inductors series. The broader side terminal lead frame of shielded inductors from the Model SRP1038WA and SRP1265WA series can endure peak vibrations. The two series have a compact packaging, excellent temperature stability, a working temperature range of -55 to + 165 °C, a high saturation current, silent operation, a low buzz noise, a low DC, a low DC resistance, and a low DC voltage. For power management and EMI filtering in a range of consumer, automotive, industrial, and telecom electronics applications, these inductors are ideal.
Air Core Inductor Coils Market Segmentations
Segment by Type
Air Core
Organic Material
Ceramics
Segment by Application
Consumer Electronics
Vehicle Electronics
Communications Industry
Industrial Application
Frequently Asked Questions