Market Overview
The Global Aluminium Enclosure Resistor Market Size is projected to register a CAGR of approximately 10.3% during the forecast period 2023-2031.
In terms of security, weather resistance, and vibration resistance, the aluminium enclosure resistor outperforms the common porcelain frame resistor. It functions well under a variety of circumstances and is frequently employed in the return circuits of power sources, transducers, and servo systems. You can rapidly add an additional heat radiator to it, and it's simple to assemble in a way that prevents air from getting inside. It is a lovely component that functions nicely with electricity and electronics. It is simple to install, tighten, and connect the radiator with this aluminium enclosure resistor, making it ideal for electrical and electronic applications.
The expansion of this industry is being observed across multiple geographical locations, primarily driven by the remarkable capabilities exhibited by these resistors. Furthermore, the substantial reliance of numerous enterprises on these resistors has also contributed significantly to the industry's growth trajectory. The expanding automotive industry, coupled with the increasing demand for energy-efficient electrical equipment, has led to a notable expansion in the aluminium enclosure resistor market. This growth can be attributed to the wide range of industries that benefit from automotive applications, thereby driving the need for such resistors.
Market Dynamics
Market Drivers
Excellent Thermos Management and Durable With Lightweight
Aluminium casings, due to their high thermal conductivity, enable efficient heat transfer, thereby facilitating rapid heat dissipation by resistors. In the context of applications characterized by high heat generation and substantial electricity consumption, the aforementioned feature assumes paramount importance. Resistors exhibit enhanced longevity and serve as a safeguard against potential damage to sensitive electrical components by virtue of their commendable heat regulation capabilities. Aluminium enclosures have been found to exhibit a high degree of effectiveness in mitigating electromagnetic interference (EMI). This capability enables the safeguarding of adjacent electronic systems or equipment against the detrimental effects of electromagnetic waves. The implementation of this measure ensures the provision of a secure operational environment for sensitive equipment. Industries that necessitate adherence to electromagnetic compatibility (EMC) standards, including automotive, aerospace, and telecommunications sectors, prioritize the implementation of electromagnetic interference (EMI) shielding measures.
Increasing Demand For Electric Devices With Efficiency
The demand for resistors, including metal enclosure resistors, has witnessed a proportional growth alongside the increasing reliance on electronic devices across various industries. Resistors find extensive applications across diverse industries such as consumer electronics, telecommunications, automotive, industrial automation, and green energy systems. Their primary function is to ensure circuit protection, regulate the flow of current, and process signals. The increasing need for electrical equipment has led to a significant surge in the demand for aluminium enclosure resistors. In light of the growing importance of energy efficiency and sustainability, businesses are actively pursuing components that can effectively reduce power consumption while simultaneously improving overall performance. Aluminium enclosure resistors play a crucial role in promoting energy conservation through their ability to facilitate efficient heat dissipation, thereby ensuring the sustained efficiency of electrical machinery while simultaneously minimizing power loss.
Market Restraints
Increasing Environmental Concerns and Competition From Other Materials
The potential growth of metal enclosure resistors in the market may face obstacles due to environmental concerns. The process of aluminium production necessitates a substantial amount of energy and has the potential to contribute to the escalation of greenhouse gas emissions. The growing emphasis on environmental regulations, sustainability targets, and the heightened focus on eco-friendly practices has the potential to drive a surge in the demand for materials that possess reduced environmental impact. Aluminium enclosures are engaged in a competitive landscape with enclosures made from composite materials, plastic, and stainless steel. It is important to note that each material possesses distinct characteristics that render them suitable for a wide range of applications across various industries and sectors. The potential decrease in demand for aluminium enclosures in the resistor market could be attributed to the increased availability of alternative options.
Market Opportunities
Increasing Automotive Sector
The growing demand for electronics and advanced driver assistance systems (ADAS) in the automotive industry is expected to create favorable opportunities for aluminium enclosure resistors. Resistors play a crucial role in ensuring the efficient operation of control elements, power management, and safety systems within automotive applications. Aluminium covers have demonstrated exceptional performance in automotive applications due to their advantageous characteristics, namely their lightweight nature and remarkable heat management capabilities.
Market Scope
Report Metric
Details
Market Size by 2031
USD XX Million/Billion
Market Size in 2023
USD XX Million/Billion
Market Size in 2022
USD XX Million/Billion
Historical Data
2019-2021
Base Year
2022
Forecast Period
2023-2031
Report Coverage
Revenue Forecast, Competitive Landscape, Growth Factors, Environment & Regulatory Landscape and Trends
Segments Covered

Segment by Type

Wirewound
Foil Resistors

Segment by Application

Industrial Controls
Motor Controls and Drives
Power Supplies
Medical Equipment

Geographies Covered

North America
Europe
APAC
Middle East and Africa
LATAM

Companies Profiles

Arcol Resistors
TE Connectivity
Vishay
Eagtop
Yeso
Thunder Components
Shenzhen Sikes Electric
Spohn & Burkhardt
MF Power Resistor
Michael Koch
Shanghai Sanyu Industry
Anaren
AVX
KEMET
Murata
Segmental Analysis
Segment by Type
Wirewound resistors are a popular type of resistor that has an aluminium enclosure. To create them, a non-conductive core, often formed of a metal like nichrome or constantan, is encircled by a resistive wire. The wire is then enclosed in a metal container and given a protective coating. The high precision, low temperature coefficient, and capacity for handling large power loads distinguish Wirewound resistors.
Another kind of resistor that is enclosed in an aluminium casing is a foil resistor, also referred to as a metal foil resistor. They are created by coating a ceramic substrate or another non-electroconductive material with a resistive alloy, such as nickel-chromium or tantalum nitride. A thin metal plate serves as protection for the resistive element, which is housed in an aluminium enclosure. Foil resistors have excellent accuracy, minimum noise, and excellent stability.
Segment by Application
In industrial control systems, a number of resistors with metal enclosures are employed. These systems are frequently employed in industrial settings to manage and regulate machinery, apparatus, and procedures. Industrial control screens can employ resistors with aluminium enclosures to alter the speed of motors, regulate temperatures, and regulate the quantity of power.
Motor Controls and Drives
Aluminium enclosure resistors are necessary for the operation of motor controllers and drives. They are employed in motor control circuits to restrict or regulate the flow of current, safeguard motors against excessive power or current, and enhance motor performance. Electric motors' speed, torque, and direction are all managed via motor drives. They frequently have resistors with aluminium enclosures for precise control and security.
Power supply applications use resistors with an aluminium housing. Resistors are frequently required by power sources to regulate voltage, current, or the amount of power lost because they alter how electrical energy is used. Aluminium enclosure resistors can be used in power supply circuits to ensure that power is delivered steadily and dependably to a variety of equipment and systems, including electronics, telecommunications, and automotive electronics.
Metal enclosure resistors are also used in medical equipment. These resistors are utilized in a variety of medical systems and devices, including patient monitoring equipment, diagnostic tools, imaging equipment, and treatment equipment. By providing precise and accurate resistance values in crucial circuits, they are utilized to ensure that medical equipment operates properly and keeps patients safe.
Regional Analysis
North America
In North America, the market for resistors with aluminium enclosures is established. Resistor-using industries are widely spread throughout the area, including those in the automotive, electronics, renewable energy, and industrial automation sectors. The need for aluminium enclosure resistors is fueled by the rising popularity of electric vehicles, the expansion of renewable energy installations, and the existence of well-established producers and suppliers.
Europe
The European market for aluminium enclosure resistors encompasses various sectors, including automotive, industrial automation, telecommunications, and renewable energy. Italy, France, Germany, and the United Kingdom are prominent nations known for their significant production and utilization of resistors. The utilization of aluminium enclosure resistors holds promising potential across diverse industries due to the region's strong focus on energy efficiency, renewable energy, and advancements in electronics technology.
Asia-Pacific
The Asia-Pacific region holds considerable market potential for aluminium enclosure resistors, primarily driven by its rapid industrialization, expanding consumer electronics market, and the presence of crucial production hubs. The company considers India, South Korea, China, and Japan to be pivotal markets in its strategic operations. The burgeoning growth of the local automotive sector, coupled with the increasing adoption of renewable energy sources and the ongoing improvements in infrastructure, is expected to have a profound impact on the market for aluminium enclosure resistors. As a result, a substantial surge in demand for these resistors is anticipated in the foreseeable future.
South America
The demand for aluminium enclosure resistors in South America is increasing due to a number of causes. Automobile, renewable energy, and electronics are among the industrial areas that Brazil, Argentina, and Chile are developing. These industries require durable resistors housed in aluminium castings for a range of applications. The improvement of infrastructure, the promotion of energy efficiency, and the expansion of renewable energy projects are all factors in South America's market expansion.
Middle East and Africa
The Middle East and Africa regions exhibit promising growth prospects for the metal enclosure resistor industry. The aluminium enclosure resistors demonstrate a favorable outlook owing to the substantial investments made in renewable energy initiatives, expansion of the industrial sector, and infrastructural development within the region. South Africa, Saudi Arabia, and the United Arab Emirates have emerged as prominent regional markets within their respective geographical areas.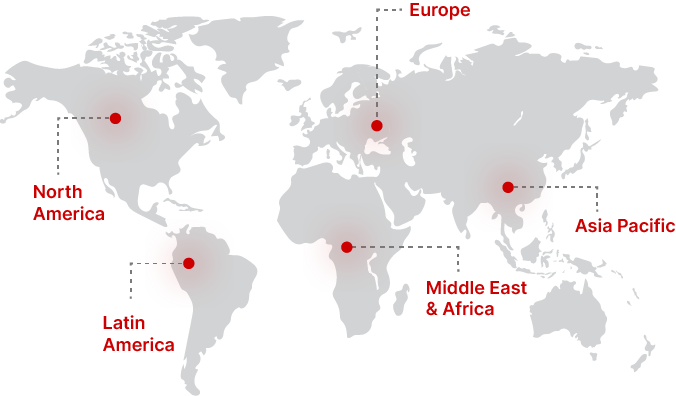 Regional Growth Insights
Download Free Sample
Key Players
Arcol Resistors
TE Connectivity
Eagtop
Yeso
Thunder Components
Shenzhen Sikes Electric
Spohn & Burkhardt
MF Power Resistor
Michael Koch
Shanghai Sanyu Industry
Anaren
AVX
KEMET
Murata
Recent Developments
10 June 2022 - TE Connectivity, a prominent global technology company, recently completed the acquisition of Kamron Ltd., a notable manufacturer specializing in the production of gaskets and seals.
Aluminium Enclosure Resistor Market Segmentations
Segment by Type
Segment by Application
Industrial Controls
Motor Controls and Drives
Power Supplies
Medical Equipment
Frequently Asked Questions