Market Overview
The Global Banana Puree Concentrate Market Size is projected to grow at a CAGR of approximately 6.27% during the forecast period.
Over the next years, it is anticipated that the banana puree industry would continue to grow considerably. Banana puree is made by blending bananas into a soft, thick pulp. It is a great source of potassium and contains a lot of dietary fiber. These elements included in banana puree help consumers keep a healthy heart by lowering their risk of heart issues.Additionally, it helps to maintain the body's water balance and regulate the levels of acidity and blood pressure. These factors are promoting the growth of the market for banana puree and the food and beverage industries. Market growth is constrained by the limited shelf life of bananas and banana puree.
The COVID-19 has an impact on a variety of industries, but it has the greatest impact on the food and beverage industry since it caters to consumers' fundamental requirements.
There has been an increase in the market for immune boosters, of which banana puree is one since people were so concerned about their health during the outbreak.
The COVID-19 problem has forced the economies of the majority of countries to halt their operations, but as a consequence of the lockdown and closure of the industries and plants, the production of banana puree has decreased.
People are in a panic as a result of the pandemic's widespread temporary closure of retail establishments, which has raised demand and sales of convenience items including bakery, confectionery, and baby-friendly meals. As a result, these applications help the market for banana puree and other foods and beverages have bigger and better futures.
Market Dynamics
Market Drivers
A rise in demand for functional beverages and baby food is anticipated to boost demand for banana puree since it is a popular component in many other drinks and baby meals.
Market Restraints
With increased focus on product security and labeling, it seems that the manufacture of false health claims for real products is becoming more common. This endangers the growth of the market for banana puree.
Market Opportunities
Producers are now able to sell banana puree for reasonable rates as a result of the expansion of e-Commerce platforms. Sales of banana puree via online retail channels have increased as a result of better social media campaigns that raise awareness of the various health advantages connected to the intake of fruit purees.
Market Scope
Report Metric
Details
Market Size by 2031
USD XX Million/Billion
Market Size in 2023
USD XX Million/Billion
Market Size in 2022
USD XX Million/Billion
Historical Data
2019-2021
Base Year
2022
Forecast Period
2023-2031
Report Coverage
Revenue Forecast, Competitive Landscape, Growth Factors, Environment & Regulatory Landscape and Trends
Segments Covered

Segmentation by Type

Fresh Concentrate
Frozen Concentrate

Segmentation by Application

Confectionery
Bakery
Dairy

Geographies Covered

North America
Europe
APAC
Middle East and Africa
LATAM

Companies Profiles

Aalim Agro
ABC Fruits
Agrana Group
Chitale Group
FLORIDA PRODUCTS
Jadli Foods
Jain Irrigation Systems
Kanegrade
Kerr Concentrates (Ingredion)
Kiril Mischeff
Paradise Ingredients
Segmental Analysis
Segmentation By Type
Banana puree that was produced and condensed using fresh bananas is referred to as "fresh concentrate". This is how ripe bananas are typically chosen, peeled, and made into a puree. After that, the puree undergoes further processing to reduce its water content and produce a concentrated form, including filtering, evaporation, and pasteurization. Due to their fresh concentration, bananas maintain their original taste, fragrance, and health advantages. Among the various meals and beverages that often include it are infant food, baked products, desserts, smoothies, and drinks.
To maintain the puree's quality and create frozen concentrate, fresh banana puree is processed, condensed, and frozen. Bananas that are at their ripest are chosen, peeled, pureed, and compressed before pasteurization. To preserve the concentrated puree's nutritional value, taste, and freshness, it is quickly frozen. Concentrate that has been frozen has a longer shelf life and is easier to transport and store. For the creation of frozen desserts, ice creams, dairy products, sorbets, and other frozen delicacies, it is extensively utilized in the food processing industry.
Segmentation By Application
In the confectionery industry, banana puree concentration is used to create a range of delectable treats. Gummies, fruit bars, fillings, chocolates, treats, and other confectionary products are all made using this ingredient. The inherent sweetness and flavor of banana puree concentrate enhance the flavor and texture of confectionery goods, giving the goods a fruity and tropical flair.
In the baking industry, concentrated banana puree is often utilized as an ingredient in baked goods. It is used to make baked products including bread, muffins, cakes, pastries, cookies, and more moist, flavorful, and naturally sweet. Concentrated banana puree may enhance the taste, smell, and texture of baked goods, which can enhance their appearance. It prolongs baked products' shelf life and acts as a natural preservative.
A concentration of banana puree is used to produce a range of dairy products. Milkshakes, yogurt, sorbet, ice cream, and other dairy-based sweets and beverages often utilize it to flavor them. Banana puree concentration is added to dairy products to provide them a creamy texture, fruity taste, and nutritional content that will appeal to consumers looking for novel flavor combinations.
Regional Analysis
The Global Banana Puree Concentrate Market is segmented by region as North America, Europe, Asia Pacific, Latin America, and Middle East and Africa.
Consumer spending habits are progressively altering throughout North America in the wake of the pandemic. Diversifying their clientele is a priority for top banana puree concentrate vendors and companies. In order to increase market share and profit growth, the report provides a state of the North American banana puree concentrate industry as well as 10-year category monitoring and predictions for several market segments. Additionally, the market size and forecasts for banana puree concentrate are provided, along with projections for market expansion in the US, Canada, and Mexico.
In 2023, the market for banana puree concentrate in Europe will expand significantly as companies reevaluate their investment priorities. The conflict between Ukraine and Russia has had a significant impact on demand across all European markets that use concentrated banana puree. Because of this, most companies are focusing on their core competencies and revenue-generating areas. In order to help organizations navigate the banana puree concentrate industry trends from 2023 to 2030, the report provides a view on the European market for banana puree concentrate across types and applications. The Banana Puree Concentrate research study also looks at other European countries including the UK, Italy, France, Germany, Spain, and France.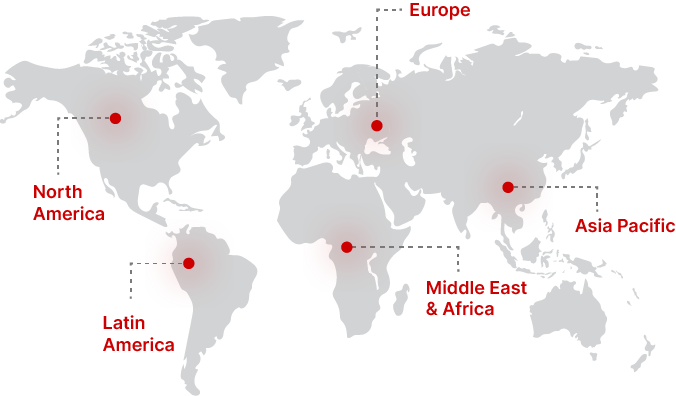 Regional Growth Insights
Download Free Sample
Key Players
Aalim Agro
ABC Fruits
Agrana Group
Chitale Group
FLORIDA PRODUCTS
Jain Irrigation Systems
Kanegrade
Kerr Concentrates (Ingredion)
Kiril Mischeff
Paradise Ingredients
Recent Developments
The bread industry in developed countries has lately been developing more swiftly and experiencing significant changes as a result of rising disposable incomes, rising health concerns, and a high demand for convenient food products. Traditional packaged baked goods face intense competition from other ready-to-eat meals and regular packaged foods.
The emergence of baking ingredients with notable health and wellness benefits is one promising development that is contributing to the increase in demand for banana puree. The bakery industry specializes in the production of baked cakes in a range of flavors, with banana cakes being especially well-known and in high demand in both developed and developing countries. These cakes are often made with banana puree. As a result, higher usage of banana puree in baked products will drive global market growth.
Banana Puree Concentrate Market Segmentations
Segmentation by Type
Fresh Concentrate
Frozen Concentrate
Segmentation by Application
Confectionery
Bakery
Dairy
Frequently Asked Questions