Market Overview
The Global Bluetooth Mechnical Keyboard Market Size is projected to grow at CAGR of approximately 5.3% during the forecast period.
A wireless keyboard is a computer keyboard that enables communication between users and computers, tablets, or laptops via infrared (IR) or radio frequency (RF) technology. Nowadays, it is typical for wireless keyboards to come with a wireless mouse.
Infrared-based wireless keyboards send signals to other infrared-capable devices using light waves. Yet, a wireless keyboard interacts utilising radio frequency technology using signals that have a frequency range of 27 MHz to 2.4 GHz.
Wireless keyboards that utilise radio frequencies were primarily developed for usage at a distance. The broadcast mechanism used by RF technology to interact with a computer is the same as the Wi-Fi standard's method for wireless networking. Due to its wireless transmission method, RF technology has a greater range than Bluetooth keyboards, with some models operating at distances of up to 100 feet. However, RF keyboards are significantly more expensive and more of a specialised instrument than bluetooth.
Market Dynamics
Market Drivers
Throughout the forecast period, increasing demand for PC games is anticipated to fuel market expansion for mechanical keyboards.
Despite a recent decline in PC usage, the market for PC games is predicted to increase significantly in the next years. This has led to an upsurge in the market's desire for gaming accessories like mechanical keyboards.
Mechanical keyboards provide richer feature sets as compared to membrane-based keyboards, which is anticipated to accelerate market growth in the near future. These features include improved performance in terms of response time and tactility needed by professionals and gamers, increased durability (it can withstand more than 50 million strokes as opposed to membrane-based strokes, which can withstand only 10 million strokes), and improved user experience in terms of customizable options for key functions, LED backlights, and chassis. Thus, over the course of the forecast period, these factors are anticipated to fuel the expansion of the worldwide mechanical keyboard market.
Numerous market participants are providing cutting-edge technologies like synchronisation, which enables keyboards to effectively connect with headsets and mice. Moreover, synchronisation possibilities with other mobile devices, such smartphones and tablets, enable effective device use. Mechanical boards are becoming more and more popular because to additional features like Cooldown modes, which enable countdown on switches since last press. Moreover, cutting-edge technologies like built-in movement sensor or camera compatibility, voice recognition software support, and a small and silent design may increase demand for mechanical keyboards.
Market Opportunities
The global mechanical keyboard market offers significant economic prospects for those engaged in research and development.
To introduce novel products, major firms concentrate on research and development operations. For instance, Trantek replaced the translucent keycaps it had been using with its Raytheon K7 series of metal keycaps in July 2016.
In order to increase the gaming experience and functionalities for different professionals, certain keyboard makers place a strong emphasis on improving key switch performance. Examples include expanding the number of keys in the N-key rollover function and including anti-ghosting capabilities. For instance, Razer Inc. introduced the Razer Blackwidow mechanical keyboard in August 2014 with features including 10 key rollover, anti-ghosting, and five additional dedicated macro keys with a lifespan of 60mn strokes.
Market Scope
Report Metric
Details
Market Size by 2031
USD XX Million/Billion
Market Size in 2023
USD XX Million/Billion
Market Size in 2022
USD XX Million/Billion
Historical Data
2019-2021
Base Year
2022
Forecast Period
2023-2031
Report Coverage
Revenue Forecast, Competitive Landscape, Growth Factors, Environment & Regulatory Landscape and Trends
Segments Covered

By Type

Wired
Wireless
Ergonomic

By Technology


Radio Frequency (RF)
Infrared
Bluetooth

By Application

Corporate/Enterprises
Gaming
Personal

Geographies Covered

North America
Europe
APAC
Middle East and Africa
LATAM

Companies Profiles

ZF Friedrichshafen AG
Huizhou Greetech Electronics Co Ltd
Greetech
Kaihua Electronics Co Ltd
Trantek Electronics Co Ltd
OMRON Corporation
Corsair
Razer Inc
Rapoo Corporation
Lenovo
Dell HP Development Company
A4TECH and SteelSeries
Segmental Analysis
By Type
This refers to keyboards that require a physical cable to connect to a device. They are often used in settings where a stable and uninterrupted connection is important.
This refers to keyboards that use wireless technology to connect to a device. They are often more convenient and flexible than wired keyboards, but may experience connectivity issues or latency.
This refers to keyboards that are designed to reduce strain and discomfort during extended use. They often feature a curved or split layout, as well as other ergonomic features such as wrist rests.
By Technology
This refers to keyboards that use radio waves to communicate with a receiver. They often have a longer range and more stable connection than other wireless technologies, but require a separate receiver.
This refers to keyboards that use infrared light to communicate with a receiver. They have a shorter range than RF keyboards and require a clear line of sight between the keyboard and receiver.
This refers to keyboards that use Bluetooth technology to connect to a device. They are often used with mobile devices and have a moderate range and reliable connectivity.
By Application
This refers to keyboards that are used in professional settings such as offices and businesses. They may prioritize features such as durability, compatibility, and security.
This refers to keyboards that are designed for use in gaming settings. They may prioritize features such as mechanical switches, RGB lighting, and programmable keys.
This refers to keyboards that are used for personal computing tasks such as writing, browsing, or multimedia. They may prioritize features such as affordability, portability, or aesthetics.
Regional Analysis
The Global Bluetooth Mechnical Keyboard Market is segmented by region as North America, Europe, Asia Pacific, Latin America, and Middle East and Africa.
Asia Pacific has emerged as a prominent geographical sector in this market and will be one of the main regions for growth due to the presence of multinational firms like Lenovo, HP, and Dell. As more smartphone users opt to type on touchscreen devices rather than traditional keyboards, South Asian countries like India, Singapore, and Australia are driving the market for keyboards (because they need bigger screens).
This tendency has reduced the market for conventional QWERTY laptop and desktop computers, which will have an effect on overall keyboard sales. Throughout the projected period from 2022 to 2032, the area is anticipated to develop at the highest CAGR of 2.1%.
Due to their affordability, portability, compact size, ease of cleaning and handling, efficiency, and durability, computer keyboards are primarily used in businesses in India. This is propelling the market's expansion in the country. These factors are expected to cause sales in India to increase at a CAGR of 2.0% from 2022 to 2032.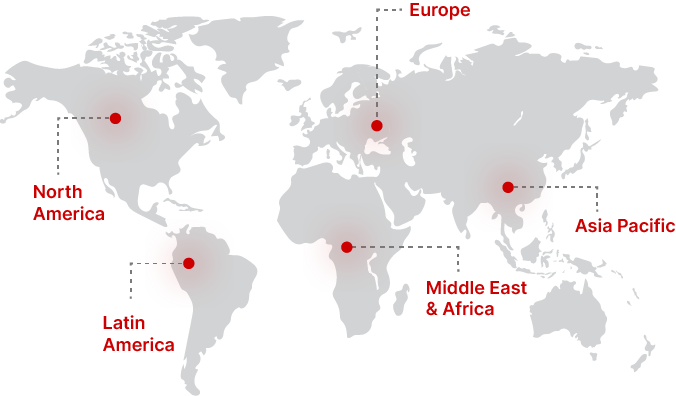 Regional Growth Insights
Download Free Sample
Key Players
Huizhou Greetech Electronics Co Ltd
Greetech
Kaihua Electronics Co Ltd
Trantek Electronics Co Ltd
OMRON Corporation
Corsair
Razer Inc
Rapoo Corporation
Lenovo
Dell HP Development Company
A4TECH and SteelSeries
Bluetooth Mechnical Keyboard Market Segmentations
By Type
By Technology
Radio Frequency (RF)
Infrared
Bluetooth
By Application
Corporate/Enterprises
Gaming
Personal
Frequently Asked Questions