Market Overview
According to Reed Intelligence the Brazilian Coffee Beans Market Size will approximately grow at a CAGR of 8.2% during the forecast period.
Coffee is a beverage made from coffee beans, which are the fruit seeds of certain coffee species that are first roasted. The grains must first be separated from the coffee berries in order to produce the uniform raw material known as unroasted green coffee. The seeds are then processed into a food product by roasting them.
35% of the coffee consumed worldwide comes from Brazil, although only Santos is significant in the speciality coffee sector. Rio is particularly well-known for its medicinal flavor and is often used with chicory in New Orleans coffees. Brazilian coffee is often made without water. Brazil's best coffee is Bourbon Santos, and during the first three or four years of production, the Arabica plants that produce this coffee have extremely little, curled beans. The kernels become bigger and lose quality as the tree matures. Back then, they were known as Santos flat beans. Popular Brazilian coffee called Bandeirante is cultivated in a region that is often seen in the US.
The COVID-19 outbreak has had a significant impact on the coffee market across the globe, notably in Brazil, which is the country that produces and exports the most coffee beans in the world. The pandemic has caused significant disruptions in coffee supply chains and has led to a significant decrease in demand for coffee in many parts of the globe. The decreased demand, logistical challenges, and labor shortages that have resulted from lockdowns and other virus-control measures have been detrimental to Brazil's coffee industry. The International Coffee Organization (ICO) reports that over the last several years, worldwide coffee consumption has decreased by 0.9%. The drinking of coffee outside the house has suffered the most as a direct effect of lockdowns and other social distancing tactics.
Market Dynamics
Market Drivers
Global Coffee Consumption
There is a consistent demand for coffee beans as a result of the rising global coffee consumption. Brazil is the world's leading coffee grower, making it an essential source of supply to satisfy the rising levels of worldwide demand.
Market Restraints
A number of factors, including the climate, stock market speculators, and foreign currency rates, might cause coffee prices to significantly fluctuate. Because of price fluctuation, which affects their profitability and marketability, coffee bean growers face difficulties.
Market Opportunities
By concentrating on quickly increasing coffee-consuming nations like Asia and the Middle East and using the nation's reputation for quality, there is a chance to further diversify and increase export markets.
Market Scope
Report Metric
Details
Market Size by 2031
USD XX Million/Billion
Market Size in 2023
USD XX Million/Billion
Market Size in 2022
USD XX Million/Billion
Historical Data
2019-2021
Base Year
2022
Forecast Period
2023-2031
Report Coverage
Revenue Forecast, Competitive Landscape, Growth Factors, Environment & Regulatory Landscape and Trends
Segments Covered

Segmentation by Type

Arabica
Robusta

Segmentation By Application

Commodity
Pharmaceutical

Geographies Covered

North America
Europe
APAC
Middle East and Africa
LATAM

Companies Profiles

Coffee Bean Direct
Fresh Roasted Coffee
Home Roast Coffee
Três Pontas
Peet's Coffee
Brazil Barn Group
Volcanica Coffee
Delta Coffee
Pilao
Boutique Ricardo
Segmental Analysis
Segmentation by Type
Arabica is the kind of coffee bean that is eaten the most often all around the world. That particular kind of coffee bean is native to Brazil, where it is grown commercially and is recognized by its common name. Arabica beans have a flavor profile that is distinctly sweet and more subdued than that of other species of coffee beans, which is one reason why they tend to be more expensive. The Arabica beans that are grown in Brazil are recognized to be of the highest quality, and the flavor of these beans is described as being both unique and robust.
Robusta is a particular kind of coffee bean that is indigenous to Brazil and is grown commercially in that country. It is known for having a powerful flavor and a higher caffeine content than other coffees, which contributes to its reputation. Robusta beans have a flavor that is full-bodied and has an aftertaste that is often regarded as being slightly bitter. They are a well-liked option among roasters of specialty coffee and are often used into espresso mixtures due to their versatility. Because it is more resistant to disease and pests than Arabica beans, this kind of coffee bean is easier to produce and harvest than Arabica beans. This is the case because Arabica beans.
Segmentation By Application
More than 70 percent of the market share for Brazilian coffee beans was held by the commodity sector, which meant that this sector was accountable for the great majority of the overall revenue. The expansion of this market segment may be primarily attributable to the rising demand for coffee across a wide range of end-use sectors, such as hotels, restaurants, and food chains, cafes and tea rooms, milk processing facilities, and beverage factories. Coffee is not only one of the most popular beverages around the world, but it is also widely used in a wide range of other applications. For example, coffee is widely used in the cosmetics industry (in products that moisturize and treat skin), and it is widely used in the pharmaceuticals industry (to treat conditions related to the nervous system), amongst other uses. Coffee is one of the most popular beverages around the world. Coffee is one of the drinks that is consumed all over the world in the greatest quantities.
Regional Analysis
The Global Brazilian Coffee Beans Market is segmented by region as North America, Europe, Asia Pacific, Latin America, and Middle East and Africa.
Brazilian domestic market: The coffee market in Brazil is enormous. The fundamental objective of regional research is to comprehend preferences, consumption patterns, and trends in diverse Brazilian regions. This entails measuring the level of popularity throughout the country of different coffee varietals, including single-origin, specialty, and classic blends. Local economic conditions, cultural preferences, and coffee culture all have an impact on regional dynamics of the home market.
North America
Brazil exports a lot of coffee beans, with the bulk of the market being in the United States and Canada. Examining this sector also requires investigating consumer preferences, market trends, and distribution systems for coffee goods. Brazilian coffee beans have a potential to thrive as a result of North America's growing interest in specialty and sustainable coffee, particularly for beans that satisfy the exacting quality and traceability requirements set by the specialty coffee sector.
Europe
Germany, Italy, and France are three of the continent's top buyers of Brazilian coffee beans. The regional study examines consumer preferences for specialty, filter, or espresso coffee as well as the demand for coffee in different European countries. The development of the coffee shop culture, consumer preferences for organic and fair-trade products, and the market-shaping impact of specialty coffee merchants and roasters are all factors to be taken into account.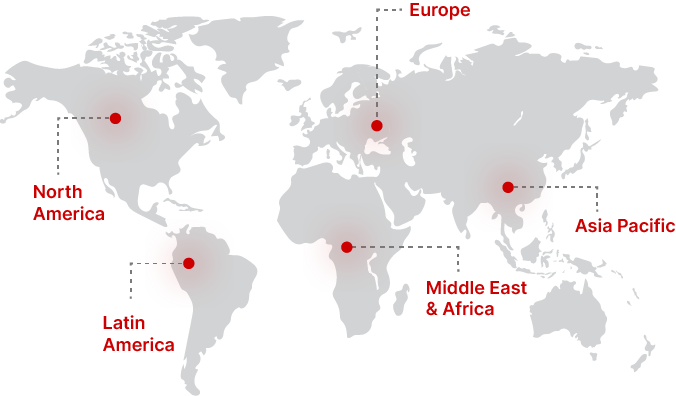 Regional Growth Insights
Download Free Sample
Key Players
Coffee Bean Direct
Fresh Roasted Coffee
Home Roast Coffee
Três Pontas
Peet's Coffee
Volcanica Coffee
Delta Coffee
Pilao
Boutique Ricardo
Recent Developments
Healthy consumption is the main trend enticing Brazilian consumers. RTD coffee is one of the functional drinks with proven health benefits. To meet the needs of a range of clients, RTD coffees are available in Brazil. As they feel threatened by health problems, consumers are becoming more aware of the functional drinks that are available. Brazilian consumers like RTD coffee that has been blended with energy drinks. These factors are causing the market for coffee to grow.
June 2022: The Ethiopian Coffee and Tea Authority (ECTA) has developed a new, comprehensive plan for the country's coffee sector with the goal of tripling coffee output over the next 10 years. Together with the international non-profit Techno Serve and the Ethiopian Institute of Agriculture Research (EIAR), this plan was created.
Brazilian Coffee Beans Market Segmentations
Segmentation by Type
Segmentation By Application
Frequently Asked Questions