Market Overview
According to Reed Intelligence the Global Camera Stabilizer System Market Size will approximately grow at a CAGR of 4.5% during the forecast period.
A camera stabilizer is an indispensable tool utilized in the field of photography to enhance the stability and steadiness of a camera during the process of capturing images. By maintaining a consistent camera presence throughout these setups, the potential for undesirable motion artifacts that may compromise the visual quality and professionalism of your photograph is significantly mitigated or altogether eliminated. Photographers and media and broadcasting professionals were the first to employ camera stabilizers. Since then, normal customers, online content creators, and indie filmmakers have all taken a great interest in them. The international media and entertainment industry has expanded significantly during the previous few decades. The Camera Stabilizer System Market is becoming increasingly intriguing as more cameras that may be used in a variety of ways, such as mirrorless, point-and-shoot, and smartphone cameras, continue to be released. The need for stabilizers is going to be driven by those that are compatible with contemporary cameras in the coming years. The expansion can be attributed to the growing creation of various video formats for TV and large-screen displays. People today have a variety of options for how to obtain entertainment and information as well as how to pay for it because of how quickly technology, consumer behaviour, and business models evolve.
Market Dynamics
Market Drivers
Increasing Demand Of High Quality Video Content With the Growing Demand Of Social Media And Vlogging
The impetus behind the advancement of camera stabilization technology stems from the increasing need for superior video camera across various industries, including but not limited to filmmaking, television production, sports coverage, live events, and online media platforms. The utilization of these techniques facilitates the capture of stationary material, thereby enhancing and enhancing the overall quality of recorded content. The growing prevalence of vlogging and the concurrent proliferation of social media platforms have engendered a heightened level of consumer fascination with camera stabilizers. Stabilizers, a popular tool among influencers and content creators, serve the purpose of capturing visually appealing and smooth video footage even when in motion or while walking. The visual content produced by the individual in question exhibits a higher degree of refinement and professionalism, consequently enhancing its overall quality.
Portable Designs And Increased Use In Professional Applications
The advent of compact and portable camera stabilizer systems has revolutionized their applicability across various contexts. Compact stabilizers offer a user-friendly experience, occupying minimal space while providing portability, thereby enabling users to effortlessly capture steady photographs in various locations, including on-the-go scenarios. Camera stabilization equipment is widely utilized in various professional applications, including the production of documentaries, news reporting, sports broadcasting, and motion pictures. These industries heavily rely on the use of such equipment to ensure smooth and steady footage, enhancing the overall quality of the final product. By effectively stabilizing the camera, professionals are able to capture clear and visually appealing visuals, thereby enhancing the viewer's experience. The incorporation of dynamic photo capabilities, subject tracking functionality, and film stability maintenance in operator devices has bestowed upon them a distinct advantage in the highly competitive professional market.
Market Restraints
Increasing Market Competition With Technological Advancements
The Camera Stabilizer System Market offers a wide range of camera stabilization devices, encompassing numerous brands and varieties. The presence of intense competition and the subsequent emergence of price wars can pose significant obstacles for nascent or smaller enterprises seeking to establish a solid Camera Stabilizer System Market position. The potential ramifications of this development could pose challenges for manufacturers operating within the camera stabilization equipment industry, impeding their ability to pursue expansion opportunities. The Camera Stabilizer System Market is witnessing a significant influx of technological advancements, leading to the continuous introduction of new features and improvements. Customers who exhibit hesitancy towards acquiring new systems due to apprehensions surrounding the potential obsolescence of their existing equipment may encounter a challenge in the form of product obsolescence and reduced product lifecycles.
Market Opportunities
Technological Advancements With Integration with New Technologies
The advent of camera stabilization tools has significantly broadened the horizons for the development of innovative products, as technological advancements continue to push the boundaries of what is achievable in the field of photography and videography. In response to the ever-changing preferences of consumers, manufacturers have the potential to incorporate novel functionalities, refine stabilizing algorithms, and optimize user interfaces. The potential expansion of the Camera Stabilizer System Market can be attributed to various factors, including the emergence of motorized gimbals, enhanced smartphone connectivity, and the growing popularity of gesture control technology. The integration of emerging technologies, namely virtual reality (VR), augmented reality (AR), and 360-degree video, with camera stabilization systems presents a plethora of promising opportunities. The successful implementation of these technologies necessitates a consistent and uninterrupted video feed to generate immersive and captivating experiences. The proliferation of these niche industries has resulted in a corresponding surge in the Camera Stabilizer System Market demand.
Market Scope
Report Metric
Details
Market Size by 2031
USD XX Million/Billion
Market Size in 2023
USD XX Million/Billion
Market Size in 2022
USD XX Million/Billion
Historical Data
2019-2021
Base Year
2022
Forecast Period
2023-2031
Report Coverage
Revenue Forecast, Competitive Landscape, Growth Factors, Environment & Regulatory Landscape and Trends
Segments Covered

Segment by Type

Camera Sliders
Motor Heads
Motion Controllers

Segment by Application

Cinema Cameras
Action Cameras
DSLRs
Underwater Cameras

Geographies Covered

North America
Europe
APAC
Middle East and Africa
LATAM

Companies Profiles

ARRI
MAC Group
Feiyu Tech
Freefly Systems
Edelkrone
Glidecam Industries, Inc.
Gudsen Technology Co., Ltd.
Ikan Corporation
Letus Corporation
Ningbo Eimage Studio Equipment
Rhino Camera Gear
SZ DJI Technology Co., Ltd.
Tilta Technology Co., Ltd
Zhiyun
Vitec Imaging Solutions
Hague Camera Supports
Gremsy
Tiffen Company
Segmental Analysis
Segment by Type
Camera sliders, sometimes known as camera tracks or camera dollies, are tools that make it simple to move a camera in a smooth, controlled manner along a straight or curved route. The camera can move along a track or rail that they have in either a horizontal or vertical motion. Camera sliders are frequently employed in cinematography and filmmaking to create dynamic image movement.
Camera stabilizers known as motorized heads, powered heads, or pan-tilt heads allow the camera to move independently. They typically feature a base that may be supported by a tripod or other device and a motorized head that allows you to move the camera using a remote control in ways like panning (moving horizontally) and tilting (moving vertically). In time-lapse photography, panoramic photography, and other situations where the camera needs to move precisely and according to a program, motor heads are frequently utilized.
Motion controllers are devices that make it simple to automate challenging motion routines and move a camera precisely. They are frequently used in conjunction with camera slides, motor heads, and other devices to stabilize the camera. The camera can be moved using motion controllers in a variety of methods, including sliding, panning, tilting, or a combination of these. They work well for professional filming and motion control because they are more accurate and repeatable.
Segment by Application
Camera stabilizers are commonly utilized in the field of professional filmmaking and cinematography to enhance the stability and smoothness of footage captured by movie cameras. The stabilizers possess a multitude of stabilizing functionalities, which are designed to guarantee the stability and smoothness of captured images. Furthermore, these stabilizers exhibit the capacity to accommodate increasingly larger cameras, including top-tier digital movie cameras.
Small, lightweight action cameras, which have gained significant popularity primarily through the efforts of companies such as GoPro, are commonly employed for capturing dynamic sporting events and other exhilarating pursuits. The ability to capture stable video footage while in motion has been made possible by the advent of action camera stabilizers, which are characterized by their compact size and portability.
Filmmakers and photographers who work professionally frequently use DSLR cameras. These mid-sized cameras are designed to operate with DSLR camera stabilizer systems because they have stability characteristics that prevent shaky film and camera motions. They are both stable and simple to move around.
Since underwater cameras are designed to function under water, they require camera stabilization systems that are specifically designed to address the challenges of recording underwater. These stabilizers provide support and balance for underwater cameras so that users can capture smooth video even in choppy water.
Regional Analysis
North America (United States, Canada and Mexico)
North America, being home to numerous major film studios, broadcasting organizations, and content creators, has emerged as a prominent market for camera stabilizer equipment. The current state of the American entertainment market is experiencing significant growth, with a notable rise in demand for video production services. Within this dynamic landscape, numerous skilled videographers and directors have emerged, demonstrating their proficiency in utilizing camera stabilizers as a crucial tool in their craft. Europe (Germany, UK, France, Italy, Russia and Spain etc.)
Europe
The European Camera Stabilizer System Market has achieved a significant level of establishment. Within the current market landscape, it is worth noting the presence of notable firms hailing from prominent European countries such as the United Kingdom, Germany, France, and Italy. The presence of a multitude of TV networks, film studios, and proficient industry practitioners within the region underscores the criticality of camera stabilizers to their respective operations and livelihoods. The growing prevalence of content creators and influencers on various social media platforms has resulted in a surge in the demand for camera stabilizers. Asia-Pacific (China, Japan, Korea, India, Australia and Southeast Asia etc.)
Asia-Pacific
The Asia-Pacific region, with a particular focus on China and Japan, has witnessed a rapid expansion in the Camera Stabilizer System Market. China, being a prominent manufacturing hub, has experienced a substantial surge in the establishment of local enterprises engaged in the production of camera stabilization devices. This surge can be attributed to the growing need to meet both domestic and international demand for such products. The presence of a robust film industry and a substantial pool of proficient videographers in Japan confers a notable advantage to businesses engaged in the production of camera stabilizer devices.
South America (Brazil, Argentina and Colombia etc.):
The market in South America is currently in a nascent stage, characterized by ongoing development and growth potential. The region offers ample opportunities for expansion within this market segment. The Latin American countries of Brazil, Argentina, and Mexico are currently experiencing a notable surge in the presence of content producers, vloggers, and production businesses. This upward trend is significantly contributing to the growth and expansion of the Camera Stabilizer System Market within these regions. The burgeoning growth of online video content and the widespread adoption of social media platforms have synergistically contributed to the expansion of various markets. However, it is important to consider that the dynamics of the local Camera Stabilizer System Market could be significantly impacted by factors such as pricing and the availability of cost-effective alternatives.
Middle East & Africa (South Africa, UAE and Saudi Arabia etc.)
The Middle East and Africa region is currently witnessing a notable expansion in the Camera Stabilizer System Market. The observed phenomenon can be attributed to the notable growth of the film industry, amplified investments in infrastructure development, and the surging prevalence of content creation platforms. The countries of Nigeria, South Africa, and the United Arab Emirates have exhibited notable potential as a region for market expansion. 20 December 2022 - Ams OSRAM's Claypaky, a company that specializes in entertainment lighting, has been acquired by German company ARRI.With the addition of Claypaky, ARRI hopes to establish itself as a top supplier of lighting equipment for both live performances and motion pictures.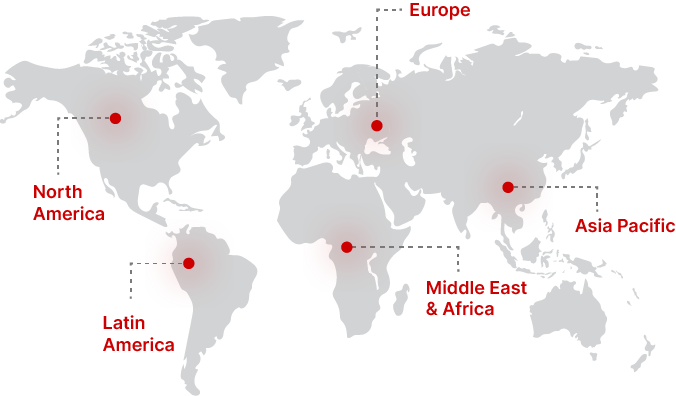 Regional Growth Insights
Download Free Sample
Key Players
ARRI
MAC Group
Feiyu Tech
Freefly Systems
Edelkrone
Glidecam Industries, Inc.
Gudsen Technology Co., Ltd.
Letus Corporation
Ningbo Eimage Studio Equipment
Rhino Camera Gear
SZ DJI Technology Co., Ltd.
Tilta Technology Co., Ltd
Zhiyun
Vitec Imaging Solutions
Hague Camera Supports
Gremsy
Tiffen Company
Recent Developments
17 February 2023 - MAC Commercial, which is part of the MAC Group, has announced that it will buy Aon's insurance brokerage accounts. Aon is one of the biggest and oldest insurance brokerage firms on the island.
Camera Stabilizer System Market Segmentations
Segment by Type
Camera Sliders
Motor Heads
Motion Controllers
Segment by Application
Cinema Cameras
Action Cameras
DSLRs
Underwater Cameras
Frequently Asked Questions