Market Overview
According to Reed Intelligence the Global Commercial Garage Door Parts & Accessories Market Size will approximately grow at a CAGR of 6.7% during the forecast period.
The garage door refers to a large door in a garage that can either be opened manually or by a garage door opener. There are two main types of commercial garage doors—rolling and sectional. Each form of commercial garage door—rolling and sectional—has advantages and uses. Rolling doors are comprised of steel slats that coil and interlock when closed. They're tiny, adaptable, and can be set to different speeds based on performance needs. Rolling doors are built for security and longevity with heavy-duty materials. Sectional doors have panels that move upward. Commercial and residential garages use them. Full-view sections provide natural light and a modern design.
Garage door parts are the garage door's constituent elements. The sectional overhead door is the most prevalent type of garage door. The majority of garage doors are made from metal or wood, but some are made from fiberglass. They are available in various colors and designs to complement the exterior of your property.
Market Dynamics
Market Drivers
An Increase In Investments Made Toward The Building and Infrastructure Projects
A good infrastructure for any economy opens a wide variety of opportunities for the country's growth. It provides employment. So, spending on good infrastructure is important for economic growth, wealth-building, and people's health and happiness. Because of this, many countries spend on building and infrastructure projects, which drives the market for commercial garage door parts and accessories.
Market Restraints
The size and style of the garage doors, as well as the choice of style, material, windows, insulation, garage door opener, accessories, and new gear like tracks, door springs, or rollers, will all affect how much it will cost to install them. There are many different styles and types of materials for garage doors. The average cost to purchase and install garage doors is $1,300, ranging from $785 to $3,700, which can restrain this market.
Market Opportunities
Increasing Demand for Accessories of Automobiles
The global market for garage doors is included in the scope of one of the more extensive submarkets that make up the global market for auto parts and equipment. This submarket includes businesses that produce components and accessories for automobiles such as passenger cars (pcs), electric vehicles (EVs), commercial vehicles (CVs), heavy-duty vehicles, all-terrain vehicles (ATVs), off-road vehicles, motorcycles, scooters, quad bikes, and three-wheelers.
Market Scope
Report Metric
Details
Market Size by 2031
USD XX Million/Billion
Market Size in 2023
USD XX Million/Billion
Market Size in 2022
USD XX Million/Billion
Historical Data
2019-2021
Base Year
2022
Forecast Period
2023-2031
Report Coverage
Revenue Forecast, Competitive Landscape, Growth Factors, Environment & Regulatory Landscape and Trends
Segments Covered

Segmentation by Type

Metal Parts, Electromechanical Parts
Electromechanical Parts

Segmentation by Application

Residential, Commercial, Industrial
Commercial
Industrial

Segmentation by Material

Steel
Aluminum
Wood
Fiberglass

Geographies Covered

North America
Europe
APAC
Middle East and Africa
LATAM

Companies Profiles

Chamberlain Group
Overhead Door
Novoferm, Amarr
SOMMER, LiftLogix
Prime-Line
Koala Canada
Italian Seaside
Skylink
FORESEE
Teckentrup
Marantec
Dalian Master Door
Industrial Spring
Came S.p.A.
Steel-Craft
Garaga
SWR Group
ADH Guardian
Segmental Analysis
Segmentation By Type
A garage door mostly comprises metal parts. It is made of metal, is in charge of how the door works, and keeps people safe. Panels and tracks are the two types of Metal Parts. The panel hides the garage door opening, and the track helps move the panel up and down. How long your garage door will last depend greatly on the quality and strength of its Metal Parts. So, finding a trustworthy seller who can give you high-quality parts is important.
A part that is both electrical and mechanical is called an electromechanical part. It can run electric motors, make electricity, or do other things requiring mechanical force. Motors that use direct current (DC), alternating current (AC), and generators are the three main types of electromechanical parts. DC motors use direct current to make rotational force, while AC motors use alternating current to make linear or rotational force. Generators are machines that use mechanical energy to make electricity.
Segmentation By Application
In a home area, garage door replacement parts are used to put in a new garage door or fix an old one. The most popular type of garage door is one that goes up and over. This comprises a piece that rolls over the hole and then hinges in the middle to keep it shut. Tilt-up doors open like patio and roller doors that roll back into the roof room.
Garage door repair parts can be used in homes and businesses. In a residential setting, garage door replacement parts can be used to fix a broken garage door or update an old garage door to a newer model. In a business setting, garage door replacement parts can be used for several things, like fixing a broken garage door, upgrading an old garage door, or installing a new one. Also, many businesses have automatic garage doors, which need special parts to fix when they break.
Commercial garage door used consistently throughout the day. This frequency of use demands better hardware, a stronger opener, and stronger springs. Commercial garage doors are useful in many types of businesses and industries, such as mechanic and repair shops, restaurants, fire departments, manufacturing companies, and retail shops.
Segmentation By Material
Steel garage doors are great for people who want an installation that will last a long time. These garage doors are cheap and easy to care for, and we can often choose from different colors. We can add soundproofing to most setups to increase their thermal efficiency. Properly kept steel doors won't dent or rust.
Aluminum garage door materials provide a modern style. Aluminum garage doors are naturally rust-resistant, which is a big advantage. Protective coatings can help metal doors stand up to high temperatures.
Wood doors offer countless wood grains, hues, and finishes. These installations give many buildings' designs a timeless look. Wooden garage doors are eco-friendly and unique. Wooden overhead doors work well in moderate climates. Its maintenance investment may require painting, staining, and sealing.
Fiberglass garage doors mimic wood without care. Some fiberglass door panels and patterns seem like wood.
Regional Analysis
The Global Commercial Garage Door Parts & Accessories Market is segmented by region as North America, Europe, Asia Pacific, Latin America, and Middle East and Africa.
North America
North America is a developed region where technology grows daily. They have firms that provide quality garage doors that can be operated with the help of smartphones and have a built-in camera and video access. After installing a specific app, consumers can operate the garage door from anywhere and see what's happening. Users can receive notifications from the app each time door is opened or closed. It keeps track of the condition of the door and notifies if anything is amiss. Users may check the full diagnostics, including activity, to determine when and who has entered and exited the building. Hence, the increasing demand for garage doors increases the demand for parts and accessories.
Europe
The complete database contains over 9000 retail chains with 1.9 million individual stores in Europe. When goods are delivered from manufacturers to retail stores, the retailers use loading docks the same way manufacturing companies use them. The movement of items from delivery vehicles to the stock area of stores can be facilitated with the assistance of commercial garage doors. Roll-up commercial garage doors are frequently installed at retail loading dock areas for convenience and safety. This can drive the growth of the garage door parts and accessories market.
Asia-Pacific
The Asia-Pacific area is steadily moving toward urbanization and industry. As a result, various industries are expanding their capacities for production and manufacture. However, because of this, they need storage and warehouse space. As a result, they insist that the garage doors be of a high grade for reasons related to safety. As a result of this ongoing demand from enterprises, the market for commercial garage door components and accessories has grown significantly in recent years.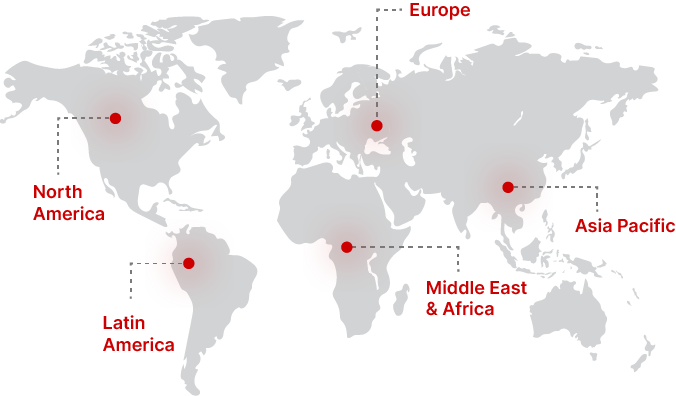 Regional Growth Insights
Download Free Sample
Key Players
Overhead Door
Novoferm, Amarr
SOMMER, LiftLogix
Prime-Line
Koala Canada
Italian Seaside
Skylink
FORESEE
Teckentrup
Marantec
Dalian Master Door
Industrial Spring
Came S.p.A.
Steel-Craft
Garaga
SWR Group
ADH Guardian
Commercial Garage Door Parts & Accessories Market Segmentations
Segmentation by Type
Metal Parts, Electromechanical Parts
Electromechanical Parts
Segmentation by Application
Residential, Commercial, Industrial
Commercial
Industrial
Segmentation by Material
Steel
Aluminum
Wood
Fiberglass
Frequently Asked Questions