Market Overview
According to Reed Intelligence the Global CPU Air Coolers Market Size will approximately grow at a CAGR of 5.4% during the forecast period.
Due to the need for high-performance computing solutions and growing customer interest in gaming PCs and workstations, the market for CPU air coolers is growing considerably. CPU air coolers are necessary to maintain dependable and efficient performance during taxing computer usage and gaming sessions. The market is segmented according to the kind of air cooler design. C-Type Air Coolers are designed for clients on a tighter budget and users of mid-range CPUs, while U-kind/Twin Tower Air Coolers are created for enthusiasts and professionals searching for the greatest cooling for high-performance CPUs.
Due to the simplicity of using online sales channels and the wide range of products that are readily available on e-commerce platforms, customers can study and purchase CPU air coolers from the convenience of their homes. Offline sales channels may provide tailored guidance and information to customers that value in-person interaction. Recent developments in cooling technology, such as better heat pipe designs and improved fan settings, have boosted the cooling effectiveness of CPU air coolers. The configurable lighting effects of addressable RGB lighting enhance the aesthetic appeal of PC displays even further. According to predictions, the worldwide hunt for efficient thermal management solutions by PC enthusiasts and professionals, together with advancements in cooling technology, will cause a gradual increase in demand for gaming and high-performance PCs.
Market Dynamics
Market Drivers
Effective thermal management technologies are becoming important for keeping CPUs cool in data centers under heavy workloads as cloud computing and data centers gain in popularity. Air coolers provide a dependable and affordable solution for cooling numerous CPUs in server rooms and data centers.
Environmental Considerations
Compared to liquid cooling techniques, air coolers are more environmentally friendly since they don't need chemical use or extensive upkeep. Customers and businesses who value the environment place a high value on this attribute.
Market Restraints
Limited Cooling Efficiency
Liquid cooling systems may provide better cooling than air coolers while overclocking is taking place. Enthusiasts who want their CPUs to run as hot as possible may employ liquid cooling.
Certain high-performance air coolers may be too large to fit into tiny projects or compact computer boxes due to size and clearance issues. Certain motherboard or memory module components could be difficult to clean if they have tall air conditioners.
Market Opportunities
Manufacturers often alter air cooler designs to increase cooling efficiency, reduce noise, and make them compatible with various PC systems. This encourages invention and company growth.
Market Scope
Report Metric
Details
Market Size by 2031
USD XX Million/Billion
Market Size in 2023
USD XX Million/Billion
Market Size in 2022
USD XX Million/Billion
Historical Data
2019-2021
Base Year
2022
Forecast Period
2023-2031
Report Coverage
Revenue Forecast, Competitive Landscape, Growth Factors, Environment & Regulatory Landscape and Trends
Segments Covered

Segmentation By Type

U-Type/Twin Tower Air Coolers
C-Type Air Coolers

Segmentation By Application

Online Sales
Offline Sales

Geographies Covered

North America
Europe
APAC
Middle East and Africa
LATAM

Companies Profiles

Areocool
Antec
Apevia
CoolerMaster
Corsair
COUGAR
In Win
Lian Li
NZXT
Raidmax
Roswill
SilverStone
Thermaltake
Winsis
ABKO
Noctua
Swiftech
Segmental Analysis
Segmentation By Type
U-Type/Twin Tower Air Coolers
Multiple cooling towers on the "U-Type" and "Twin Tower" air conditioners increase their surface area and enhance heat dispersion. These air coolers are suitable for overclocking setups and cooling-intensive high-performance CPU workloads.
The C-type air coolers contain only one tower and a heat sink that is shaped like the letter "C." Since these coolers are compact and effectively cool mid-range CPUs and gaming PCs, they are used by casual gamers and daily users.
Segmentation By Application
The area of online sales includes the distribution of CPU air coolers via e-commerce websites and online retail channels. The convenience of online shopping and the large range of items entice customers to purchase CPU air coolers from online retailers.
The offline sales sector includes the distribution of CPU air coolers via physical shops, computer hardware retailers, and electronics retail stores. If customers desire a conventional shopping experience and speedy product delivery, they often purchase CPU air coolers offline.
Regional Analysis
The Global CPU Air Coolers Market is segmented by region as North America, Europe, Asia Pacific, Latin America, and Middle East and Africa.
North America
This area has a large gaming population, which is driving up demand for powerful PCs. These qualities have made North America a significant market for CPU air coolers today. The rising popularity of custom-built PCs and the expanding use of nearby data centers are two more factors that raise the requirement for efficient heat management solutions.
Europe
The region's flourishing gaming industry and the widespread usage of gaming workstations and PCs are driving the continent's steady demand for CPU air coolers. As the number of PC enthusiasts and do-it-yourself builders increases, high-end air cooling solutions are becoming more and more essential.
Asia-Pacific
The Asia-Pacific region is a prospective market for CPU air coolers because to the rising popularity of gaming PCs and workstations in countries like China, Japan, South Korea, and India. The e-sports business is expanding, the population is becoming more wealthy, and there is a greater need for efficient cooling solutions.
Latin America
The market in Latin America has growth potential as a result of an increase in gamers and the number of custom-built PCs. The availability of high-performance CPUs and the focus on PC gaming have increased the need for effective heat management solutions.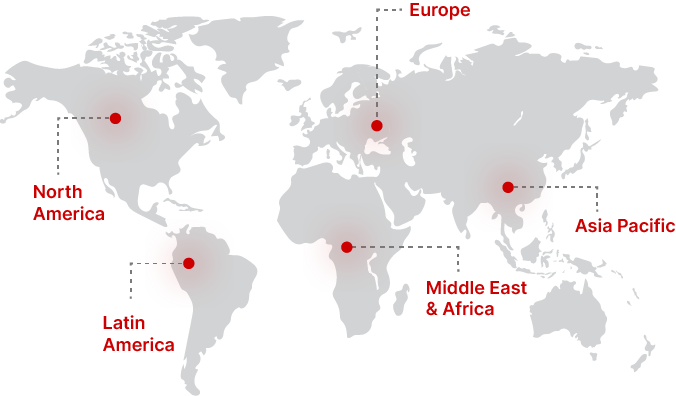 Regional Growth Insights
Download Free Sample
Key Players
Antec
Apevia
CoolerMaster
Corsair
COUGAR
In Win
Lian Li
NZXT
Raidmax
Roswill
SilverStone
Thermaltake
Winsis
ABKO
Noctua
Swiftech
Recent Developments
Emerging Markets
As the demand for custom-built PCs develops in developing nations like Asia-Pacific and Latin America, manufacturers of CPU air coolers may be able to increase their market share.
CPU Air Coolers Market Segmentations
Segmentation By Type
U-Type/Twin Tower Air Coolers
C-Type Air Coolers
Segmentation By Application
Online Sales
Offline Sales
Frequently Asked Questions