Market Overview
According to Reed Intelligence the Crawler Material Handler Market Size will approximately grow at a CAGR of 5.7% during the forecast period.
Materials, commodities, and outputs are moved, stored, controlled, and protected using mechanical equipment known as material handling equipment (MHE) during the production, consumption, disposal, and distribution processes. The four main categories of material handling equipment offered are transportation equipment, positioning equipment, storage equipment, and others (unit load formation equipment, identification equipment, and control equipment).
Heavy machinery called crawler carriers is employed in the mining and construction industries. These are essentially huge tractors that can travel over uneven terrain since they have tracks rather than wheels. Large items of equipment can be moved about a jobsite or transported over great distances using crawler carriers.
As demonstrated during the preceding ten years, the introduction of robots in the material handling equipment business has improved operations and production. Manufacturing facilities are working quickly to produce high-quality products with less supply chain resources. The increased need for this equipment is encouraging the manufacturers to enhance their supply networks. The COVID-19 epidemic has shown how quickly material handling companies must be able to change course if inventory, sourcing, labour, or other circumstances cause operations to be disrupted. Automated processes are a crucial tool to react quickly and increase efficiency.
Market Dynamics
Market Drivers
Crawler Carriers are in greater demand from the infrastructure and construction industries since they provide an effective and affordable means to transfer huge cargo over short distances.
They are increasingly in demand in the mining industry because they are perfect for moving heavy payloads over rough terrain.
It becoming more and more common among rental companies because they provide a flexible, affordable, and secure solution for moving huge cargo over close distances.
Due to its versatility and simplicity of managing big payloads, crawler carriers are increasingly used in material handling applications across a range of sectors.
Also, a lot of automation is required due to the global e-commerce industry's success. To increase their operations' accuracy, efficiency, security, and cost-effectiveness, Amazon, Walmart, and other major retailers are gradually integrating automated technology. In addition, the expansion of the manufacturing sector has played a significant role in the growth of the market for material handling equipment.
Market Restraints
The market's expansion is being constrained by the high upfront costs of integration, procurement, installation, accessories, programming, and other services. This has an impact on enterprises, especially small and medium-sized ones (SMEs). Several businesses struggle to raise significant sums of money as a result of low volume manufacturing and delayed Return on Investments (ROI). Moreover, high maintenance costs are a barrier to the growth of the global industry.
The price of software upgrades, the need to replace numerous components and other devices, and rising ownership costs all contribute to the market's sluggishness, which further restrains the development of material handling equipment.
Market Scope
Report Metric
Details
Market Size by 2031
USD XX Million/Billion
Market Size in 2023
USD XX Million/Billion
Market Size in 2022
USD XX Million/Billion
Historical Data
2019-2021
Base Year
2022
Forecast Period
2023-2031
Report Coverage
Revenue Forecast, Competitive Landscape, Growth Factors, Environment & Regulatory Landscape and Trends
Segments Covered

Segmentation By Type

Large
Small and medium

Segmentation By Application

Ports and Terminals
Construction
Mining
Forestry and Agriculture
Others

Geographies Covered

North America
Europe
APAC
Middle East and Africa
LATAM

Companies Profiles

TRF Limited (TATA Group)
Liebherr
Hitachi Construction Machinery
Terex Corporation
Techint
Taiyuan Heavy Machinery Group
Sanyhi
Thyssenkrupp
L&H Industrial
Kawasaki Heavy Industries
SENNEBOGEN Maschinenfabrik GmbH
IHI Transport Machinery
Yichao Technology
Elecon Engineering Company
Bevcon Wayors
Segmental Analysis
Segmentation By Type
Large crawler material movers are used for heavy-duty material handling uses such as scrap processing, harbour and pier activities, and demolition. To manage big and heavy materials, they are outfitted with long reach booms, multi-purpose grapples, and magnets.
Small and medium crawler material handler, on the other hand, have a working weight of less than 50 tonnes and are used in lighter material handling uses such as recycling, building, and forestry. They are more nimble than big crawler material movers and can be outfitted with clamshells, buckets, and grapples.
Segmentation By Application
In ports and terminals, Crawler Material Handler Market are used to transport and unload cargo from ships, organise containers, and move materials around the yard. These devices have a lengthy reach and are capable of carrying heavy loads, making them ideal for port operations.
In the construction business, crawler material movers are used for a variety of tasks such as digging and moving large amounts of dirt and detritus, dismantling buildings, and handling heavy building materials. These tools are essential for large-scale construction projects that require heavy-duty equipment.
Crawler material handlers are widely used in the mining industry for material handling tasks such as transporting rocks and minerals, filling and offloading haul vehicles, and separating and preparing materials. These tools are built to endure harsh mining conditions as well as large cargoes.
Crawler material movers are used in the forestry and agriculture sectors to manage logs, hay bundles, and other large materials. These tools are also used for field clearing and timber processing.
Other sectors that use crawler material processors include refuse management, scrap metal recovery, and production. These machines are used for a range of duties in these sectors.
Regional Analysis
The Global Crawler Material Handler Market is segmented by region as North America, Europe, Asia Pacific, Latin America, and Middle East and Africa.
North America
The crawler carrier market in North America is anticipated to expand moderately over the forecast period. The market in this area is anticipated to be fueled by the rising need for portable and adaptable construction tools that can be utilised for a number of tasks, including utility installation, site preparation, and landscaping, among others. The market for crawler carriers worldwide is anticipated to be dominated by the South American region in 2019. During the predicted period, the region is anticipated to increase somewhat. Because to the region's expanding population and economic development, construction activity has increased, which has fueled the market for crawler carriers there.
Asia-Pacific
The highest CAGR is anticipated for the Asia-Pacific region during the forecast period. The rising demand from nations like China, Japan, and India is responsible for the expansion of the Asia Pacific area. During the projection period, these nations are anticipated to have rapid infrastructure development, which is anticipated to fuel demand for crawler carriers in the area.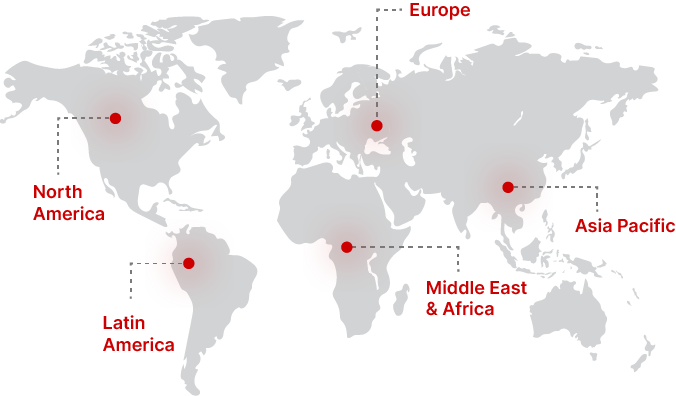 Regional Growth Insights
Download Free Sample
Key Players
TRF Limited (TATA Group)
Liebherr
Terex Corporation
Techint
Taiyuan Heavy Machinery Group
Sanyhi
Thyssenkrupp
L&H Industrial
Kawasaki Heavy Industries
SENNEBOGEN Maschinenfabrik GmbH
IHI Transport Machinery
Yichao Technology
Elecon Engineering Company
Bevcon Wayors
Crawler Material Handler Market Segmentations
Segmentation By Type
Segmentation By Application
Ports and Terminals
Construction
Mining
Forestry and Agriculture
Others
Frequently Asked Questions