Market Overview
The Global Digital Radar Chip(RoC) Market Size is anticipated to touch at a CAGR of approximately 7.3% during the forecast period.
The most obvious distinction between digital and analogue radars is the unique code assigned to each transmit signal. This is an important feature of digital code modulation (DCM), which allows radars to identify their own signal from several others in congested areas.
Automotive radar is one of several sensor systems available for accident prevention, identification of pedestrians and cyclists, and it works in conjunction with vision-based camera systems. The most common radar technology, which varies from pulse-Doppler radar, is frequency-modulated continuous-wave (FMCW) radar.
The radio frequency (RF) pulse waveforms are generated digitally in the transmitter, and target returns are digitized without analogue down-conversion in the receiver, eliminating many of the analogue components seen in classic radar systems.In terms of interference reduction, digital radar systems are intrinsically superior than analog versions.
Market Dynamics
Market Drivers
Cameras, lidar, traditional analogue radar, and the human eye cannot detect things that Uhnder's completely software-defined digital radar processor and sensor modules can.
Market Restraints
The increasing popularity of cloud-based applications has increased the need for sophisticated network technology, which will fuel market growth.
Market Opportunities
Technological progress and the creation of new radar technologies.
Increasing the development of electric vehicles.
Market Scope
Report Metric
Details
Market Size by 2031
USD XX Million/Billion
Market Size in 2023
USD XX Million/Billion
Market Size in 2022
USD XX Million/Billion
Historical Data
2019-2021
Base Year
2022
Forecast Period
2023-2031
Report Coverage
Revenue Forecast, Competitive Landscape, Growth Factors, Environment & Regulatory Landscape and Trends
Segments Covered

Segmentation by Type

3D
4D

Segmentation by Application

Automotive Radar
5G Communication

Geographies Covered

North America
Europe
APAC
Middle East and Africa
LATAM

Companies Profiles

Uhnder
RFISee
NXP Semiconductors
Gapwaves
Segmental Analysis
Segmentation By Type
3D refers to the three spatial dimensions of width, height, and depth. Everything in the physical cosmos is three dimensional. While many flat images, such as videos and photographs, register as two dimensional (2D) to the human brain, nothing can exist without all three dimensions. This is because everything that exists physically is made up of atoms, which, although invisible to the naked eye, have all three spatial dimensions.
Four-dimensional space (4D) is a mathematical extension of the three-dimensional space (3D) idea. Three-dimensional space is the most basic abstraction of the fact that just three numbers, or dimensions, are required in daily life to represent the sizes or positions of things. The volume of a rectangular box, for example, is calculated by measuring and multiplying its length, width, and height (abbreviated as x, y, and z). Because it relates to Euclid's geometry, which was initially abstracted from daily spatial experiences, this notion of ordinary space is known as Euclidean space.
Segmentation By Application
Automotive radar is a critical technology in advanced driver assistance systems (ADAS) and self-driving automobiles that identifies and tracks objects in the surroundings. This enables the vehicle to navigate and make decisions in real time, significantly enhancing safety and performance. Short-, mid-, and long-range vehicle radar systems are available, as are radar sensors, radar modules, and radar transceivers. These devices can do things like adaptive cruise control, collision avoidance, lane departure warning, and self-driving.
Fifth-generation technology is the most recent iteration of cellular innovation, and it is designed to drastically improve wireless communication performance and efficiency. Data delivered through wireless broadband networks may move at multigigabit speeds, with maximum rates reaching 20 Gbps. Bandwidth rates are faster than landline network connections, and latency is less than five milliseconds (ms), which is beneficial for businesses that need real-time input.
Regional Analysis
The Global Digital Radar Chip(RoC) Market is segmented by region as North America, Europe, Asia Pacific, Latin America, and Middle East and Africa.
North America
Canada has a more than 5% North American radar sensor market share in 2020, with a CAGR of more than 18% expected through 2027. The growth is due to increased government activities and financing to enhance the region's space sector. Radar sensors on satellites will be used for a variety of purposes as space activities develop, including observation and surveillance of the earth's atmosphere, observation and surveillance of the earth's surface (including land and water), and others.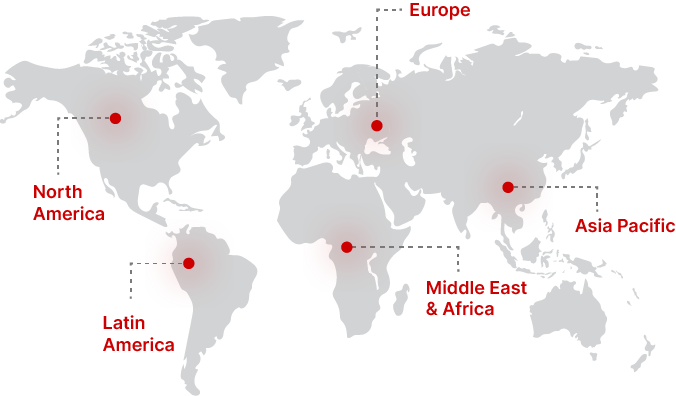 Regional Growth Insights
Download Free Sample
Key Players
RFISee
NXP Semiconductors
Gapwaves
Digital Radar Chip(RoC) Market Segmentations
Segmentation by Type
Segmentation by Application
Automotive Radar
5G Communication
Frequently Asked Questions