Market Overview
The Global Electric Handpieces Market size is projected to register a CAGR of approximately 7.2% during the forecast period 2023-2031.
Electric dental handpieces are electric tools that help dentists keep a good balance of command and control during new repair and endodontic procedures. These tools have high torque and can cut accurately and precisely with less sound. These high-tech devices have replaced Handpiece motors that were driven by air turbines. Electric handpieces can make more power. Since electric handpieces don't have an impeller, they can usually have smaller head sizes. Even though these handpieces have many moving parts, they are shorter. Since these handpieces spin at a lower number of RPMs, they tend to break less often.
Market Dynamics
Market Drivers
The health of our teeth and gums greatly affects our general health, the cost of medical care, and the quality of life. Oral health is among the ten most important health indicators, along with access to health care, nutrition, cancer, HIV, and heart disease. Good oral health lets you talk, smile, smell, and eat normally, but it's also important for communication, getting along with other people, and making money. Poor tooth health can lead to health problems that hurt, make it hard to do things, and cost money. People are becoming more aware of these factors, helping them focus on oral hygiene.
Market Restraints
High cost and alternatives present in the market
Even though electric handpieces need to be fixed less often than air-driven ones, they cost more. When one part breaks, a lot more need to be fixed, and since the amount of work goes up as the job takes longer, prices for Electric Handpiece Overhauls can be seen. Full motor systems are needed in your office to set up the additions. Even though they are shorter, they are heavier because they need more parts to make the speed 5:1 faster. These handpieces are generally more expensive because of how they were made in the past and how many parts they need to work right. But the market for electric dentistry handpieces isn't growing as fast as it could because they are expensive, and there are other options, like lasers.
Market Opportunities
Need for very light and ergonomic equipment
Most electric handpieces are very light and easy to use. The first electric handpieces were much heavier than their air-powered peers, and dentists who used them all the time said they made them tired. This is not true of the later models at all. The torque that can be used with an electric handpiece is bigger. This makes it easier and faster to cut into enamel or dentin and makes other processes, like removing a crown, faster and more efficient. One of the best things about electric handpieces is that they have the other part of the power equation. Speed and force can be set in different ways. For example, let's say you took the tooth structure for your prep and now need to remove caries. Instead of moving to a low-speed handpiece, you can change the setting on the controller box to "caries removal" and keep going. This will save time and money by not buying low-speed handpieces that may no longer be needed.
Market Scope
Report Metric
Details
Market Size by 2031
USD XX Million/Billion
Market Size in 2023
USD XX Million/Billion
Market Size in 2022
USD XX Million/Billion
Historical Data
2019-2021
Base Year
2022
Forecast Period
2023-2031
Report Coverage
Revenue Forecast, Competitive Landscape, Growth Factors, Environment & Regulatory Landscape and Trends
Segments Covered

Segmentation by Speed

High-speed handpieces
Low-speed handpieces

Segmentation by Type

Brush Motor
Brushless Motor

Geographies Covered

North America
Europe
APAC
Middle East and Africa
LATAM

Companies Profiles

Danaher
NSK
Dentsply Sirona
WandH
Bien Air
MORITA
SciCan
DentalEZ
Anthogyr
Codent
Sinol
Foshan CAN Dental Equipment Co. Ltd.
NOUVAG
TTBIO
Modeer Precision
Segmental Analysis
Segmentation By Speed
The high-speed handpiece is a precision instrument that can remove tooth tissue quickly and effectively without any pressure, heat, or vibration, and it can cut through the tooth as easily as butter.
Low-Speed handpieces are motors that can be held in one hand and spin at less than 50,000 RPM. These tools can be used to remove caries, refine cavity preparations, and do prevention around the teeth to stop tooth decay from coming back.
Segmentation By Type
Brush motors propel the cutting head in powered handpieces. An electric dental handpiece's brush motor moves toothbrush bristles. Power toothbrush or dental handpiece. Its efficiency, low cost, and little noise have made it popular.
Brushless motors operate without brushes or commutators. Brushless motors run cooler and more efficiently. Dental handpieces can run faster without overheating. Brushless motors are quieter and perfect for sensitive situations like dentist clinics.
Regional Analysis
The Global Electric Handpieces Market is segmented by region as North America, Europe, Asia Pacific, Latin America, and Middle East and Africa.
North America
People in developing countries have many problems with oral illnesses, especially gum disease. Poverty, bad living conditions, lack of health education, and a lack of government funds and policy to hire enough oral health care workers worsen these problems. Children often get cavities because they eat bad food and don't take care of their teeth. So, young people are more likely to get tooth caries. The market is also boosted by technological improvements, such as electric dental handpieces with high flexibility, an automatic reversing feature for endodontics treatments, and more people being aware of their health. New electric dentistry handpieces are being made and released, and dentists in the North American region are using them. This is a good sign for the market's growth.
Europe
This region is highly concerned about its healthcare system. Oral diseases are one of the most common health problems in Europe. They affect almost half of the people who live there. Even though tooth problems are common, dental care is not covered by law in many European countries. These include oral health and inequalities, coverage gaps, financial safety, unmet needs, preventive community care, workforce, corporate dentistry, and cross-border care. Hence, dentists are demanding good equipment leading to the growth of the electric handpiece market.
Asia-Pacific
Disease concerns are most common in Asian countries because people have different health habits and other lifestyle factors that affect their health. Countries have different ways of organizing their governments, rules, resources, facilities, and management plans for dealing with health. Japan is home to some of the best food in Asia and one of the world's best countries to visit for food. The bacteria in our mouth use the sugar and starch from our food to produce acid that destroys the tooth. The rise in the number of older people and the rise in dental centers are the major factors driving electric handpieces in Asia-Pacific.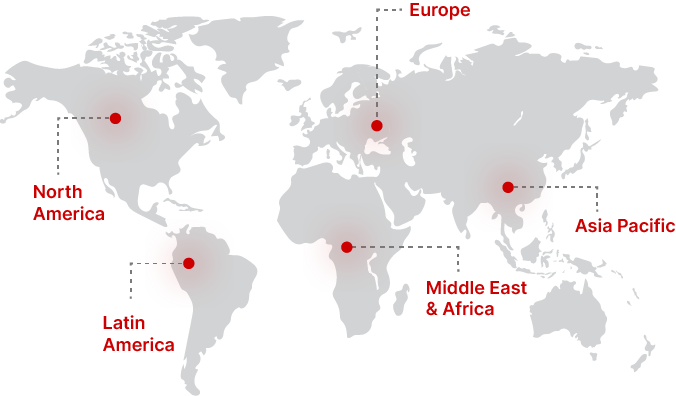 Regional Growth Insights
Download Free Sample
Key Players
NSK
Dentsply Sirona
WandH
Bien Air
MORITA
SciCan
DentalEZ
Anthogyr
Codent
Sinol
Foshan CAN Dental Equipment Co. Ltd.
NOUVAG
TTBIO
Modeer Precision
Recent Developments
March 2023 - Danaher Corporation, a global science and technology innovator, announced a strategic partnership with the University of Pennsylvania (Penn) focusing on cell therapy innovation. The multi-year partnership aims to develop new technologies that will improve the consistency of clinical outcomes for patients and overcome manufacturing bottlenecks in the delivery of next-generation engineered cell products.
Electric Handpieces Market Segmentations
Segmentation by Speed
High-speed handpieces
Low-speed handpieces
Segmentation by Type
Brush Motor
Brushless Motor
Frequently Asked Questions