Market Overview
The Global Fiber Optic Distribution Frames Market Size is projected to grow at CAGR of approximately 9.2% during the forecast period.
A Fiber Optic Distribution Frame (FODF) is a tool used in communication networks to organize and distribute fiber optic connections. It offers a central point for terminating and splicing incoming fiber cables before dispersing the signals to other locations, including other FODFs, network hardware, or client locations. A frame or cabinet having slots for fiber optic splice trays, patch panels, and other components makes up a fiber optic distribution frame. Depending on the installation needs, the frame may be rack-mounted, floor-mounted, or both.
Via cable ports or fiber optic adapters, which make it simple to insert and remove the cables, fiber optic cables are linked to the Fiber Optic Distribution Frame. The cables are normally terminated or spliced into fiber optic pigtails inside the FODF, and these pigtails are attached to the patch panels or splice trays.
In order to maintain and keep an eye on the fiber optic network, the FODF may additionally comprise other parts including cable management systems, power distribution units, and network monitoring devices.
The rising usage of fiber optic networks across a number of industries, including telecommunications, healthcare, transportation, and government, is predicted to lead to considerable growth for the worldwide FODF market in the years to come. The market is also anticipated to be fueled by the rising demand for cloud computing, which necessitates fast and responsive connection.
Market Dynamics
Marketg Drivers
More Devices Are Linked to Data Centers
There is a growing need for quick and dependable communication routes as more and more devices are linked to data centers. Modern communication infrastructure must include fiber optic cables, which are managed and distributed by fiber optic distribution frames.
Fiber optic cables are arranged and connected using these frames, enabling dependable and effective data transfer. The need for fiber optic distribution frames has expanded along with the number of linked devices in data centers, propelling market growth. Fiber optic distribution frames are also utilized in telecommunications, healthcare, and other sectors where quick and dependable communication is crucial, in addition to data centers. The demand for these products will increase as these sectors continue to develop.
Trend Towards Digitalization
The demand for fiber optic distribution frames is being driven by the growing trend towards digitalization since these frames enable the federal and state governments to accomplish their goals more effectively and productively.
Governments at all levels are increasingly relying on digital technology to upgrade their systems and procedures while streamlining operations, lowering costs, and enhancing services. A crucial part of contemporary digital networks, fiber optic distribution frames offer quick and dependable connection for a variety of applications.
Fiber optic distribution frames play a crucial role in assisting governments in achieving their objectives, whether it be by facilitating communication among government agencies, enabling remote access to government services, or supporting vital infrastructure like emergency services and public safety.
Market Restraints
The market for fiber optic distribution frames may be significantly constrained by the high installation costs of fiber optic networks.
Specialized equipment and cabling are needed for fiber optic networks, and their installation might be more expensive than copper wiring. Moreover, installing fiber optic lines across long distances sometimes necessitates extensive excavation and construction work. The high installation costs of fiber optic networks can be attributed to a number of different variables in addition to the cost of equipment and cabling. For instance, the price of specialist equipment might be rather substantial, such as testers and splices. Obtaining appropriate permissions and approvals could also come with extra expenditures, especially in heavily populated metropolitan areas.
Additionally, installation prices might differ significantly based on the region, network complexity, and the availability of competent staff, among other things. The high cost of labor in some regions may have a major role in raising installation expenses.
Market Opportunities
Increasing Collaborations between Data Center Service Providers and Manufacturers
The market for fiber optic distribution frames is expanding as a result of more manufacturers and data centre service providers working together.
Companies that provide a variety of services relating to data processing, distribution, and storage are known as data centre service providers. To provide its consumers with quick and dependable access, these providers frequently rely on fiber optic networks. As such, companies have a strong motivation to partner with producers of fibre optic distribution frames and related equipment in order to guarantee that their networks are optimised for performance and efficiency.
These partnerships help manufacturers by giving them access to a bigger market for their goods and services. They may build more useful solutions by collaborating closely with data centre service providers to get important insights into the requirements and preferences of end customers.
These relationships can take on various shapes, from cooperative research and development projects to strategic alliances and distribution contracts. Together, data centre service providers and equipment producers may build fibre optic networks that are more dependable and durable, which might stimulate development in the total market for fiber optic distribution frames and associated products.
Market Scope
Report Metric
Details
Market Size by 2031
USD XX Million/Billion
Market Size in 2023
USD XX Million/Billion
Market Size in 2022
USD XX Million/Billion
Historical Data
2019-2021
Base Year
2022
Forecast Period
2023-2031
Report Coverage
Revenue Forecast, Competitive Landscape, Growth Factors, Environment & Regulatory Landscape and Trends
Segments Covered

Segment by Type

Wall Mount
Floor Mount
Rack Mount

Segment by Application

Residential
Office Building
Base Station

Geographies Covered

North America
Europe
APAC
Middle East and Africa
LATAM

Companies Profiles

Hua Wei
3M
Huber + Suhner
CommScope
Fujikura
Corning
Sichuan Tianyi Comheart Telecom
New Sea Union Technology
Chaoqian Communication
Huamai Technology
YOFC
Hengtong Optic-Electric
FiberHome
ZTT Group
YUDA Communication
Orient Rising Sun Telecom
Zhantong Telecom
Segmental Analysis
Segment by Type
Wall Mount Fiber Optic Distribution Frames
Wall mounts fiber optic distribution frames are intended for installation on a wall or other vertical surface. These frames are common in residential and commercial structures and are often utilised in modest or medium-sized installations. Wall mount fiber optic distribution frames are typically tiny and can only hold a few fibre optic cables.
Floor Mount Fiber Optic Distribution Frames
Floor mounts fiber optic distribution frames are huge frames that are often mounted on the floor of a data centre or other telecommunications facility. These frames are intended to carry a high number of fibre optic cables while also allowing for simple access to the wires for installation, maintenance, and troubleshooting.
Rack Mount Fiber Optic Distribution Frames
Rack mount fibre optic distribution frames, on the other hand, are intended for use in a typical equipment rack or cabinet. These frames are often smaller than floor mount frames and may be better suited to smaller installations or areas with limited space.
Segment by Application
Fiber optic distribution frames are becoming more common in residential applications, particularly in high-density housing complexes such as flats and condos. These frames are usually put in a central area, such as a basement or utility room, and function as a hub for connecting individual dwellings to the building's fibre optic network. They offer a simple and structured method of managing the fiber optic wires that link each device to the network.
Fiber optic distribution frames are often used in office buildings to link the local area network (LAN) of the building to the larger metropolitan area network (MAN) or wide area network (WAN). These frames, which are often situated in a communications room or data centre, provide as a central point for terminating and distributing fiber optic cables that link to various network equipment such as switches, routers, and servers.
Fiber optic distribution frames are also employed in wireless network base stations, such as those used for mobile phone networks or wireless internet access. These frames are often located in a shelter or equipment room and serve as a central point for terminating and distributing the fiber optic cables that link to the antennas and other network equipment at the base station. They offer a simple and structured method of managing the extensive network of fibre optic connections necessary to enable wireless communications.
Regional Analysis
The Global Fiber Optic Distribution Frames Market is segmented by region as North America, Europe, Asia Pacific, Latin America, and Middle East and Africa.
North America
The North American region is likely to lead the fiber optic distribution frame market due to the significant use of fiber optic technology in different industries such as telecom, data centers, and healthcare. In addition to these government measures, the development of infrastructure is a significant factor in the expansion of this sector, for example. In order to support the deployment of broadband infrastructure, improve and expand public computer centers, encourage sustainable adoption of broadband service, and promote statewide broadband planning and data collection activities, NTIA has overseen an investment of about $4 billion in projects across the United States. The US and Canada are the two countries most responsible for the market's expansion in North America. Also, there are several well-known players in the telecommunications industry.
Europe
Due to the rising demand for high-speed internet access and the expanding number of data centers, Europe is predicted to experience considerable development in the fiber optic distribution frame market. It is anticipated that nations like Germany, the UK, France, and Italy would aid in the expansion of this industry in Europe.
For example, the country's market for fibre optic distribution frames is expanding as a result of the government's attempts to modernise the economy. A yearly cycle of collaboration is established under the Digital Decade policy programme 2030 to accomplish the shared goals and targets. The yearly mechanism of collaboration between the Commission and Member States serves as the foundation for this governance system. Along with the Member States, the Commission will first create anticipated EU trajectories for each goal, after which the Member States will provide national strategic roadmaps to achieve them.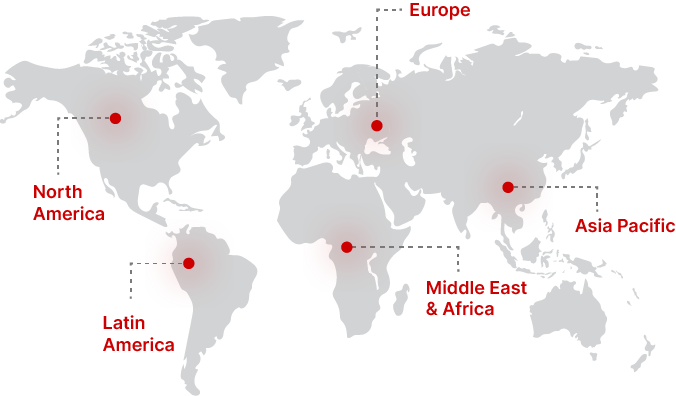 Regional Growth Insights
Download Free Sample
Key Players
Hua Wei
3M
Huber + Suhner
CommScope
Fujikura
Sichuan Tianyi Comheart Telecom
New Sea Union Technology
Chaoqian Communication
Huamai Technology
YOFC
Hengtong Optic-Electric
FiberHome
ZTT Group
YUDA Communication
Orient Rising Sun Telecom
Zhantong Telecom
Fiber Optic Distribution Frames Market Segmentations
Segment by Type
Wall Mount
Floor Mount
Rack Mount
Segment by Application
Residential
Office Building
Base Station
Frequently Asked Questions