Market Overview
The Global FOUP Carrier Market Size is projected to grow at CAGR of approximately 4.6% during the forecast period.
The acronym "FOUP" stands for "Front Opening Unified Pod." It is a specialized plastic enclosure made to securely and safely store silicon wafers in a controlled environment. a transporter confine utilized a semiconductor producing process line is known as a Front Opening Bound Together Case (FOUP).
The FOUP Carrier market is also expanding due to the rising demand for semiconductor devices like memory chips, sensors, and microprocessors.
These gadgets require excellent wafers that are moved and put away in FOUPs.
Lockdowns, travel bans, and business closures caused by the outbreak have had a negative impact on countries economies and industries. The supply and cost of raw materials have fluctuated over the past year, and international freight has become a significant burden. Countries have accelerated the construction of local supply chains to avoid the risk of chain disruptions as a result of factory lockdowns, which have restricted global supply chains and disrupted manufacturing activities, delivery schedules, and product sales. The outbreak has impacted research and development as well as company operations. During the epidemic, the company's most pressing concern is to ensure the stability of operations and the health and safety of its employees.
Market Dynamics
Market Drivers
Chip demand has also skyrocketed as a result of the rapid growth of the 5G, artificial intelligence, and electric vehicle markets. Chip manufacturers such as TSMC, Samsung, Intel, Global Foundries, and SMIC have established factories to expand in response to the global chip shortage. In order to maintain a clean environment for wafers, wafer transport and handling systems are an essential component of the manufacturing process flow.
Wafer handling carriers, primarily front-opening shipping boxes (FOSB), are one component of these systems. cabin (FOUP), and so on. For the wafers they protect, FOUP provide an extremely clean microenvironment. As a result, the semiconductor wafer should not be affected by anything outside the manufacturing process. The FOUP industries have grown as a direct result of the strong demand for FOUPs that are used for safe transportation during the wafer fabrication process.
Market Restraints
During the forecast period, the market's growth is anticipated to be moderately slowed by the high cost of the FOUP
High Standards and Industry Restrictions
Wafer manufacturing in the semiconductor industry has a high technological content and stringent technical process requirements. The requirements for wafer carriers have also increased as a result of the continuous advancement of semiconductor technology. These requirements include higher standards of cleanliness, compliance with automation requirements, strict certification, and so on. Additionally, the wafer carrier industry has a relatively high entry barrier. Higher barriers exist in the more technically challenging FOUP industries. Wafer transport and transfer rely heavily on FOUP (Front Opening Unified Pod).
There is a risk to the cleanliness of the wafer itself if the wafer box is contaminated in any way, which has an impact on yield. The release of wafer cassette material, dust from docking equipment, contamination during the process, and metal contamination of the wafer itself are just a few examples. As a result, FOUP requires a contamination assessment and analysis. One of the drawbacks of FOUP market development is that they necessitate more stringent manufacturing standards and face industry obstacles.
Market Opportunities
Technological Development
The global IP traffic and cloud traffic, among other things, are driving the carrier services market at an exponential rate. During the forecast period, the carrier services market will also see new opportunities created by increasing technological advancements and network service modernization.
Market Scope
Report Metric
Details
Market Size by 2031
USD XX Million/Billion
Market Size in 2023
USD XX Million/Billion
Market Size in 2022
USD XX Million/Billion
Historical Data
2019-2021
Base Year
2022
Forecast Period
2023-2031
Report Coverage
Revenue Forecast, Competitive Landscape, Growth Factors, Environment & Regulatory Landscape and Trends
Segments Covered

Segment by Type


6" Wafer Carrier
8" Wafer Carrier

Segment by Application


300 mm Wafers
200 mm Wafers

Geographies Covered

North America
Europe
APAC
Middle East and Africa
LATAM

Companies Profiles

Brooks Automation
Nidec (Genmark Automation)
Kensington Laboratories
Entegris
Fabmatics
Shin-Etsu Polymer Co., Ltd
Miraial
3S Korea
Chuang King Enterprise
E-SUN
Gudeng Precisio
Segmental Analysis
Segment by Type
6-inch wafer carriers are the most common type of FOUP carrier. They are used to transport and store 6-inch wafers, which are the most widely used size of wafers in the semiconductor industry.
8-inch wafer carriers are used to transport and store 8-inch wafers. 8-inch wafers are becoming increasingly popular in the semiconductor industry, as they offer a number of advantages over 6-inch wafers, such as higher throughput and lower costs.
Segment by Application
A wafer is a thin piece of semiconductor used to make integrated circuits, like crystalline silicon (c-Si). The diameters of silicon wafers range from 25.4 mm (1 inch) to 300 mm (11.8 inches, more commonly referred to as 12 inches). It is primarily determined by the semiconductor fab's wafer diameter. In order to cut costs and increase yield, the diameter is gradually increased.
Integrated circuits, chips, and industrial electronic components typically employ 8-inch silicon wafers, which measure 200 mm (7.9 inches). The majority of applications for wafers smaller than 6 inches are in the general industry of consumer electronic components.
Regional Analysis
The Global FOUP Carrier Market is segmented by region as North America, Europe, Asia Pacific, Latin America, and Middle East and Africa.
Based on the various marketing elements of manufacturing capacity, consumer base, productivity, governmental support, and ease of business, North America, Latin America, Europe, India, China, Australia, and a lot of other countries have been analysed.
It has been observed that North America will experience significant marketing development growth during the specified time frame. In these regions, administrative organizations and marketing managers are focusing their efforts on creating a client-driven scenario that will contribute to the growth of an effective marketing condition. As the significant pieces of the market business would spread from one side of the planet to the other, Center East, Africa, North America alongside other Asia-Pacific countries shows an extraordinary possibility of fostering a decent market good climate in their space.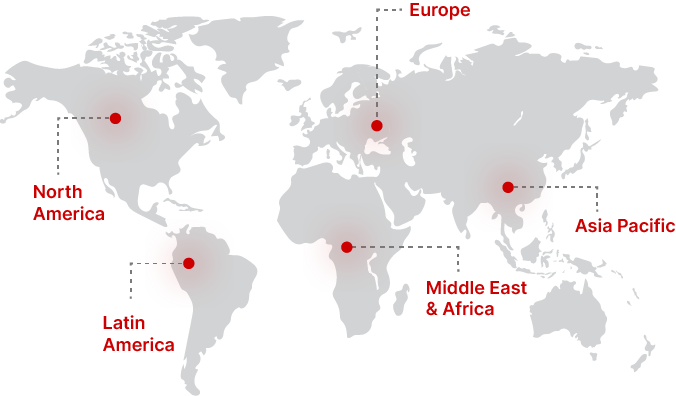 Regional Growth Insights
Download Free Sample
Key Players
Nidec (Genmark Automation)
Kensington Laboratories
Entegris
Fabmatics
Shin-Etsu Polymer Co., Ltd
Miraial
3S Korea
Chuang King Enterprise
E-SUN
Gudeng Precisio
FOUP Carrier Market Segmentations
Segment by Type
6" Wafer Carrier
8" Wafer Carrier
Segment by Application
300 mm Wafers
200 mm Wafers
Frequently Asked Questions