Market Overview
The Global Generator for Telecom Market Size is projected to grow at CAGR of approximately 5.2% during the forecast period.
The company is expanding due to increased demand for backup power from multinational telecom carriers. This industry is growing as a result of the increased use of smart devices and the expansion of data centers. The DC telecom Genset with HBSM is expected to dominate the global Generator for Telecom Market from 2018 to 2028. This is due to the fact that it has a longer lifespan than other types of generators on the market and can supply a continuous energy flow throughout time.
To address the demands of the telecom industry, a type of backup power generator known as a telecom generator was developed. Telecom generators are used to supply emergency backup power for cell towers and other forms of telecom equipment in the event of a power outage or other type of grid breakdown. Fixed or portable telecom generators are frequently powered by diesel or natural gas. Portable telecom generators are frequently used for short-term power outages, whilst permanent telecom generators are built for long-term backup power.
Market Dynamics
Market Drivers
Telecom companies are continually developing their networks in order to improve customer service and broaden their geographic reach. This construction activity often takes place in areas with a weak or inadequate electrical infrastructure. In these conditions, generators are essential for maintaining network uptime, supplying backup power, and ensuring continuous communication services.
Market Restraints
Diesel generators and other common industrial practices that increase greenhouse gas emissions and air pollution exacerbate environmental issues. Due to stricter environmental restrictions and a focus on sustainability, businesses in the telecom sector may spend more money on cleaner, greener forms of power.
Market Opportunities
There are still many things that are necessary in remote and rural areas, such as a reliable electricity infrastructure. Telecom companies need generators to expand their networks and provide connection in these impoverished areas. The need for generators in these locations opens up growth opportunities for the communications sector.
Market Scope
Report Metric
Details
Market Size by 2031
USD XX Million/Billion
Market Size in 2023
USD XX Million/Billion
Market Size in 2022
USD XX Million/Billion
Historical Data
2019-2021
Base Year
2022
Forecast Period
2023-2031
Report Coverage
Revenue Forecast, Competitive Landscape, Growth Factors, Environment & Regulatory Landscape and Trends
Segments Covered

Segmentation By Type

DC Telecom Genset with HBSM
AC Telecom Genset

Segmentation By Application

On-Grid
Off-Grid

Geographies Covered

North America
Europe
APAC
Middle East and Africa
LATAM

Companies Profiles

Caterpillar
Cummins
Generac Power Systems
HIMOINSA
Kohler
Segmental Analysis
Segmentation By Type
DC Telecom Genset with HBSM
A kind of switchgear known as a DC telecom Genset with HBSM is used to convert the high voltage electricity from the distribution feeder into low voltage for the telecom tower. It is crucial for safeguarding the communication tower from electrical surges and blackouts brought on by weather, lightning, or other natural disasters that might harm the apparatus mounted atop it.
An AC telecom Genset is a specific kind of generator set designed to generate electricity in a grid powered by alternating current (AC). The gensets are linked in series to maintain the voltage and reduce power losses due to internal resistance. They have a job.
Segmentation By Application
On-grid, off-grid, as well as household, business, and industrial usage are included in these three categories. In terms of revenue share, the on-grid application category led the Generator for Telecom Market in 2017. This is a result of the rise in demand for telecom services from end users and service providers. In order to meet the growing need for reliable power supply across many sectors, including data centers, IT offices, educational institutions, and healthcare facilities, among others, generator set makers have been concentrating on improving their product offerings.
The commercial sector includes small- and large-scale retail outlets like electronic markets (EMS), showrooms/repair shops that fix consumer electronics like mobile phones, as well as IT consulting firms that need a highly dependable power supply during emergencies or blackouts caused, among other things, by storms or volcanic eruptions.
Regional Analysis
The Global Generator for Telecom Market is segmented by region as North America, Europe, Asia Pacific, Latin America, and Middle East and Africa.
Asia Pacific
In terms of revenue share, the Asia Pacific region led the worldwide market in 2017. Due to a rising population and a need for renewable energy, the area is expected to maintain its dominance over the projected period. More than 30% of all sales of telecom equipment in the Asia Pacific area were made in China, which accelerated regional development. Over the next years, it is also projected that increasing government investment would promote industrial growth.
North America
North America generated significant revenue in 2017 and throughout the forecast period as a result of the region's high penetration of renewable energy generation technologies, such as wind and solar PV panels, as well as an increase in government initiatives to modernize the nation's electricity distribution grids. Construction project laws and processes, as well as modifications to and support for rules that are advantageous to agreements for interstate commerce, federal power grid codes, etc.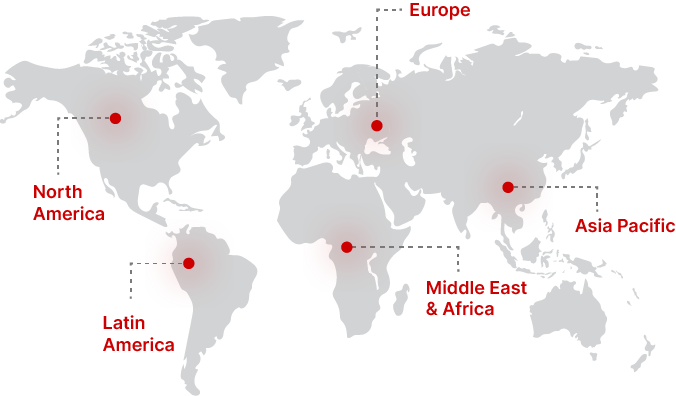 Regional Growth Insights
Download Free Sample
Key Players
Caterpillar
Generac Power Systems
HIMOINSA
Kohler
Recent Developments
Modern systems have more features that make remote administration and monitoring possible. This increases operational effectiveness and decreases downtime by enabling telecom operators to monitor generator performance, fuel levels, and maintenance needs from a single place.
Generator for Telecom Market Segmentations
Segmentation By Type
DC Telecom Genset with HBSM
AC Telecom Genset
Segmentation By Application
Frequently Asked Questions