Market Overview
The Global Generator in Data Center Market Size is projected to grow at a CAGR of approximately 5.33% during the forecast period.
Due to power outages brought on by utility grid failures, rolling blackouts, harsh weather, natural or man-made disasters, or electrical problems, data centers are greatly at risk of suffering operational losses. The equipment and parts of data centers are designed to run continuously. They put pressure on the market for data center generators because they need consistent, continuous power seven days a week.
Natural gas generators are a popular option to offer continuous power and come closer to corporate sustainability goals because of advancements in generator technology. These fuels are also less costly and simpler to get than diesel. Another environmentally friendly low-emission alternative is renewable natural gas, which may be continually produced from trash, livestock activities, and wastewater treatment plants. Thus, coming forward, the usage of gas generators will be promoted.
Due to the requirement that an emergency power supply system (EPSS) operate for 120 minutes or longer (typically requiring on-site fuel storage), the majority of data center operators prefer diesel generators as the primary and most popular choice for backup energy for critical systems, which is boosting demand for the data center generator market globally.
Market Dynamics
Market Drivers
Data centers gather and store massive amounts of sensitive information, making data security more important than ever. Generators are utilized as a backup power source to ensure the performance of access controls, security systems, and other essential equipment securing data center facilities.
Market Restraints
Data centers now more than ever are giving top priority to sustainability and lowering their carbon footprints. Because of emissions and environmental concerns, it may be challenging to employ common industrial techniques, including diesel generators. To abide with stringent environmental requirements, certain generator types would not be permitted to be utilized or further investments in emission control technologies could be required.
Market Opportunities
It would be feasible to lower the peak demand in data centers and increase power efficiency by combining energy storage systems, such as batteries, with generators. The need for generators to operate as long during unplanned power outages may be reduced thanks to energy storage technologies.
Market Scope
Report Metric
Details
Market Size by 2031
USD XX Million/Billion
Market Size in 2023
USD XX Million/Billion
Market Size in 2022
USD XX Million/Billion
Historical Data
2019-2021
Base Year
2022
Forecast Period
2023-2031
Report Coverage
Revenue Forecast, Competitive Landscape, Growth Factors, Environment & Regulatory Landscape and Trends
Segments Covered

Segmentation by Type

<500 KW
1001-3000 KW

Segmentation by Application

Analog Control Technology
Digital Control Technology

Geographies Covered

North America
Europe
APAC
Middle East and Africa
LATAM

Companies Profiles

Caterpillar
Generac
MTU Onsite Energy
SDMO
Atlas Copco
AVK
Wilson
Himoinsa
MTU Onsite Energy
Pramac
Segmental Analysis
Segmentation By Type
Generators having a power output of 500 kW or less fall under this category. These generators are often used in smaller data centers or for tasks requiring less power.
This market segment includes generators with power outputs ranging between 501 and 1000 kilowatts. Since they only need a little amount of energy, small and medium-sized data centers are among the applications that may profit from deploying these generators.
This market segment includes generators with power outputs between 1001 and 3000 KW. These generators are used in bigger data centers or in applications that need greater power.
Segmentation By Application
Analog Control Technology
In this industry, generators using analog control technology are employed. To monitor and manage the functioning of generators, analog control systems use continuous signals. They provide simple, dependable control strategies for starting generators.
Digital Control Technology
Generators based on digital control technology are the subject of this section of the book. Digital control systems make use of digital signals and computer-based algorithms to monitor and manage the functioning of generators. Remote monitoring, diagnostics, and precise generator performance control are examples of contemporary features.
Regional Analysis
The Global Generator in Data Center Market is segmented by region as North America, Europe, Asia Pacific, Latin America, and Middle East and Africa.
North America
The markets for data centers and generator solutions are most developed in North America. Due to a number of variables, including the existence of large technological companies, a strong demand for data-intensive applications, and strict data security legislation, the United States and Canada dominate the market in this industry. The area focuses keeping a steady supply of electricity and has a reliable data center infrastructure. In order to reduce the likelihood of power interruptions and preserve continuous operations, generator solutions are often used. Because it has adopted cutting-edge technology like hybrid power systems and high-efficiency generators, the North American generator sector is exceptional.
Europe
The European Union is a sizable market for data center generator solutions. Significant participants in this industry include nations like Germany, the United Kingdom, France, and the Netherlands. The sector is expanding as a result of the expanding demand for cloud computing, digital services, and data storage. Data centers are increasingly using green energy options, such as generators integrated with renewable energy sources, as a result of Europe's growing focus on sustainability and energy efficiency. The creation of dependable backup power systems and governmental programs to encourage energy saving are further market-drivers in Europe.
Asia Pacific
The need for generator solutions for data centers is rising quickly in this region. The majority of the producers in this industry are based in Singapore, China, India, and Japan. Data centers and backup power choices are crucial because of the increased demand for cloud-based services, the developing IT and telecom industries, and the quickening digitalization process. Generators are required to keep operations running since the area often experiences power outages. Another developing trend in the area is the use of generators in conjunction with renewable energy sources like solar and wind energy.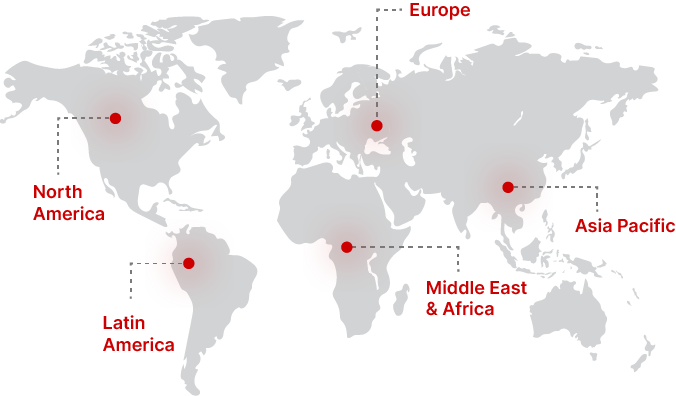 Regional Growth Insights
Download Free Sample
Key Players
Caterpillar
MTU Onsite Energy
SDMO
Atlas Copco
AVK
Wilson
Himoinsa
MTU Onsite Energy
Pramac
Recent Developments
In the data center business, hybrid generator systems—which combine conventional generators with renewable energy sources and energy storage systems—are gaining popularity. These systems provide a more efficient and sustainable backup power option, lowering emissions and fuel consumption.
Generator in Data Center Market Segmentations
Segmentation by Type
Segmentation by Application
Analog Control Technology
Digital Control Technology
Frequently Asked Questions