Market Overview
The Global Golf Putter Grips Market Size is projected to grow at CAGR of approximately 2.3% during the forecast period.
The golf grip is a piece of hollow rubber that slides over the top of the club shaft to support the club. The conventional, backward overlap golf grip is the most commonly used grip on tour. It's a minor variation of the grip used for your complete swing, and it allows the hands to work together with less wrist hinge.
A larger putter grip can help reduce wrist pressure during the stroke, allowing for a more consistent roll on the ball. It can also encourage the larger arm muscles to take control, reducing the effect of twitchy wrists. Putter grip shapes are classified into six types circle, oval, flat oval, pistol, flat wide, and modified pistol.
The United States Golf Association (USGA) restricts putter grip size to 1.75 inches. The weight of the grip has a significant influence on how the club feels in your hands. A lighter grip makes the club head appear heavier because it raises the swing weight. A firmer grip, on the other hand, makes the cranium feel lighter.
The golf putter grips market is a subset of the broader golf industry. Putter grips are an important piece of equipment for golfers because they serve to improve the golfer's grip and control over the putter. Putter grips, as a result, are an essential component in a golfer's overall performance and are a popular accessory among golfers of all skill levels. Standard grips, oversized grips, counterbalance grips, and belly putter grips are all common putter grips. The most common type of putter grip is a standard grip, but oversized grips and counterbalance grips are gaining popularity due to their ability to minimize wrist action during the swing.
Market Dynamics
Market Drivers
A larger Putter Grip Can Improve Putting Accuracy
Market for golf putter grip is driving due to accuracy. A larger putter grip can improve putting precision. A larger putter grip can help reduce wrist impact during the stroke, allowing for a smoother, more regular roll on the ball. It can also encourage the larger arm muscles to take control, reducing the effect of twitchy muscles.
Maintains Your Arms Relaxed and Your Hands Soft
One of the most significant advantages of a fat putting grip is that it maintains your arms and hands relaxed and soft. A firm, death hold is much more difficult to achieve with a larger grip. To be an excellent putter, you must keep a soft grip pressure, due to which golf putter grip is growing market.
Golf Tourism and Other Factors is Driving the Market
Another major driver of the golf putter grips market is the growing emphasis on golf tourism, which has resulted in the creation of high-end golf courses and the demand for premium golf equipment. People's rising disposable income, particularly in emerging economies, is also adding to market development, it has eye appealing designs, due which market for golf putter grip is driving.
Innovation on Golf Putter Grip
Technological advancements have resulted in the creation of innovative golf putter grips that provide improved grip and feel, increasing demand for such products. The rise of e-commerce platforms has also made it simpler for consumers to buy golf putter grips, which is anticipated to drive market growth.
Market Restraints
Lack of Awareness about the Product
Some players may be unaware of the significance of a good putter grip and may not see the benefit of investing in a high-quality grip. This may limit manufacturers' prospective market, due to which golf putter grip market facing challenges.
Golf putter grips can be costly, especially if they are constructed of high-quality materials. This may restrict the market to golfers willing to spend a substantial amount of money on their equipment.
Negative Impact on Performance
The hands can move independently - With a neutral grip, your hands aren't really connected and can move somewhat independently of each other. Without the proper strength and discipline, this can result in a power imbalance or a messed-up swing sequence, culminating in a poor shot. Which will restrict the golf putter grip market.
Too much mobility in the wrists - Although wrist freedom can be a blessing for additional shot power, it can also be a curse for control. Power should come from the complete swing, and relying too much on the wrists can lead to poor habits as well as mishits, due to which consumers may not buy putter grip which affect the market growth.
Market Opportunities
Focused More Materials and Safety
The introduction of eco-friendly and sustainable materials for grip production, customization choices for individual golfers, and the development of grips that can reduce the risk of golf-related injuries are all opportunities in the golf putter grips market. Furthermore, rising demand for high-quality golf equipment from emerging economies is anticipated to open up lucrative opportunities for market participants.
Market Scope
Report Metric
Details
Market Size by 2031
USD XX Million/Billion
Market Size in 2023
USD XX Million/Billion
Market Size in 2022
USD XX Million/Billion
Historical Data
2019-2021
Base Year
2022
Forecast Period
2023-2031
Report Coverage
Revenue Forecast, Competitive Landscape, Growth Factors, Environment & Regulatory Landscape and Trends
Segments Covered

Segment by Type

Standard Grips
Midsize Grips
Oversize/Jumbo Grips
Undersize Grips

Segment by Application

Professional Player
Amateur Player

Geographies Covered

North America
Europe
APAC
Middle East and Africa
LATAM

Companies Profiles

Winn
Golf Pride
TourMark
SuperStroke
Iomic
Lamkin
JumboMax
Avon Grips
Flat Cat Putter Grips
Garsen Grips
Odyssey Putter Grips
PURE Grips
Secret
Star Grip
Tacki-Mac
TaylorMade Bubble
TourMark Putter Grips
Segmental Analysis
Segment by Type
Standard handles are for hands measuring 7 inches to 8 3/4 inches in length, while midsize grips are for hands measuring 8 1/4 inches to 9 1/4 inches in length. It is also suggested that you select your grip depending on your glove.
A midsize grip is created and constructed in the same way as a standard grip, but it is thicker.
Golf Grips encourages a lighter grip and can help alleviate hand and wrist strain caused by over gripping. Lighter grip weight improves control and consistency of swing for target-focused precision.
Undersize or junior grips are 1/64-inch smaller than standard grips for palm measurements less than 7 inches.
Segment by Application
Golf putter grips designed for professionals are usually thinner and lighter than those designed for amateurs. These grips are also designed to give the golfer's hands maximum feel and feedback, enabling them to make precise putts with a high degree of control.
Golf putter grips for novice players are usually larger and more forgiving than those for professional players. Softer materials are frequently used to absorb shock and reduce vibrations, making these grips more comfortable to use for prolonged amounts of time.
Regional Analysis
The Global Golf Putter Grips Market is segmented by region as North America, Europe, Asia Pacific, Latin America, and Middle East and Africa.
Golf is a popular sport in Europe
Golf putter grips market will drive due to popularity of golf game in this region. Golf is a popular sport all over the world, but it is particularly popular in the United Kingdom, where it began. The United Kingdom is generally regarded as one of the "birthplaces of golf" and maintains a vibrant golf culture.
According to the European Golf Association, there are nearly 10,000 golf courses in Europe, with more than 18 million people expected to enjoy the game by 2020. Golfers are most common in Germany, Spain, and the United Kingdom, but they can be found throughout Europe.
Golf in Europe is usually different from golf in the United States. Many courses have existed for centuries, and many European golfers are committed to maintaining the game's traditional values and times.
North America
The United States also has a large number of golfers. It is estimated that 30 million Americans participate in the sport, and there are courses all over the nation. Scotland, the birthplace of golf, is also a hotspot for devoted golfers, with an estimated 600,000 people playing there.
Middle East and Africa
Golf putter grip market is driving as Golf is a popular sport in the Middle East, particularly in wealthier nations such as Qatar, the United Arab Emirates, Bahrain, and Kuwait. The sport is popular in the Middle East, and there are hundreds of golf courses throughout the area. Golf tournaments such as the Dubai World Championship and the Qatar Masters have also been hosted in the region. There are also numerous premier clubs in the region, each with world-class courses and facilities, due to which golf putter grip market demand will boost.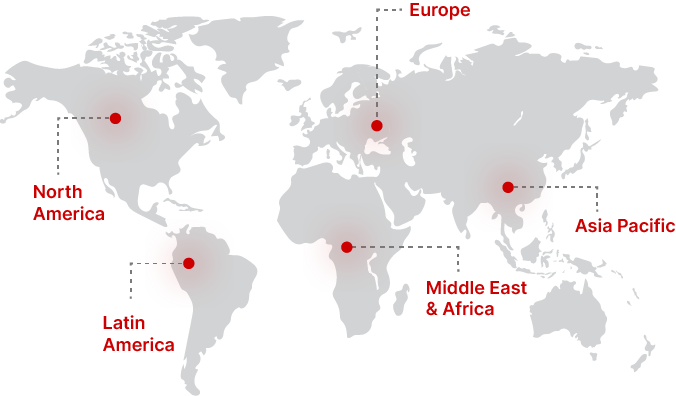 Regional Growth Insights
Download Free Sample
Key Players
Winn
Golf Pride
TourMark
Iomic
Lamkin
JumboMax
Avon Grips
Flat Cat Putter Grips
Garsen Grips
Odyssey Putter Grips
PURE Grips
Secret
Star Grip
Tacki-Mac
TaylorMade Bubble
TourMark Putter Grips
Golf Putter Grips Market Segmentations
Segment by Type
Standard Grips
Midsize Grips
Oversize/Jumbo Grips
Undersize Grips
Segment by Application
Professional Player
Amateur Player
Frequently Asked Questions