Market Overview
According to Reed Intelligence the Global Guitar Amplification System Market Size will approximately grow at a CAGR of 5.6% during the forecast period.
A guitar amplification system is a collection of equipment to enhance an electric guitar's sound, making it louder and more suited for live performances or recordings. There are various parts to it. The primary component of equipment in the setup is the electric guitar. Electric guitars lack a sound hole, requiring amplification to produce audible sound, unlike acoustic guitars. The system's primary focus is the guitar amplifier. It amplifies the guitar pickups' weak electrical signal into a stronger audio signal that powers a loudspeaker. The guitar's tone also depends on the amplifier's numerous controls like volume, gain, bass, midrange, treble, and other effects.
The loudspeaker is in charge of transforming the amplified electrical signal from the amplifier into audible sound waves. It is frequently housed in a speaker cabinet. To further modify or improve the sound of their guitar, many guitarists employ effects pedals. These pedals may consist of the effects like chorus, delay, distortion, reverb, and many others. Many cables and connectors are needed to connect the guitar, amplifier, and effects pedals. Speaker wires link the amplifier to the speaker cabinet, while guitar cables transport the signal from the guitar to the amplifier or pedals.
Music performance is the industry that uses guitar amplification the most prominently. Guitar amplification systems are used to amplify electric guitars by guitarists in bands and solo performers across various genres, including rock, pop, blues, jazz, country, and metal. The growth in the music industry may lead to increase in the demand for the guitar amplification system.
Market Dynamics
Market Driver
The number of musicians and music projects is increasing as the music industry grows. Each musician needs guitar amplification devices to amplify their electric guitars when performing or recording. For musicians and bands, live concerts continue to be an important source of income. The need for dependable and quality guitar amplification systems increases as more live performances, concerts, and music festivals are held so that musicians may effectively convey their music to the audience. Musicians from all over the world may reach global audiences due to the internet and digital media. This international presence expands the market for guitar amplifiers in various regions globally.
Increased Demand Of Electrical Guitars
Electric guitars lack the acoustic guitars sound projection, so they must be amplified to produce audible sound. The demand for guitar amplification systems market grows along with using electric guitars. Electric guitar's popularity has a strong connection with music company growth. As the music industry grows, more musicians and bands are choosing electric guitars for their live performances and recorded songs. So, there is an increase in the need for guitar amplification equipment to support live performances and studio recording sessions. Electric guitar amplification systems are in great demand, so music supply stores and internet markets stock up to fulfil demand. This improved availability drives the market's expansion.
Market Restraints
For an important portion of potential customers, especially amateur musicians or hobbyists with limited funds, expensive guitar amplification systems may be unaffordable. This restricts the market's size and rate of adoption because many aspiring artists might choose less expensive options or postpone buying. The total number of sales for guitar amplification systems may decline when they are priced high. High prices could discourage potential customers from purchasing, lowering sales numbers for producers and retailers. Market segments, in which the market is divided into premium, mid-range, and entry-level customers, may result in high expenses. Some customers might also be ready to purchase models with higher costs, others might choose less expensive options, creating a divided market. Thus, high costs may limit the adoption of the Amplification system.
Market Scope
Report Metric
Details
Market Size by 2031
USD XX Million/Billion
Market Size in 2023
USD XX Million/Billion
Market Size in 2022
USD XX Million/Billion
Historical Data
2019-2021
Base Year
2022
Forecast Period
2023-2031
Report Coverage
Revenue Forecast, Competitive Landscape, Growth Factors, Environment & Regulatory Landscape and Trends
Segments Covered

Segment by Type

Guitar Amplifier Head
Combo Guitar Amplifiers

Segment by Application

Household Customers
Commercial Customers

Geographies Covered

North America
Europe
APAC
Middle East and Africa
LATAM

Companies Profiles

Fender
Marshall
Blackstar
Hughes and Kettner
Orange
Vox
Peavey
Roland
Laney
Yamaha
PRS
Dr.Z
Mesa
Fishman
Music Group
Johnson
Segmental Analysis
Segment by Type
A guitar amplifier head, also known as an amp head, is a type of guitar amplification system market that includes just the amplifier part of a guitar amplifier without the built-in speakers. It is combined with an external speaker cabinet to provide a full guitar amplification system. All the electronics required to amplify the signal from the guitar pickups are in the guitar amplifier head. Preamp circuits, power amp sections, tone controls, and built-in effects are included in it. A speaker cabinet's input jacks can be linked to a guitar amplifier head's output jacks on the rear panel. A speaker cable is used to link the two devices. Guitarists have a lot of flexibility with amp heads as they may select different speaker cabinets based on tone, volume, and size preferences. It is possible to modify the setup to particular performance or recording requirements by using different speaker cabinet configurations, which can considerably impact the sound.
Combination guitar amplifiers, or combos, are a type of guitar amplification system market that combines the speaker cabinet and amplifier head (electronics) into a single piece. Combo amplifiers provide a more portable and compact alternative to separate amplifier heads and speaker cabinets requiring independent installations and connections. In a single enclosure, combo amplifiers house the main speaker(s) and the amplifier circuitry (preamp and power amp sections). Due to their design, they are self-contained units and need a power source and a guitar cable to function. Tone-shaping settings in combo amplifiers consist of gain, volume, bass, treble, and built-in effects like reverb, delay, and modulation. Some models even include integrated amp modeling and digital effects for more diverse sound options.
Segment by Application
Customers in the home use guitar amplification systems for practice and rehearsal, especially guitarists. Guitarists can improve their playing and technique by using amplifiers to hear their instrument's sound at a suitable volume. Many musicians have small home studios or at-home recording equipment. For accurate audio recordings, guitar amplification devices are necessary for capturing guitar tracks during recording sessions. To improve audio playback from television or other media devices, guitar amplifiers can be part of a home theatre setup. This results in higher sound quality and bass response. Amplifiers are used by household consumers, like guitar students, to practice and follow along with books and online courses.
To keep customers entertained, many clubs and restaurants offer open mic nights or live music events. Acoustic or electric guitars are amplified using guitar amplification systems, which also improve the musical experience. Electric guitars and other instruments on stage are amplified using guitar amplification systems in concert halls, theatres, and other event venues that host concerts or plays. Shopping centres and shops may host musical promotions or live concerts. The sound in these public areas is amplified using guitar amplification equipment. For live presentations, keynote speakers, and musical performances, guitar amplification systems are used in conference centres and convention halls. Bands and musicians perform live shows on cruise liners. In the salons and performing spaces on board, guitar amplifiers are used.
Regional Analysis
North America
Advancements in technology, such as better recording equipment and digital distribution channels, have empowered musicians to produce and distribute their music more easily and independently in North America. As digital music streaming platforms and websites change the musical scenario, music streaming is becoming popular in North America. The digital music market is accelerating as consumers are attracted to purchasing different content they can access for free. Due to increasing disposable income, consumers are purchasing digital content. Due to the growing music industry, this is expected to drive the market of guitar amplifiers in the region.
Europe
The Europe Electric Guitars Market is expected to witness market growth of 5.9%. The Germany market dominated the Europe Electric Guitars Market in Europe, and is expected to continue to be a dominant market till 2027. Modern instruments have positively impacted from a variety of enhancements, including reduced noise, easier string tuning, and more appealing/longer lasting coatings. The growth in music industry is driving the demand for electric guitars and this factor will be driving the demand for Guitar amplification system in the region in the upcoming years.
Asia Pacific
The rising number of live concerts and music festivals in the region creates a high demand for electric guitars and other musical instruments. Asia Pacific is home to some of the world's largest and most attended music events, such as the Fuji Rock Festival in Japan, Clockenflap in Hong Kong, the Ziro Festival of Music in India, and the Rainforest World Music Festival in Malaysia. The growing availability and affordability of electric guitars and related accessories are due to the presence of major manufacturers and distributors in the region. These factors are expected to drive the demand for the Guitar Amplification system in Asia Pacific.
South America
The increasing popularity of Latin American music genres, such as salsa, cumbia, reggaeton, and bachata, often incorporate electric guitars and other instruments. Electric guitars are also used in other music genres, such as rock, metal, pop, and jazz, with a large regional fan base. Latin America is home to some of the world's most vibrant and diverse music festivals, such as Rock in Rio in Brazil, Vive Latino in Mexico, Lollapalooza in Chile and Argentina, and Estéreo Picnic in Colombia. This is expected to drive the region's demand for guitar amplification systems.
Middle East and Africa
The increasing influence of Western music genres, such as rock, pop, blues, and jazz, often feature electric guitars and other instruments. Electric guitars are also used in African music genres, such as highlife, soukous, afrobeat, and mbalax, which blend traditional and modern elements. The rising number of music schools and regional programs provides opportunities for learning and playing electric guitars and other musical instruments. The music industry is comparatively growing slower but is expected to grow in the upcoming years.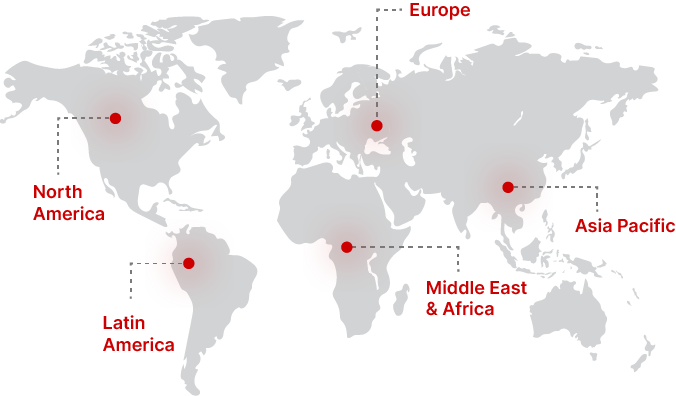 Regional Growth Insights
Download Free Sample
Key Players
Fender
Marshall
Blackstar
Hughes and Kettner
Orange
Vox
Roland
Laney
Yamaha
PRS
Dr.Z
Mesa
Fishman
Music Group
Johnson
Recent Developments
December 2022: Music Radar published a list of the 10 new guitar amplifiers and amplifier pedals of an amplifier. This list also featured products from Universal Audio, Fender, Victory, Positive Grid, Blackstar, and others.
Guitar Amplification System Market Segmentations
Segment by Type
Guitar Amplifier Head
Combo Guitar Amplifiers
Segment by Application
Household Customers
Commercial Customers
Frequently Asked Questions