Market Overview
The Global High power Rectifier Market size is projected to grow at a CAGR of 5.3% during the forecast period.
A rectifier is an electronic device that uses one or more p-n junction diodes to change alternating current into direct current.
Between 2022 and 2028, it is anticipated that the global market for high-power rectifiers will expand significantly. The market is expanding steadily in 2021, and given that key players are increasingly adopting strategies, it is anticipated that the market will continue to expand over the anticipated time frame.
The growth of the studied market is being driven by factors such as an increase in public sector spending on modern power generation and distribution infrastructure and an increase in demand for rectifier diodes for various automotive applications, particularly in developing regions. In addition, power rectifiers are necessary for the generation of electricity by a number of household appliances, including televisions, video game consoles, computers, and notebooks.
Market Dynamics
Market Drivers
High level of protection

Coordinated verification tests of the semiconductor and fuse
Effective, fully integrated, and separately fused overvoltage and surge protection
Double-insulated wires by cable ducts, pipes, or sleeves
Temperature monitoring of the profiles of the aluminium heatsink
integrated water channels reduce the number of cooling hoses; a clamping yoke with an integrated clamping force indicator reduces the number of bolted connections in the rectifier reduces corrosion due to high-quality cooling material reduces hotspots by using nonmagnetic materials
Additional significant drivers include the expansion of transmission networks, the rising power demand, and the replacement of out-of-date transformer units.
Government spending on modern electricity
In particular less developed nations, the government is investing more in cutting-edge power distribution and generation infrastructure.
Market Restraints
A significant factor that may impede market expansion is the high cost of acquiring rectifiers. For instance, four diodes are required for a bridge rectifier; Consequently, this component has a higher price tag.
In order to protect against the dangers posed by an accidental reversal of supply voltage, rectifiers are used in electronic component circuits. As a result, if it is connected improperly or incorrectly, it may result in equipment damage or pose a safety risk. The rectifier can fail for a variety of reasons, including a weak or loose battery, improper grounding, or a worn-out connection to the battery. For instance, if the regulator rectifier in a car breaks down, replacing the part could cost a lot of time and money.
Market Opportunities
A few examples of potential business opportunities in this market include modern electric power steering, seat control, central body control, and braking systems. More and more people are using smart grids.
In developing nations, the utilization of smart grid technology aids in the coordination of the capabilities and requirements of all electricity market participants, including end users, generators, and grid operators, among others. In addition to making the system more dependable, stable, and resilient, this makes it possible to run every component of the system in a manner that is as economical and friendly to the environment as is humanly possible.
Market Scope
Report Metric
Details
Market Size by 2031
USD XX Million/Billion
Market Size in 2023
USD XX Million/Billion
Market Size in 2022
USD XX Million/Billion
Historical Data
2019-2021
Base Year
2022
Forecast Period
2023-2031
Report Coverage
Revenue Forecast, Competitive Landscape, Growth Factors, Environment & Regulatory Landscape and Trends
Segments Covered

Segment by Type

12V-48V
75V-150V
More Than 150V

Segment by Application

Chlorine Alkali Industry
Electrolysis
Metal Smelting
Others

Geographies Covered

North America
Europe
APAC
Middle East and Africa
LATAM

Companies Profiles

ABB
Neeltran Inc
Sairush Electronics Systems
Fuji Electric
FRIEM
Eaton
Hind Rectifiers Limited
Thycon Industries PTY Ltd
BRASCOELMA
Nidec ASI
Comeca Group
Dynapower
Segmental Analysis
Segment by Type
The 12V-48V segment typically refers to the voltage range used in automotive and industrial applications. Within this segment, there are different voltage levels that are commonly used for various purposes.
The 75V-150V segment refers to a range of voltage values commonly used in electrical and electronic systems. This segment is often found in applications such as power supplies, lighting, and motor control, where moderate to high voltage levels are required.
The more than 150V segment refers to a higher range of voltage values commonly used in power electronics and high voltage applications. This segment includes applications such as electric vehicles, renewable energy systems, and industrial power distribution.
Segment by Application
The Chlorine Alkali industry segment involves the production of chlorine and caustic soda, which are used in various industries, including chemical manufacturing, paper and pulp production, and water treatment.
The electrolysis industry involves the use of electrical current to drive chemical reactions, such as the separation of compounds into their constituent elements or the deposition of metals onto surfaces.
The metal smelting industry involves the extraction of metals from their ores through heating and chemical processes. This segment is found in a range of industries, including mining, manufacturing, and construction.
Regional Analysis
The Global High power Rectifier Market is segmented by region as North America, Europe, Asia Pacific, Latin America, and Middle East and Africa.
Due to the significant rise in demand for rectifier-based electronic components and renewable energy products in the automotive industry throughout the region, the Asia-Pacific rectifier market is one of the fastest-growing markets.
China is a major producer of rectifiers and has a significant number of local businesses. In addition, over the course of the past few years, Chinese rectifier manufacturers have focused their rapid expansion on the supply of consumer electronics.
Additionally, Korean rectifier manufacturers like Samsung Electro-Mechanics, which depends on China for 40% of its revenues, are impacted by the ongoing trade war between China and the United States, according to Business Korea.
In response to rising demand from China, the Republic of Korea, India, and Singapore for rectifiers and other essential consumer electronics, numerous businesses are establishing manufacturing facilities in the Asia-Pacific region. Businesses' decisions to establish manufacturing facilities in this region are aided by the abundant supply of raw materials and low startup and labour costs.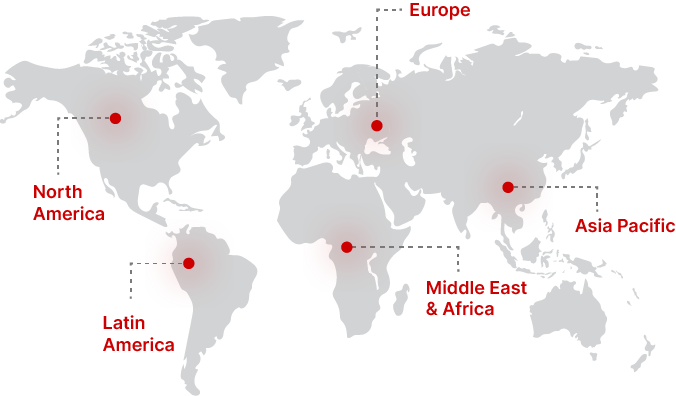 Regional Growth Insights
Download Free Sample
Key Players
Neeltran Inc
Sairush Electronics Systems
Fuji Electric
FRIEM
Eaton
Hind Rectifiers Limited
Thycon Industries PTY Ltd
BRASCOELMA
Nidec ASI
Comeca Group
Dynapower
Recent Developments
2022(January)- HBS502-HF Thru was introduced by Comchip Technology Co. Ltd. HF rectifier HBS510. Surface mount bridge, compact packaging, glass passivated chip junction, high forward current capability of up to 5A, and high surge current capability are some of the characteristics.
2022(April)- The DIODES APR34910, a low secondary-side synchronous rectifier switch used in power adapters for set-top boxes, laptops, and mobile phones, was released in April 2022 by Diodes Incorporated. The 100V N channel MOSFET and low 10m RDS(ON) of the APR34910 reduce secondary-side rectifier power losses, boost efficiency, and offer a high-performance.
Other- ABB makes the most dependable and productive high-power rectifiers and converters. ABB, a global leader in the supply of DC rectifiers or AC converters for all industrial applications, is committed to employee safety and possesses the expertise and knowledge necessary to meet your stringent requirements. In a single unit or multiple departments, medium current (MCR) and high current (HCR) rectifiers provide a DC range of 5,000 to 550,000 A. They recently created the SAS1000 converter for AC electric arc furnaces, based on Hatch Ltd.'s SPLC technology, to boost furnace efficiency.
High power Rectifier Market Segmentations
Segment by Type
12V-48V
75V-150V
More Than 150V
Segment by Application
Chlorine Alkali Industry
Electrolysis
Metal Smelting
Others
Frequently Asked Questions