Market Overview
The Global Home and Office Furniture Rental Market size is projected to register a CAGR of 5.5% during the forecast period 2023-2031.
A Home and office furniture rental is helpful for people who don't want to relocate their undesired furniture since it enables them to rent what they need for as long they need it. The logistics of relocating packing, finding a permanent place to live, and outfitting it — might be too many long-term commitments at once, regardless of whether someone is moving alone, with a friend, with a significant other, or with family.
People in this circumstance frequently like making significant commitments one at a time. The concept of home is evolving. After covid-19, the house has simultaneously evolved into a cramped workspace, makeshift classroom, reluctant gym, and impromptu family eatery. Renting furniture may be the only commitment people can make in this era of improvised housing.
Students who are relocating to a new city, state, or nation may require assistance in equipping their accommodations. if moving to a new city is being prompted by a work opportunity. For temporary missions that will ultimately return home, but There may be several more reasons for moving furniture when long-term responsibilities necessitate moving to a new site for a prolonged or indefinite length of time. Moving furniture from one location to another is fairly difficult, and the difficulty increases as the distance increases. Because of this, home and office rentals make life easier for individuals by providing furniture for rent.
Any business size, from a tiny startup to a large corporation needing a temporary design space, may profit from renting office furniture since it is a cost-effective, long- or short-term option. People just select the type of office furniture they like, and Office furniture may be supplied and properly put up in a timely manner. If furniture is rented, thus much ease is generated.
Market Dynamics
Global Home and Office Furniture Rental Market Drivers
Individuals frequently relocate for a variety of reasons, including employment, school, and other responsibilities. Students and working professionals frequently relocate for the purpose of pursuing higher education or in search of possible employment, and they both seek for a home away from home while doing so. Moving furniture or purchasing furniture may be expensive and complex. Because they function online, are simple to contact with, and make moving easier, consumers prefer renting home and office equipment, which is convenient when you're in a new place. For instance, the United Nations Organization estimates that almost 272 million individuals worldwide are international migrants, or people who live in a country other than their place of origin (from 258 million in 2017). International migrants made up 48% of the population. There are many more similar figures of migration if we talk about each location. From this, it follows that the market for home and office furniture rentals will experience increased demand.
Increasing preference for low-cost furniture options
Users may expect to save a lot of money by renting your temporary furnishings rather than buying them from a furniture store. People prefer to try not to spend much money on other items when they move from one area to another since they have already spent a lot. As a result, renting furniture is much more cost-effective than purchasing it. In recent years, the furniture industry has witnessed an increase in consumer preference for using multi-functional furniture. Desks that can be converted into cabinets, wall beds, transforming tables, and other multipurpose and portable furniture are much more affordable to rent, and this will continue to drive the home and office furniture rental.
Global Home and Office Furniture Rental Market Restraints
Fewer options and increasing costs over time
Despite the fact that renting furniture is often less expensive than buying it, renters who require their furniture for longer periods of time may end up spending more for it than they would have if they had purchased it. Some clients who wish to utilize their furniture for a longer period of time may have an issue with this. While renting furniture, additional fees such as delivery fees, pick-up-drop fees, and protection plans are applied. Several rental furniture companies either propose or demand the damage waiver as a protection plan while renting their furniture. If you have renters insurance that includes rental furniture, the provider may adjust this charge or perhaps completely waive it.
Apart from this, customers are unable to see the furniture in person, are given few alternatives, and it is delivered right to your home. These limitations on the market for home and office furniture rentals include rising costs and fewer alternatives.
Global Home and Office Furniture Rental Market Opportunities
Enhancing Marketing Strategies and Expanding into New Markets
There is little knowledge about the Home and Office Furniture Rental market. Increasing knowledge will open up more opportunities for the market, and this can be accomplished by aggressive marketing. Companies can utilize internet channels to reach a wider audience and to sell their services. They may also consider creating packages for the market, such as a refrigerator, dining table, and tea table combo. Apart from students, working professionals, and small families, Home and Office Furniture may also serve startups, which often function from 2/3/4/bhk flats at first, which will be a wonderful chance for them to grow their business.
Market Scope
Report Metric
Details
Market Size by 2031
USD XX Million/Billion
Market Size in 2023
USD XX Million/Billion
Market Size in 2022
USD XX Million/Billion
Historical Data
2019-2021
Base Year
2022
Forecast Period
2023-2031
Report Coverage
Revenue Forecast, Competitive Landscape, Growth Factors, Environment & Regulatory Landscape and Trends
Segments Covered

Segment by Type

Sofa
Bed
Wardrobe
Dining Table
Tables
Overhead Bins
Systems
Storage Units
Others

Segment by Application

Residential
Commercial

Geographies Covered

North America
Europe
APAC
Middle East and Africa
LATAM

Companies Profiles

Furlenco
Cityfurnish
RentoMojo
Brook Furniture Rental
Cort
Luxe Modern Rentals
In-lease
The Lounge
Athoor
Asia Furniture Rental
Segmental Analysis
Segment by Type
An item of furniture used for seating, usually in a living room or lounge, is referred to as a sofa. For special occasions or temporary use, sofas are frequently hired and come in a variety of sizes, patterns, and materials.
Beds are pieces of furniture that are used for sleeping and can be hired for a variety of uses, including temporary housing for guests. Beds come in many different sizes, such as twin, full, queen, and king, and some come with extras like mattresses and pillows.
Clothing storage equipment such as a wardrobe is used to hang and store clothing. Many sizes and designs of wardrobes, such as armoires, built-in wardrobes, and standalone wardrobes, are available.
A dining table is a piece of furniture that is often seen in a kitchen or dining room. There are many different shapes and sizes of dining tables, including square, rectangular, and those with benches or seats.
Use them for working, researching, or presenting stuff, among other things. Coffee tables, side tables, console tables, and various sorts of tables may fall under this category.
This term describes a sort of storage container frequently seen in offices. Office overhead bins are frequently rented along with other office furniture and are used to hold files, office supplies, and other goods.
shelving systems, room dividers, and modular furniture are examples of furniture systems that fall under this category.
this term describes a group of furniture items, such as bookshelves, cabinets, and other storage units, that are made to be used as storage.
Segment by Application
This segment includes individuals or households who rent furniture for their homes. This could include people who have recently moved, students who live in dorms or apartments, or anyone who wants to furnish their living space without investing in buying furniture. Residential furniture rental providers may offer a range of furniture options, from basic pieces like beds and sofas to complete room sets.
This segment includes businesses, offices, and other commercial spaces that require furniture on a rental basis. Commercial furniture rental providers typically offer furniture that is designed for office and work environments, such as desks, chairs, and conference tables. They may also provide furniture for events and conferences.
Regional Analysis
The Global Home and Office Furniture Rental Market is segmented by region as North America, Europe, Asia Pacific, Latin America, and Middle East and Africa.
North America
North America is the dominant area in this market because there is a higher demand for rental homes and office furnishings due to factors including career possibilities, the need to flee a violent conflict, environmental concerns, educational goals, and family reunions. Because of the rising working age population and the number of startups, North America occupies a sizable portion. Often, new company models choose rental furniture. More people than any other nation in the world are immigrants in the United States. Currently, more over 40 million Americans, or nearly one-fifth of all migrants, were born outside of the United States. It is anticipated that there would be an increase in demand for home and workplace furniture due to the increasing number of immigrants.
Asia Pacific
The rising popularity of furniture rental services among residents of developing cities like India and China is dominated by the Asia Pacific region. Also, the need for services among these migrant groups will increase as the number of urban migrants in these areas increases, spurring the region's growth. The bulk of the 48.4 million international migrants in the Asia-Pacific region are migrant labourers, according to the Migrant Labor Organization. Also, the prominent businesses in the area are growing, creating new prospects for the sector to prosper.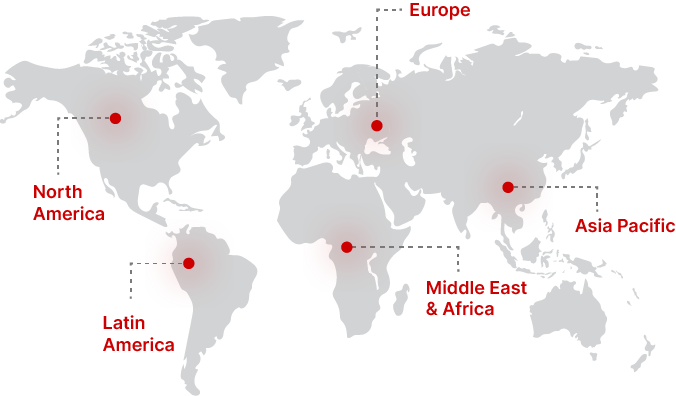 Regional Growth Insights
Download Free Sample
Key Players
Furlenco
RentoMojo
Brook Furniture Rental
Cort
Luxe Modern Rentals
In-lease
The Lounge
Athoor
Asia Furniture Rental
Home and Office Furniture Rental Market Segmentations
Segment by Type
Sofa
Bed
Wardrobe
Dining Table
Tables
Overhead Bins
Systems
Storage Units
Others
Segment by Application
Frequently Asked Questions