Market Overview
The Global Household Hand Sanitizer Market Size is projected to grow at a CAGR of approximately 19.99% during the forecast period.
Household Hand sanitizer is a liquid, gel, or foam generally used to decrease infectious agents on the hands. Hand-sanitizers are gel-like solutions made using an alcohol base such as ethanol or isopropyl alcohol water, perfume and a few other ingredients that are non-toxic to humans. Similar to soap, alcohol too can destroy the outer protective layer of microbes, and hence the microbes. Higher the alcohol content, better is the protection, so most hand-sanitizers contain 60-95% alcohol.
Sanitizer must be used during and after a ride in public transport, while driving or riding during and after visiting public places, after making purchases and after touching or shaking hands with somebody. Sanitizer can also be used before and after visiting an ill person at a hospital or clinic, where access to soap and water is difficult. Washing your hands thoroughly and frequently helps reduce the spread of germs, viruses, and bacteria that are likely to cause a host of infectious gastrointestinal and respiratory diseases, some even leading to severe complications, particularly in the elderly and children with weakened immune systems. It is highly recommended by health agencies for regular hand washing with plain soap and warm water for at least 20 seconds as the most effective way to prevent the spread of infection and decrease the risk of getting sick.
Market Dynamics
Market Drivers
Health and Wellness Concerns and Portability
The market for household hand sanitizers is flourishing from rising awareness of sanitation and hygiene. The coronavirus pandemic stimulated market expansion by bringing to light how important cleanliness is, particularly while a disease is spreading. The market for hand sanitizers is expanding since they are widely available and simple to use. At the workplace or in any space with crowd, germs spread rapidly. Regardless of whether you are preparing to eat or taking out the trash, others' germs can affect you, particularly when you are in close contact with other people. This is why having hand sanitiser accessible is perfect for group settings. Educators, students, and office workers can eliminate germs occasionally for the duration of the day without leaving their study hall or work area, and even people who go to the gym can use a squirt of hand sanitizer before jumping to the next exercise machine. Governments are prioritizing and investing in public health and safety, which is promoting market expansion of household hand sanitizers.
Market Restraints
Not Effective In Some Situations
Household Hand sanitizers can cause skin irritation. This can cause dry, flaky, and cracked skin. This can surge the risk of germs spreading. It can also cause discoloured, reddening eczema spots after using various hand sanitizers. Hand sanitizers containing triclosan can cause disruptions to the normal hormonal cycle, impair fertility, and cause other problems. Moreover, Hand sanitizers also include phthalates. Phthalates can interfere with the way your endocrine system works by mimicking hormones. They may also result in genital issues. Parabens are present in certain hand sanitizers. Some substances may irritate the skin. A study found that children could have lower immunity if they used hand sanitizers at an early age. It must be used cautiously, for instance, It is flammable if comes in contact with fire and should not be consumed.
Market Opportunities
Rising Incidences of Infections
The household Hand sanitizers are increasingly in demand due to the rising incidence of skin, respiratory and gastrointestinal infections. Hand soaps made from alcohol can help reduce the spread and severity of bacteria and viruses on the skin. They can also prevent stomach infections, nausea, vomiting, and other serious diseases. Hand sanitizers are more effective than soaps. Manufacturers use organic and natural ingredients to make sanitizers that are non-allergic and safe for the skin.
Market Scope
Report Metric
Details
Market Size by 2031
USD XX Million/Billion
Market Size in 2023
USD XX Million/Billion
Market Size in 2022
USD XX Million/Billion
Historical Data
2019-2021
Base Year
2022
Forecast Period
2023-2031
Report Coverage
Revenue Forecast, Competitive Landscape, Growth Factors, Environment & Regulatory Landscape and Trends
Segments Covered

Segmentation by Type

Gel/Liquid
Spray
Foam

Segmentation by Application

Hypermarket/Supermarket
Convenience Stores
Pharmaceutical and Drug Stores
Online Retail Stores

Geographies Covered

North America
Europe
APAC
Middle East and Africa
LATAM

Companies Profiles

P&G
RECKITT BENCKISER
3M
UNILEVER
GOJO INDUSTRIES
COLGATE-PALMOLIVE COMPANY
AMWAY
LION CORPORATION
MEDLINE
VI-JON
HENKEL
CHATTEM
KAO
BLUEMOON
Segmental Analysis
Segmentation By Type
Gel or Liquid based hand sanitizers, which allows the alcohol to remain in contact for the hands for longer while hand washing hands. This hand sanitizer gel is suitable for use by the public. Gel based hand sanitizers will dominate the household hand sanitizer market.
Spray hand sanitizer is made with ethyl alcohol, also known as ethanol or petroleum-derived isopropyl alcohol.
Foam Hand Sanitizer is a waterless, foam- based hand sanitizer that protects against microorganisms. It can be used in high-traffic areas and public spaces due to lack of water.
Segmentation By Application
The Household sanitizers are largely sold through supermarkets.
The Household sanitizers are also sold through Convenient stores.
Pharmaceutical and Drug Stores
Hand Sanitizers are also sold through drug stores as it is largely used in hospitals and laboratories for maintaining hygiene and sanitation.
The E-commerce platforms such as Amazon, Alibaba, E-bay also offers Hands sanitizers.
Regional Analysis
The Global Household Hand Sanitizer Market is segmented by region as North America, Europe, Asia Pacific, Latin America, and Middle East and Africa.
North America
In North America, US Food and Drug Administration urges everyone to avoid using hand sanitizers with methanol (wood alcohol), due to the high risk of toxicity and dangerous side effects, such as nausea, vomiting, headaches, blurred vision, blindness and other serious, potentially life-threatening conditions. The FDA does not recommend anyone make their own hand sanitizer at home. If a recipe/formula is incorrect or if it is incorrectly made, a hand sanitizer can be ineffective or potentially dangerous, causing skin burns or other irritations. Despite all these regulations, US will have a strong presence and vibrant market for household hand sanitizers due to hand sanitizers potability and easy to use.
Latin America
In Latin America, Brazil, Argentina and Chile shares the largest market for household hand sanitizers. This is due to rising disposable income, growing population and better health standards.
Europe
In Europe, Since Pandemic, the high-quality health standards and better healthcare facilities promotes usage of hand sanitizers. Germany, UK, France and Italy have increased their health expenditure with the rising infections. There is significant Prescence of many global players of hand sanitizers in the Europe. Thus, the hand sanitizer market will expect a steady growth during forecast period.
Asia Pacific
In Asia-Pacific, China, India, Japan, South Korea and Thailand are the prospective market for Hand sanitizers. It is due to rising population, increasing purchasing power, health and wellness awareness. This region was the epicentre of Covid-19 and hotspot for many viral infections such as Nipah Virus, Zika Virus and H3N2 virus. This is why, all governments have increased their health expenditure and expanding health care infrastructure. These developments will stimulate the sale of Household hand sanitizer market growth during forecast period.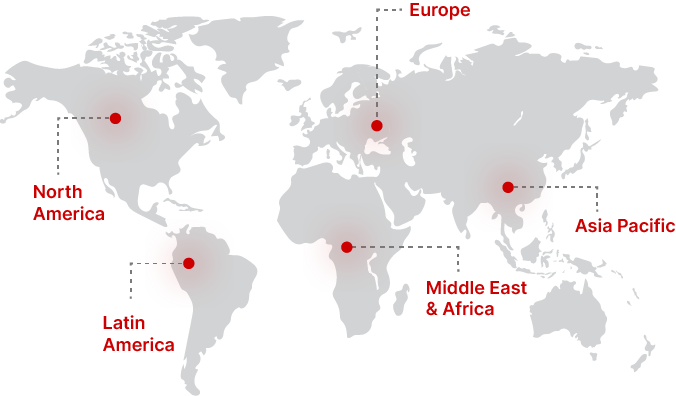 Regional Growth Insights
Download Free Sample
Key Players
RECKITT BENCKISER
3M
UNILEVER
GOJO INDUSTRIES
COLGATE-PALMOLIVE COMPANY
AMWAY
LION CORPORATION
MEDLINE
VI-JON
HENKEL
CHATTEM
KAO
BLUEMOON
Recent Developments
In 2022, PectrumX, a UK-based healthcare and pharmaceutical company, announced that it will become a licensed NHS supplier for its hand sanitiser product, Spectricept Care+ Hands, which will be listed on the Hand Hygiene and Associated Products and Services Tender within the non-alcohol-based hand disinfectant lot, as of May 2023.
Household Hand Sanitizer Market Segmentations
Segmentation by Type
Segmentation by Application
Hypermarket/Supermarket
Convenience Stores
Pharmaceutical and Drug Stores
Online Retail Stores
Frequently Asked Questions