Market Overview
The Global Industrial Indirect Fired Air Heaters Market size is projected to register a CAGR of approximately 3.7% during the forecast period 2023-2031.
A fired air heater is a device that generates heat by burning gas, oil, or a combination of the two. Fired air heaters are industrial heaters used in petroleum refining and steam production industries. These fired air heaters are known worldwide as furnaces, process furnaces, and process heaters. Fired air heaters are common in the hydrocarbon and chemical processing industries, such as oil refineries, gas plants, petrochemical, chemical and synthetic, olefin, ammonia, and fertilizer factories.
Industrial Fired Air Heaters are of two types, Direct-fired air heaters and Indirect fired heaters. In a direct-fired heater, the heating process is done by directly passing hot air. At the same time, an indirect-fired air heater does not have direct contact with the system; instead, of adding more gases and passing to the heat exchangers.
Indirect-fired air heaters are widely used in the event industry to heat marquees and temporary structures, keeping guests warm without noise, smells, or fumes. These units are also used where delicate and combustible materials are being stored; being indirect, they keep the flame separate from the airflow.
Market Dynamics
Market Drivers
Rising Industrial Application In Medical and Pharmaceuticals
Medical and pharmaceutical firms are demanding indirect-fired air heaters, generally for pharmaceutical manufacturing for heating and drying products. They can be safely used in a wide variety of scenarios, both indoors and outdoors. Indirect-fired air heaters exhaust heat downstream to eliminate pollutants without adding additional contaminants. This helps patients with major breathing issues in hospitals. These reasons are resulting in demand for indirect-fired air heaters, which leads to an increase in the market share of the Industrial indirect-fired air heaters market.
Demand In Chemical Processing Operations
Indirect-fired air heaters are used to dry chemically sensitive products such as foods, grains, malt, dairy, chemicals, pharmaceuticals, etc. They provide outdoor operation, which is associated with decreased heating efficiency, but much of the energy can be recovered by recirculating clean air. Using tubes, the warm air generated by these units can be distributed to multiple spaces at once, which will help reduce factories' energy consumption. It saves maintenance costs, which makes it relatively cost-effective.
Market Restraints
Lack of Awareness and High Investment Cost
International regulatory bodies expect manufacturers of fired heaters to follow certain rules and regulations. Important rules about the materials used to line fired heaters force makers to find more environmentally friendly options. Price trends show that because gas heaters are complicated and big, they need to be installed by a professional, which costs the end user more money. Also, maintenance costs for fired heaters are higher than for other types, making them more expensive and keeping people from using them.
Market Opportunities
Increasing Demand In Various Industries
Increasing construction activities, especially in developing countries, is another important factor driving the market's growth. The rise in oil & gas exploration and production activities and the stringent government regulations regarding environmental protection are projected to drive the demand for indirect-fired air heaters during the forecast period. While enhancing worker safety is a heater's primary job, these solutions can also achieve optimal conditions for products in storage, dry out wet concrete and prevent equipment from malfunctioning in cold conditions, among other industrial and commercial applications.
Market Scope
Report Metric
Details
Market Size by 2031
USD XX Million/Billion
Market Size in 2023
USD XX Million/Billion
Market Size in 2022
USD XX Million/Billion
Historical Data
2019-2021
Base Year
2022
Forecast Period
2023-2031
Report Coverage
Revenue Forecast, Competitive Landscape, Growth Factors, Environment & Regulatory Landscape and Trends
Segments Covered

Segmentation by Type

Under 500 K BTU/H
500-1000 K BTU/H
Over 1000 K BTU/H

Segmentation by Application

Oil & Gas
Airline
Mining & Construction

Geographies Covered

North America
Europe
APAC
Middle East and Africa
LATAM

Companies Profiles

Mac Heaters
Therm Dynamics
Torqued Heat
Allmand
Rotational Energy
Thawzall
Multitek
ConleyMax Heaters
Flagro
JetHeat
Tioga Air Heaters
Wacker Neuson
Segmental Analysis
Segmentation By Type
Indirect Fired Heaters are highly efficient devices that provide large volumes of 100% clean, dry, and fume-free warm air. They are best for places with limited ventilation, like shops, event tents, food preparation areas, exhibition halls, and construction sites. They can be used with flexible ducts that easily spread warm air.
It provides a large volume of 100% clean, dry, fume-free warm air and odorless heat.
It is ideal for large indoor spaces and outdoor applications. It has forklift capability from all four sides.
Segmentation By Application
Indirectly-fired air heaters are among its most important applications in the oil and gas industry. The oil and gas industry consumes energy at a very high rate. Oil and gas production facilities use indirect-fired line heaters to heat the fluid before it enters the pipeline. This sector extensively uses an indirect-fired air heater on a wide scale to keep the temperature consistent throughout the various processes. The oil and gas industry is anticipated to expand quickly over the following years, increasing demand for indirect-fired air heaters in this application category.
Indirect-fired heaters are used in commercial aviation, construction, and exploration. In these industries, safety is not just a concern but is a requirement for any manufacturer producing a modern heater. These heaters are used to maintain the cabin temperature of aircraft. This need for indirect-fired air heaters in the airline industry leads to this global market.
Indirect-fired air heaters keep personnel in mining and construction activities warm and comfortable. The air emitted from the indirect fired method is 100 percent clean and dry. Because the hot air is delivered via ductwork without worrying about carbon dioxide risks. Built-in thermostats also allow for precision temperature control, and the heater will re-circulate air, saving fuel costs. Expanding the mining and construction sector will stimulate demand for indirect-fired air heaters in this application segment.
Regional Analysis
The Global Industrial Indirect Fired Air Heaters Market is segmented by region as North America, Europe, Asia Pacific, Latin America, and Middle East and Africa.
North America
North American trade patterns offer striking contrasts. Canada, with a small population but with immense resources and high productivity, has a low home consumption and depends on foreign trade more than any other developed country on the continent resulting in a significant increase in air passenger traffic and a reduction in commercial aircraft operations due to stringent government regulations implemented by the United States and Canada. This growth as the demand for aviation operations is increasing, demanding the adoption of indirect-fired air heaters in the airline industry.
Europe
Europe is one of the prominent importers of spices and herbs worldwide. Spices and herbs are important ingredients in the European food and beverage industry. The sector provides long-term growth and several opportunities across different applications. The expansion of the European spice and herb market is driven by functionality, growth in ethnic food and beverages, as well as salt and sugar reduction by the industry. The food industry demands indirect-fired air heaters because they are perfect for food-grade applications such as spray dryers for dairy products, produce, and other food products. Expect to increase the market share of the Industrial indirect-fired air heater market.
Asia-Pacific
Asia-Pacific accounted for the largest iron & steel market share during the forecast period. In the iron industry, indirect-fired air heaters are used to heat pellets and other products without introducing contaminants that can cause unwanted chemical impurities. The Asia Pacific region has emerged as the largest market for iron & steel in terms of value. It is expected to witness significant growth during the forecast period, which contributes to the growth of the industrial indirect-fired air heater market.
South America
Another important market for indirect-fired air heaters is Latin America. There are many building projects in the area. Brazil is one of the top countries in the area of building things. This is expected to make Latin America want to buy more indirect-fired air heaters.
Middle East and Africa
The Middles East and North African region, better known by the acronym MENA, is an important energy resource-rich region of the world. The region has many oil & and gas mining & construction activities which demand indirect-fired air heaters.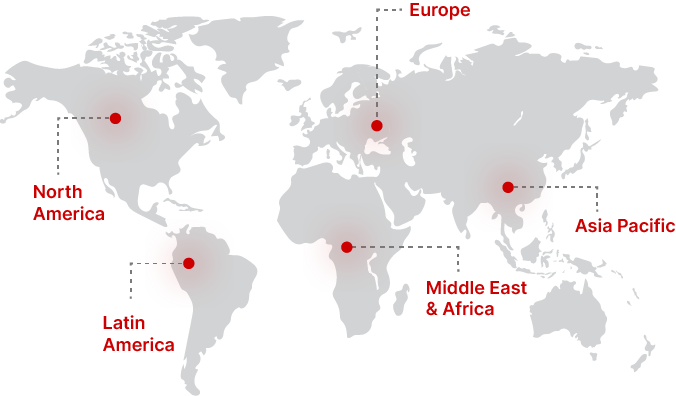 Regional Growth Insights
Download Free Sample
Key Players
Mac Heaters
Torqued Heat
Allmand
Rotational Energy
Thawzall
Multitek
ConleyMax Heaters
Flagro
JetHeat
Tioga Air Heaters
Wacker Neuson
Industrial Indirect Fired Air Heaters Market Segmentations
Segmentation by Type
Under 500 K BTU/H
500-1000 K BTU/H
Over 1000 K BTU/H
Segmentation by Application
Oil & Gas
Airline
Mining & Construction
Frequently Asked Questions