Market Overview
The Global Infant Probiotics Raw Material Market Size is projected to grow at CAGR of approximately 8.4% during the forecast period.
A sort of powder called newborn probiotics raw material powder contains live bacteria strains that are good for a baby's health. These strains are specifically chosen and created to help young children maintain a healthy gut micro biota, which is crucial for their general well-being and immune system.
The raw materials used to manufacture infant probiotics powder often comprise strains of Lactobacillus, Bifidobacterium, and other probiotic bacteria that have been found to be useful in promoting newborn health. To assure their efficacy and safety, these raw materials go through a thorough screening process.
To provide babies the good bacteria they need to promote their gut health, infant probiotic powder is often added to baby food, formula, or breast milk. Infant probiotic powder may provide a number of advantages, including lowering the risk of colic, diarrhea, and other digestive problems, boosting the immune system, and enhancing general health and wellness.
Because more people are becoming aware of the value of gut health and the advantages of probiotics for newborns, there has been an increase in the demand for infant probiotic raw material powder. The market for these raw materials is extremely competitive, with a wide variety of suppliers and producers providing goods to satisfy the requirements of various applications and markets.
Market Dynamics
Market Drivers
Rising Focus on Digestive Health and Immunity
The market for newborn probiotic raw material powder has been significantly influenced by the growing emphasis on immune system and digestive health. There is a growing market for goods that help promote digestive health and strengthen the immune system as more individuals become aware of the crucial role that gut health plays in overall health and wellness.
It has become more popular to use probiotics to improve gut health in infants since they are more prone to infections and digestive problems. When ingested in sufficient quantities, probiotics, which are living microorganisms, can offer a number of health advantages. They have been demonstrated to enhance general immune function, lower the risk of respiratory infections, and assist in the prevention and treatment of diarrhoea.
These patterns have led to considerable recent expansion in the newborn probiotic raw material powder industry. As more individuals become aware of the possible health advantages of probiotics for newborns and as new research and product development initiatives result in the launch of more efficient and cutting-edge products, this market is predicted to keep growing.
Market Restraints
Product formulation challenges
It can be difficult to create a probiotic solution that is stable, efficient, and safe for newborns. To ensure the safety and effectiveness of the probiotic strains used in newborn probiotic raw material powder, they must be carefully chosen and created, which may necessitate a large amount of research and development.
The efficiency of the product depends on the probiotic strains used. Not all strains are helpful for treating every illness, and some can even be detrimental. It is crucial to think about a probiotic strain's safety, effectiveness, and compatibility with other substances before choosing one for a baby. The probiotic strains must be kept stable and active during storage and consumption as part of the probiotic product's composition. Also, the formulation must be safe for newborns, with the proper texture, taste, and dosage.
Overall, creating a probiotic product for newborns needs intensive research and development work as well as knowledge of microbiology, formulation, and production. In-depth testing and clinical trials are investments that manufacturers must make to guarantee the efficacy, safety, and compliance of their goods. Certain businesses in the newborn probiotic raw material powder industry may face a substantial hurdle as a result of the time and money required for these initiatives.
Market Opportunities
Growing Awareness about Infant Probiotic Raw material Powder Market
Increasing consumer understanding of infant probiotics is a key market opportunity for infant probiotics raw material powder. Probiotics can help support newborns' immune systems and digestive health, and this knowledge is growing among parents and other carers. Information on newborn probiotics is more accessible than ever because to the growth of the internet and social media. Both information about particular probiotic supplements and information about the advantages of probiotics are readily available to parents and other carers. Pediatricians and dietitians are among the healthcare specialists who are increasingly advising probiotics for newborns. The use of probiotics for baby health may gain credibility and confidence as a result of these suggestions.
In the market for newborn feeding, there is a rising trend towards natural and organic goods. Probiotics are becoming more and more popular since they are thought to be a natural and secure approach to support newborn immunity and digestive health.
The demand for newborn probiotic raw material powder is rising as people become more aware of its advantages. Manufacturers may profit from this trend and expand their business by spending money on product development and marketing
Market Scope
Report Metric
Details
Market Size by 2031
USD XX Million/Billion
Market Size in 2023
USD XX Million/Billion
Market Size in 2022
USD XX Million/Billion
Historical Data
2019-2021
Base Year
2022
Forecast Period
2023-2031
Report Coverage
Revenue Forecast, Competitive Landscape, Growth Factors, Environment & Regulatory Landscape and Trends
Segments Covered

Segment by Type

Lactobacillus
Bifidobacterium

Segment by Application

Dairy Products
Dietary Supplements

Geographies Covered

North America
Europe
APAC
Middle East and Africa
LATAM

Companies Profiles

DuPont
Chr. Hansen
Lallemand
BioGaia
Probi
Biosearch Life
Morinaga Milk
SYNBIO TECH INC.
Bioflag
SCITOP BIO
Product Type Insights
Segmental Analysis
Segment by Type
In the human gut, lactobacillus is a kind of probiotic that is often present and is known to support digestive health. Since it is thought to aid in the prevention and treatment of problems including colic, constipation, and diarrhoea, lactobacillus is frequently utilised in newborn probiotic solutions.
This probiotic is also often found in the human gut and is believed to improve immunological and digestive health. Because it is thought to aid in the prevention and treatment of diseases including diarrhoea, constipation, and allergies, bifidobacterium is frequently utilised in newborn probiotic preparations.
Segment by Application
Baby formula, yoghurt, cheese, and other dairy-based items can all be supplemented with probiotic supplements. These products offer a simple and practical approach to include probiotics in a baby's meal.
They include probiotic powders offered to children as separate supplements. These items may be prescribed by medical experts or used by parents and other caregivers as a method to supplement their newborn's diet. They are frequently advertised as a way to improve infant immunity and digestive health.
Regional Analysis
The Global Infant Probiotics Raw Material Market is segmented by region as North America, Europe, Asia Pacific, Latin America, and Middle East and Africa.
Asia-Pacific
The worldwide market was led by Asia Pacific. Because to their high spending power and capacity to afford children, the middle-class population increase in emerging nations considerably contributes to the market's expansion. Almost 700 million individuals have joined the global middle class since 2009 thanks to China, accounting for 40% of all new members. In addition, China and India combined have supplied over 60% of the growing middle class (some 1.0 billion people).
Growing consumer understanding of newborns' and kids' nutritional needs was a major factor in Asia Pacific market expansion. Also, countries with higher birth rates per woman,. Also, countries with higher birth rates per woman, Afghanistan had the highest fertility rate in the Asia-Pacific region in 2021, with 4.6 births per woman on average. The need for probiotic baby and child formula is being driven by Pakistan, which has the second- and third-highest fertility rates, respectively, behind China and India.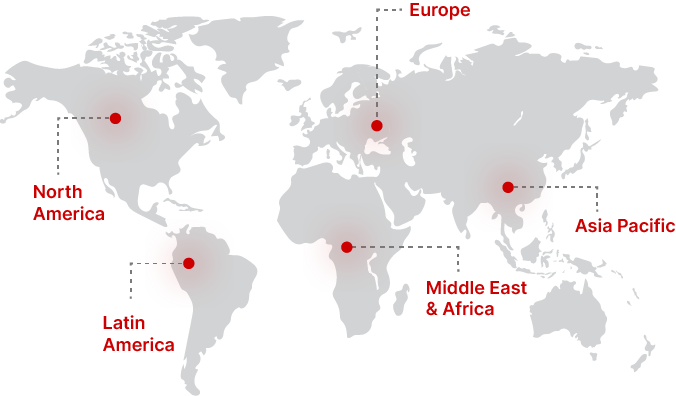 Regional Growth Insights
Download Free Sample
Key Players
DuPont
Chr. Hansen
BioGaia
Probi
Biosearch Life
Morinaga Milk
SYNBIO TECH INC.
Bioflag
SCITOP BIO
Product Type Insights
Infant Probiotics Raw Material Market Segmentations
Segment by Type
Lactobacillus
Bifidobacterium
Segment by Application
Dairy Products
Dietary Supplements
Frequently Asked Questions