Market Overview
The Integrated DC Charging Piles Market Size is estimated at a CAGR of approximately 10.5% during the forecast period.
A DC charging pile is electric vehicle supply equipment that provides direct (DC) electricity to vehicles via conductive charging cables and receptacles installed at the bottom of each parking space. It can be used to charge both battery-electric and plug-in hybrid electric vehicles. DC charging piles have a relatively rapid charging rate, referred to as "fast charging" Typically, a charging mound is installed alongside the highway. This charging pile is typically installed outside the electric vehicle, is connected to the AC power infrastructure, and can output DC power directly to the battery's power supply device. Three-phase, four-wire AC is the input voltage of the charging pile, while the output is variable DC.
Due to the use of a three-phase, four-wire power supply, sufficient power can be provided, and the output voltage and current can be adjusted over a broad range to meet the needs of rapid charging. The DC charging tower utilizes a nine-wire connector. The DC pile discharges DC directly into the vehicle's battery. DC has a rapid charging rate for DC. DC piles are better suited for operational charging services, such as electric buses, electric taxis, electric logistics, electric special vehicles, and electric network car appointments.
Market Dynamics
Market Drivers
Increasing Demand for Electric Vehicles
As global demand rises, electric car numbers will rise. Urban areas with lower daily driving distances have smaller, more efficient cars. Many businesses and governments worldwide set and achieve sustainability targets to reduce CO2 emissions, pollution, noise, and efficiency. Thus, several governments give EV buyers tax credits and other incentives, making them more affordable. Every year, several cities add charging facilities to fulfill demand. More charging stations at grocery stores, airports, and other public places make electric vehicles more accessible. Battery technology enhances electric vehicle range. Long-distance commuters prefer EVs with longer ranges. Battery and charger upgrades will enable high-speed charging, reducing road downtime.
Increased Consumer Income and Government Support
Recently, there has been a worldwide surge in demand for electric vehicles. People favor electric vehicles over conventional vehicles for a variety of reasons. A significant rise in the disposable income of the population and a shift in their lifestyles are also factors. Additionally, the government has promoted electric vehicles, which produce less pollution. Consequently, there has been an increase in the market. These factors collectively serve as a market growth driver for DC charging piles.
Market Restraints
High Cost of Electric Vehicles
The high price significantly hinders the market's expansion. The charging piles industry directly depends on the market for electric vehicles. Therefore, the high cost of electric vehicles will have a negative effect on the market for DC Charging piles. The maintenance of these piles also requires a substantial amount of money. People find it difficult to afford electric vehicles and prefer conventional vehicles that are less expensive. This is also one of the factors inhibiting market expansion.
Installing and Maintaining DC Charging Piles
The construction and maintenance of DC charging piles can be costly, especially in low-traffic or low-electricity areas. Costs associated with installing charging piles include equipment, installation, and electrical infrastructure enhancements. In certain cases, the cost of electricity supply upgrade and installation of the necessary infrastructure, such as high-power transformers or cabling, can be extremely high, particularly in remote areas where the necessary power system does not exist. This decreases the market demand for DC charging piles.
Market Opportunities
Rise of Funds by the Government
The rise in demand for EV DC charging stations has resulted in massive investments by governments around the globe in this sector. Future advancements in EV charging station technologies, such as bi-directional charging, portable charging stations, usage-based analytics, smart charging with load management, and an automated method of payment, as well as the development of ultra-fast charging technology at EV stations and the rise in use of V2G EV DC charging stations for EVs, are anticipated to create numerous growth opportunities for the DC charging market.
Market Scope
Report Metric
Details
Market Size by 2031
USD XX Million/Billion
Market Size in 2023
USD XX Million/Billion
Market Size in 2022
USD XX Million/Billion
Historical Data
2019-2021
Base Year
2022
Forecast Period
2023-2031
Report Coverage
Revenue Forecast, Competitive Landscape, Growth Factors, Environment & Regulatory Landscape and Trends
Segments Covered

Segment by Type

Below 60KW
60KW-180KW
Above180KW

Segment by Application

Public Charging

Geographies Covered

North America
Europe
APAC
Middle East and Africa
LATAM

Companies Profiles

ABB
TELD
Star Charge
Xuji Group
Efacec
Zhejiang Wanma
Sinexcel
IES Synergy
EAST
Siemens
Shenzhen INVT
Eaton
Shenzhen Increase
KSTAR
Auto Electric Power Plant
Sunrise
DBT-CEV
Luoyang Grasen Power Technology
Henan Senyuan Electric
Airpower
Segmental Analysis
Segment by Type
The 60kW DC Fast EV Charger is suitable for simultaneously charging multiple electric vehicles. It has a rapid charging rate and high output power. It has many uses, including charging multiple electric vehicles simultaneously, powering emergency lighting systems, and providing backup power to commercial structures.
DC Fast Charger with outputs ranging from 60 kW to 180 kW, designed for use in fast-charging environments such as vehicle repair facilities, dealerships, fleets of aircraft, and other commercial applications in which getting back on the road promptly is essential.
The 180KW dc charging pile is appropriate for usage in urban special charging piles (such as for buses, taxis, official vehicles, sanitation vehicles, and logistical vehicles, among other types of vehicles), urban public charging stations (such as for private automobiles, commuting cars, and buses), international highway charging piles, and other types of charging piles.
Segment by Application
Truck drivers and consumers charge their electric vehicles (EVs), including all-electric vehicles and plug-in hybrid electric vehicles (PHEVs), in public; charging stations must be deployed and integrated by the local community's requirements. Level 2 or DC fast charging is used for general public charging. DC charging stations should typically be placed in areas where vehicle owners assemble and park for extended periods, such as retail centers, airports, hotels, government offices, and other businesses. Public charging stations are also placed along highway routes and at urban charging centers.
Regional Analysis
North America
North America is projected to lead the global DC charging pile market. Increasing electric vehicle penetration in countries such as Canada and Mexico, among others, contributes to the DC charging pile market's expansion. Increasing investments in China to install EVSEs in public parking spaces are anticipated to lead to a high growth rate in the Asia-Pacific region.
Europe
Europe is one of the greatest world EV charger pile markets. The government's pollution regulations are stringent, and the adoption rate of electric vehicles among European consumers is also high. The increased awareness of carbon emissions, the high disposable income of consumers, and the improved living standards are driving the sales of EVs, which is anticipated to fuel the growth of the EV DC charger pile market in Europe.
Asia-Pacific
Asia-Pacific region is expected to grow DC charging pile market. Increasing government rebates on the purchase of DC fast charging stations and increasing automaker investments in the development of DC fast charging station infrastructure to support their long-range battery-electric vehicles are anticipated to support the growth of this market segment.
Middle East and Africa
The key factors contributing to the growth of the electric vehicle DC charging piles market in the Middle East and Africa region, which aims to reduce vehicular emissions on roads through fostering the use of electric vehicles and the development of electric vehicle DC charging piles. In addition, increasing government initiatives to construct charging infrastructure, technological advancements in electric vehicle charging piles, and rising environmental awareness contribute to the market's growth.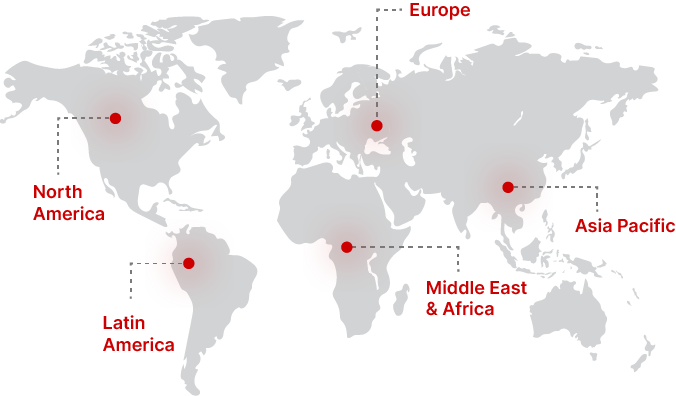 Regional Growth Insights
Download Free Sample
Key Players
ABB
TELD
Xuji Group
Efacec
Zhejiang Wanma
Sinexcel
IES Synergy
EAST
Siemens
Shenzhen INVT
Eaton
Shenzhen Increase
KSTAR
Auto Electric Power Plant
Sunrise
DBT-CEV
Luoyang Grasen Power Technology
Henan Senyuan Electric
Airpower
Recent Developments
June 13, 2022- At the 35th International Electric Vehicle Symposium & Exhibition (EVS35), Huawei Digital Power introduced its next-generation FusionCharge 40 kW DC Charging pile. This highly efficient, low-noise, and dependable charging module is anticipated to become the heart of electric vehicle (EV) charging facilities, allowing users to enjoy a better charging experience. At the same time, operators and carriers reduce charging facility O&M expenses.
Integrated DC Charging Piles Market Segmentations
Segment by Type
Below 60KW
60KW-180KW
Above180KW
Segment by Application
Frequently Asked Questions