Market Overview
According to Reed Intelligence the Global IT Spending in Automotive Market Size will approximately grow at a CAGR of 9.3% during the forecast period.
The automotive industry comprises the entire industrial value chain whose ultimate goal is producing and selling motor vehicles. This industrial sector includes design, planning, component manufacturing, assembly, and trade companies. Since they were first invented, automobiles have gotten increasingly sophisticated, and the makers of automobiles are adjusting to keep up with advances in technology. These technological advancements encompass various aspects of automobiles, including car design, car sales, marketing, and servicing. The key concepts driving the automobile sector to invest in information technology are increasing levels of digitization and connection, cloud computing, dynamic customer preferences, the
Internet of Things (IoT), cybersecurity, and increased levels of automation. Spending money on information technology in the automotive industry is mostly done so businesses may run their operations more effectively and efficiently.
Market Dynamics
Market Drivers
Rapid Growth In The Use Of Electronic Components
The forces shaking up the automotive company, called ACES (autonomous driving [AD], connected vehicles, electrification of the powertrain, and shared mobility), have gained much speed. The COVID-19 virus and its effects have sped up the future of mobility. This has greatly impacted how customers choose to use technology, how technology is used, and how laws are made. Automakers and their partners are investing money in software and electric cars. The rapid growth in the use of electronic components to enhance various features of vehicles, such as Advanced Driver Assist Systems (ADAS) and infotainment systems, will be a key factor driving market growth.
Market Restraints
Automation and IT both the industries are both increasing at high speed. This involves high investment to purchase computer hardware and software. It also requires upgrades or changes to existing systems, new systems implementation, and IT personnel hiring. Political situations, environmental concerns change, and governments reforming regulation approaches can also affect the market.
Market Opportunities
Increasing Demand For Connected Cars And The Rising Trend Of Autonomous Vehicles
Connected Cars are cars linked to the Internet and have a local area network for talking to other cars with the help of the Internet. There are a lot of different devices in these cars that send and receive signals from the manufacturers and services to improve the customer experience and make the cars more useful. These cars can connect to cell phones or other mobile devices, which lets the driver see how the car is doing in real-time. Autonomous driving used to be the stuff of science fiction, but in the last twenty years, it has become a very real option. This is mostly because radar technology and microprocessor power have improved so quickly. Mobile technology has gotten far enough that ultra-light hardware can make decisions based on self-improving algorithms. This gives developers a better chance of making autonomous cars that can make choices as humans do in real-time. These factors are driving IT spending in the automotive market tremendously.
Market Scope
Report Metric
Details
Market Size by 2031
USD XX Million/Billion
Market Size in 2023
USD XX Million/Billion
Market Size in 2022
USD XX Million/Billion
Historical Data
2019-2021
Base Year
2022
Forecast Period
2023-2031
Report Coverage
Revenue Forecast, Competitive Landscape, Growth Factors, Environment & Regulatory Landscape and Trends
Segments Covered

Segmentation By Type

Services
Software
Hardware

Segmentation By Application

Automotive Manufacturing
Automotive Logistics

Geographies Covered

North America
Europe
APAC
Middle East and Africa
LATAM

Companies Profiles

IBM
SAP
Capgemini
DXC Technology
Infosys
Bombardier
Cisco Systems
Siemens
CGI
Altran Technologies
Indra Sistemas
Alstom
ALTEN
GE Transportation
Alcatel-Lucent
Hitachi
TCS
Huawei Technologies
Accenture
ABB
Segmental Analysis
Segmentation By Type
IT spending in the auto business can be used for several different services. These can include anything from diagnosing and fixing cars to making new car technologies and improving the customer experience. Services can also improve business efficiency, cut costs, and open new customer segments or markets.
Automotive engineers use specialized software to manage and optimize manufacturing processes. These software solutions, such as Siemens NX, provide tools for design for manufacturing (DFM), computer-aided manufacturing (CAM), and computer-aided process planning (CAPP).
Advanced hardware platforms in the automotive industry keep the company competitive in the new mobility environment by providing better efficiency, reducing energy consumption, and minimizing software development efforts.
Segmentation By Application
Generally, it transforms raw materials to construct motor vehicles and their parts. Manufacturing is cost-effective and requires high levels of machinery.
Automotive logistics refers to the careful planning and execution of a complex procedure involving the transportation of automobiles. It encompasses all forms of transportation, including automobiles, boats, and trains.
Regional Analysis
The Global IT Spending in Automotive Market is segmented by region as North America, Europe, Asia Pacific, Latin America, and Middle East and Africa.
North America (USA and Canada)
North America has a diversity of innovation ecosystems. The nation has a good track record of bringing new ideas and technology that have significantly altered how people work and live worldwide. This has earned it a reputation as a global leader in innovation for a long time. They make consistent investments in research and development to keep a competitive advantage and meet the ever-evolving demands of their customers. In addition, these businesses are aggressively pursuing mergers and acquisitions to strengthen their existing company operations and solidify their place as industry leaders. Their continuous emphasis on technology is a major factor behind increasing IT spending in the automotive market.
Europe (Germany, the U.K., France, Russia, Italy, and the Rest of Europe)
Europe is home to some of the most well-known and prestigious car brands. The presence of major automobile manufacturers, including BMW Group, Honda Motor Europe, Hyundai Motor Europe, Jaguar Land Rover, Mercedes-Benz, Renault Group, Toyota Motor Europe, Volkswagen Group, etc., are helping the region grow by offering new services based on cloud computing technologies. These services will help the industry grow over the period.
Asia-Pacific (China, Japan, South Korea, India, Southeast Asia, Rest of Asia-Pacific)
The Asia-Pacific electric vehicle market is growing because there is more demand for fuel-efficient, high-performance, and low-emission vehicles, and laws and rules about vehicle emissions are getting stricter. Also, the cost of batteries is going down, and the cost of fuel is going up. The government is encouraging people to purchase more EVs. APAC customers are more likely to buy EVs in the future, and more than half (60%) would rather buy hybrid EVs. 19% of people who make decisions in the auto business think that producing cars with internal combustion engines (ICE) will become more important over the next five years. Hence, this will boost IT spending in the automotive market.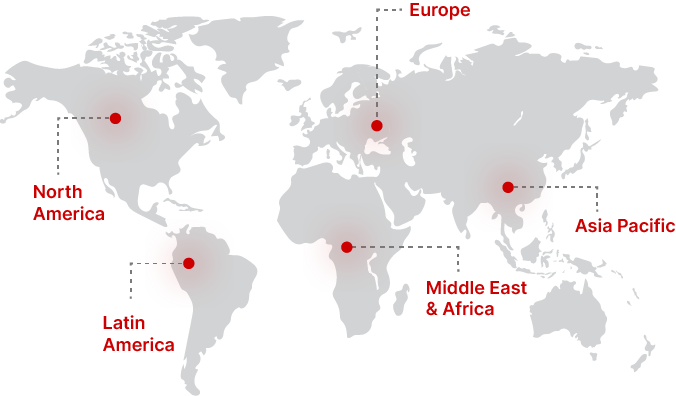 Regional Growth Insights
Download Free Sample
Key Players
IBM
SAP
DXC Technology
Infosys
Bombardier
Cisco Systems
Siemens
CGI
Altran Technologies
Indra Sistemas
Alstom
ALTEN
GE Transportation
Alcatel-Lucent
Hitachi
TCS
Huawei Technologies
Accenture
ABB
Recent Developments
June 2023: IBM has announced that it has entered into a definitive agreement with Vista Equity Partners to purchase Apptio Inc., a prominent company in financial and operational IT management and optimization (FinOps) software, for $4.6 billion. The acquisition of Apptio will accelerate the advancement of IBM's IT automation capabilities and enable enterprise leaders to deliver enhanced business value across technology investments.
IT Spending in Automotive Market Segmentations
Segmentation By Type
Services
Software
Hardware
Segmentation By Application
Automotive Manufacturing
Automotive Logistics
Frequently Asked Questions