Market Overview
According to Reed Intelligence the Global Kitchen Digital Timer Market Size will approximately grow at a CAGR of 4.9% during the forecast period.
The need for time-saving cooking methods and the expanding usage of intelligent kitchen equipment are two more significant development drivers. Due to their exact timing, countdown alarms, and user-friendly features that enhance culinary accuracy and time management, kitchen digital clocks are fast becoming indispensable tools for both new and seasoned cooks. The kind of display being utilized affects how distinct market segments are formed. Information about the timer is shown on LCD and LED screens, which work well in a range of lighting conditions and provide both clear and visible information.
The usage-based market segmentation includes kitchens used in both residential and commercial settings. In the home kitchen, digital timers are helpful for routine operations like baking and meal preparation, but in commercial kitchens, they are essential for efficiently managing a range of culinary duties. The need for kitchen digital timers has increased as more people choose smart kitchen appliances that, due to their simplicity, accuracy, and adaptability, make cooking simpler. The business is fueled by technological advancements that have offered digital timers cutting-edge functionality. Due to the growth of smart homes and the increased interest in time-saving cooking techniques, there is a new market potential for manufacturers of kitchen digital timers. As more customers put a greater importance on accuracy and efficiency in the kitchen, the sector is anticipated to grow gradually.
Market Dynamics
Market Drivers
The demand for sophisticated kitchen appliances is growing. Digital timers and other smart kitchen gadgets are gaining popularity due to the convenience they provide while preparing and cooking meals. The precise, user-friendly countdowns, alarms, and other timing options provided by digital timers enhance the culinary experience.
Users may more efficiently manage their time while preparing meals and doing other culinary duties by utilizing kitchen digital timers. For chefs and busy families, they make sure that food cooks evenly and deliciously and stop it from being overcooked or undercooked.
Market Restraints
Low Adoption Rates in Particular Populations
Although kitchen digital timers provide several advantages, some potential users were unable to completely understand them.
There are alternatives, and some people may prefer them to specialist digital clocks. Both classic analog clocks and smartphone timer apps provide the most basic timing functions.
Market Opportunities
As a consequence of the expansion of e-commerce platforms and online retailing, manufacturers of kitchen digital timers now have a tremendous opportunity to interact with a wider client base on a global basis.
Manufacturers may consider several methods for combining digital timers with smart home systems and virtual assistants in order to increase their utility and accessibility.
Market Scope
Report Metric
Details
Market Size by 2031
USD XX Million/Billion
Market Size in 2023
USD XX Million/Billion
Market Size in 2022
USD XX Million/Billion
Historical Data
2019-2021
Base Year
2022
Forecast Period
2023-2031
Report Coverage
Revenue Forecast, Competitive Landscape, Growth Factors, Environment & Regulatory Landscape and Trends
Segments Covered

Segmentation By Type

LCD Display
LED Display

Segmentation By Application

Domestic Kitchen
Commercial Kitchen

Geographies Covered

North America
Europe
APAC
Middle East and Africa
LATAM

Companies Profiles

Taylor
Salter
TANITA
CDN
KitchenAid
Wrenwane
Alessi
Korin
GEFU
Habor
Polder
Winco
OXO
Lavatools
ThermoPro
HAPTIME
Comark
Segmental Analysis
Segmentation By Type
Liquid crystal displays, which present timer information in a manner that is both clear and easy to read, are used in kitchen digital timers with LCD screens. Due to its reputation for having excellent contrast, LCD panels may be utilized in a range of lighting conditions and in both home and commercial kitchens.
Using light-emitting diodes, information from kitchen digital timers with LED displays is shown. LED displays are ideal because they provide crisp and bright timer readings, making them ideal for low-light kitchens or other circumstances when quick glances at the timer are necessary.
Segmentation By Application
To help home cooks and food aficionados, digital kitchen timers are utilized in domestic or residential kitchens. These timers are handy and compact, and they often include features that are useful for doing common culinary tasks.
Digital timers for commercial kitchens are designed to withstand regular use in restaurants and other food-related companies. They include added features like a variety of timers, countdown alarms, and other functions in addition to being strong and resistant to the demands of a busy kitchen.
Regional Analysis
The Global Kitchen Digital Timer Market is segmented by region as North America, Europe, Asia Pacific, Latin America, and Middle East and Africa.
North America
Due to the widespread use of smart kitchen appliances and the rising popularity of cooking and culinary experiences, North America is a significant market for kitchen digital timers. Modern digital clocks are necessary because of the expansion of online markets and the availability of tech-savvy customers.
Europe
Due to the region's emphasis on kitchen convenience and time-efficient cooking, there is a constant demand for kitchen digital timers throughout the whole continent. The expanding popularity of baking and cooking at home as well as the consumer need for precise timing solutions to improve culinary outcomes are both beneficial to the business.
Asia-Pacific
As metropolitan areas become more populated, people have more disposable cash, and smart home technology is used more often, the Asia-Pacific region offers a potential market for kitchen digital timers. A growing number of nations, including China, Japan, South Korea, and India, employ kitchen gadgets to speed up the cooking process.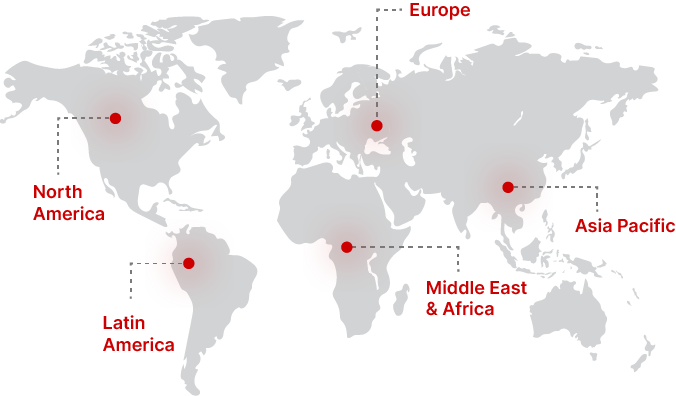 Regional Growth Insights
Download Free Sample
Key Players
Taylor
TANITA
CDN
KitchenAid
Wrenwane
Alessi
Korin
GEFU
Habor
Polder
Winco
OXO
Lavatools
ThermoPro
HAPTIME
Comark
Recent Developments
A recent innovation in the market for kitchen digital timers is the availability of wireless connection options, which enable users to remotely monitor and manage timers via smartphone apps or smart home systems.
Kitchen Digital Timer Market Segmentations
Segmentation By Type
Segmentation By Application
Domestic Kitchen
Commercial Kitchen
Frequently Asked Questions