Market Overview
The Global LCD Timing Controller Market Size is projected to register a CAGR of approximately 12% during the forecast period 2023-2031.
Timing Controller means any portion of an integrated circuit, product, or application, the function of which is to generate control signals, synchronization signals, and/or clock signals (independently or in conjunction with other circuitry or devices) required for interfacing to a display panel of any kind (LCD panels, TV panels, etc.).
The LCD timing controller plays a vital role in enhancing the display quality of LCD panels and drives their performance by synchronizing various operations. The growth of the LCD timing controller market will be driven by the increasing demand for high-quality displays across various end-use industries such as automotive, aerospace, consumer electronics, and others. Additionally, the rising adoption of LCDs in smart homes, digital signage, and medical devices is expected to propel the growth of this market further.
The LCD Timing Controller has numerous applications across various industries. It is extensively used in the TV, monitor, notebook, and smartphone industry. It is also used in car navigation systems and other electronic devices. The primary function of the LCD Timing Controller is to control and manage the timing of the signals that go into the LCD panel. This allows for better picture and video quality.
Market Dynamics
Market Drivers
Technological Advancements In LCD Timing Controllers
As technology continues to advance, display resolution has increased. This has led to the creation of high-resolution displays, which necessitate more sophisticated timing controllers to function correctly. The only active component within a display is the timing controller (TCON), which is present in every display panel. Various types of displays utilize different varieties of TCONs, but a market trend is the integration of touchscreen controllers. Timing controllers can support a variety of advanced functions, such as over-driving, line-od, DLCS, and local-dimming B/L control functions. This increasing demand for LCD displays in various applications, such as smartphones, televisions, and automotive displays driving the growth of LCD timing controller.
Market Restraints
High Cost Associated With The Development of Advanced LCD Timing Controllers
LCD timing controllers are complex devices that require a high level of expertise to design and manufacture. Because of the rising demand for LCD timing controllers, the price of the necessary raw materials for their manufacture is also increasing. Advanced LCD timing controllers require advanced features such as higher data transfer rates and point-to-point differential signaling (PPDS) architecture. These features can increase the cost of development. Also, the availability of several alternative display technologies, such as OLED and QLED, may lower the market for LCDs.
Market Opportunities
Increasing Awareness of LCD Timing Controllers By Various Industries
With the various computer display standards, the video signal inputs can be challenging to accommodate and translate for the LCD panel. Still, with the help of adapters and the growth of these standard types, displays continue to become faster and develop with greater resolutions. The LCD controller is a small microprocessor that converts the customer's software code to information the LCD can understand. The LCD screen displays graphics, characters, images, and numbers to be seen by the end user. Also LCD Timing Controller is the growing awareness of the benefits of LCD Timing Controller solutions and the increasing need for these solutions in various industries. This is driven by the increasing demand for more efficient, cost-effective, and sustainable solutions and better data management and analysis capabilities. In addition, the growth of the LCD Timing Controller market analysis is also driven by the increasing availability of LCD Timing Controller solutions and the growing number of players entering the market.
Market Scope
Report Metric
Details
Market Size by 2031
USD XX Million/Billion
Market Size in 2023
USD XX Million/Billion
Market Size in 2022
USD XX Million/Billion
Historical Data
2019-2021
Base Year
2022
Forecast Period
2023-2031
Report Coverage
Revenue Forecast, Competitive Landscape, Growth Factors, Environment & Regulatory Landscape and Trends
Segments Covered

Segmentation by Type

eDP Tcon
LVDS Tcon

Segmentation by Application

Small-size
Large-size

Geographies Covered

North America
Europe
APAC
Middle East and Africa
LATAM

Companies Profiles

Samsung
Raydium
Chipone
Novatek
Himax Technologies
Silicon Works
MegaChips
Parade Technologies
FocalTech
Rohm Semiconductor
MpicoSys Solutions
Renesas
THine Electronics
Analogix
ESWIN
MediaTek
Sitronix
Segmental Analysis
Segmentation By Type
eDP connections are fast, use few wires, and are flexible for size, bandwidth, and adding features. eDP provides all panel connections in one plug, including power, data, and control signals. This is Analogix's specialty. eDP will replace LVDS over the next few years, adding new system capabilities while reducing system cost, power, and size. The TCON is usually part of the panel design, while the GPU is on the motherboard. The TCON plays a role in brightness (HDR), color, touch, refresh rate, and power savings.
Data output of the mainboard on the TV/LCD Monitor has a level LVDS (Low-voltage Differential Signaling) data series. The word differential means paired data between pluses and minuses LVDS technology makes it possible to transmit data with a high transfer rate as more and more pairs/couples than faster transfer speed.
Segmentation By Application
Small-size market refers to the LCD Timing Controller used in small electronic devices like smartphones, tablets, and smartwatches.
Large-size market is for bigger devices like televisions, desktop monitors, and laptops.The Timing Controller separates the data delivered by the system into digital image data and control signals and forwards it to the Driver IC. The PMIC changes the power applied by the System to the various voltages required to operate the LCD panel and provides stable control.
Regional Analysis
The Global LCD Timing Controller Market is segmented by region as North America, Europe, Asia Pacific, Latin America, and Middle East and Africa.
North America
North America, specifically the United States, is currently ahead regarding deployment. The rapid advancement in electronic devices and technology drives demand for the LCD timing controller. For Americans, cell phones are omnipresent. Many check their Facebook page multiple times a day. Technology use in the U.S. has risen over the past two decades as products and services become more sophisticated and affordable. Hence, the demand for small-size applications, such as smartphones, tablets, and smartwatches, is increasing daily, leading to the growth of the market.
Europe
Europe has a long history of human development and is considered the birthplace of Western Civilization. Europe believes in providing quality education. Following the pandemic caused by COVID-19, the educational system shifted toward using online platforms. The requirement to complete schoolwork at one's own pace has led to a surge in demand for smartphones and other portable electronic devices in every region of the world. The expansion of research opportunities and educational institutions in Europe, which are recognized to be among the best in the world, has contributed to the expansion of the market for LCD timing controllers.
Asia-Pacific
Several countries in the APAC region are experiencing rapid changes in economic development, population growth and urbanization, social transformation, and technology. The APAC region is expected to showcase the highest growth rate owing to the increasing demand for consumer electronics in emerging economies such as India and China. Overall, the LCD timing controller market share is expected to experience considerable growth across various regions in the coming years.
South America
It is estimated that the nation's school districts spend $6 billion annually on energy. In the current education climate, every penny counts, and every investment is scrutinized. This region has been focusing on Product Efficiency When Selecting New Display Tech. The growing market for interactive flat panel displays for educational technology demands energy-efficient displays triggering the growth of the market.
Middle East and Africa
The demand for higher display resolution in premium IT fields is increasing. The markets in these regions are emerging due to increasing technological enhancement and rising disposable income among people in the region. However, the region is expected to show a slow growth rate compared to other regions.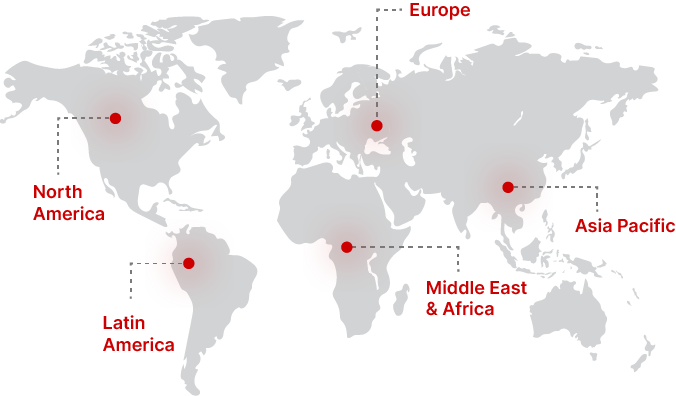 Regional Growth Insights
Download Free Sample
Key Players
Samsung
Chipone
Novatek
Himax Technologies
Silicon Works
MegaChips
Parade Technologies
FocalTech
Rohm Semiconductor
MpicoSys Solutions
Renesas
THine Electronics
Analogix
ESWIN
MediaTek
Sitronix
Recent Developments
June 2023 - Global monitor panel shipments declined in the first quarter of the year mainly due to Samsung Displays' exit from the monitor LCD display manufacturing business and a shortage of semiconductors. Samsung Display, the world's top mobile display panel maker, has been focusing on its migration to next-generation quantum-dot (QD) displays while withdrawing from the LCD business.
LCD Timing Controller Market Segmentations
Segmentation by Type
Segmentation by Application
Frequently Asked Questions