Market Overview
The Lithium-Ion Forklift Batteries Market Size is estimated at a CAGR of approximately 6.6% during the forecast period.
A lithium-ion battery comprises a cathode, electrolyte, separator, anode, and two current collectors, one positive and the other negative. Both the cathode and the anode are responsible for storing the lithium, and the electrolyte is the medium that transports positively charged lithium ions through the separator. The charge is produced due to this movement, and the electric current travels through the device toward the negative collector. These batteries are easier to transport than lead-acid batteries because they don't need to be maintained with water. Lithium-ion batteries are more compact, energy-dense, sealed tightly, and require no water maintenance.
Lithium-ion batteries have rapidly become one of the most popular product categories in recent years due to their low cost and high energy efficiency. Additionally, the rate at which they can be recharged is superior. The sector is anticipated to expand at a favorable rate throughout the forecast period, resulting in a substantial increase in the market value of lithium-ion forklift batteries in the coming years.
Market Dynamics
Market Drivers
Benefits of Battery Over Traditional Batteries
Lithium-ion forklift batteries are being adopted by companies worldwide. Battery technology has made non-lead-acid forklift batteries practical. Many owners and operators believe the benefits of lithium-ion batteries compensate for their higher costs. These batteries will return more than lead-acid batteries if properly managed. Lithium lift truck batteries sustain higher voltage during a shift. Lithium-ion batteries last longer than lead-acid batteries by two to four times.
Lithium forklift batteries don't need watering, equalizing, or cleaning. These maintenance-free batteries decrease labor expenses and downtime. Lithium-ion forklift batteries charge faster and need no cool-down. Lithium batteries can charge eight times faster than lead-acid batteries and restart operations without fully charging. People favor this battery over traditional batteries due to its numerous advantages. Due to this battery's numerous benefits, the market for lithium-ion forklift batteries is expanding.
Need For Sustainable and Eco-friendly Solutions
The demand for forklift batteries is driven by the material handling Industry's need for sustainable and environmentally favorable solutions. Companies are searching for ways to reduce their carbon footprint and employ more sustainable practices in response to rising environmental concerns. Electric forklifts powered by forklift batteries offer a sustainable and environmentally favorable solution for material handling operations, thereby assisting businesses in achieving their sustainability objectives.
Market Restraints
Lithium-Ion Batteries Expensive than Lead-Acid Batteries
The higher cost of production is one of the market's primary restraints for lithium-ion forklift batteries. Rare and expensive raw materials, such as lithium, cobalt, and nickel, are required to produce lithium-ion batteries, which can substantially increase production costs. The price volatility of these basic materials can also affect the price of lithium-ion forklift batteries. In addition, the high price of lithium-ion batteries can make them less accessible to consumers, limiting the demand for forklift vehicles.
Incidences of Safety Hazards
Lithium-ion batteries can occasionally become a safety hazard, generally resulting from a manufacturing error. There have been numerous reports of lithium-ion battery explosions around the globe. It is caused by a phenomenon known as thermal runaway, in which excessive heat is generated in the battery while the dispersion rate is extremely low. The batteries' safety concerns are anticipated to function as significant growth restraints for the lithium-ion forklift battery industry.
Market Opportunities
Advancement of Battery Technology
The growth of the lithium-ion forklift battery market is fueled by technological advancements and the adoption of innovative technological products. Key market participants are concentrating on introducing long-lasting lithium-ion batteries and products. Significant technological advancements in lithium-ion batteries, such as electrolytes, silicon anode material modifications that dramatically increase the voltage capacity, and Li-S and Li-air technologies with high energy density, are anticipated to increase demand for the product soon. This will contribute to an increase in global demand for forklift vehicle batteries during the forecast period.
Market Scope
Report Metric
Details
Market Size by 2031
USD XX Million/Billion
Market Size in 2023
USD XX Million/Billion
Market Size in 2022
USD XX Million/Billion
Historical Data
2019-2021
Base Year
2022
Forecast Period
2023-2031
Report Coverage
Revenue Forecast, Competitive Landscape, Growth Factors, Environment & Regulatory Landscape and Trends
Segments Covered

Segment by Type

12V
24V
36V
48V
80V

Segment by Application

Warehouses
Factories
Distribution Centers

Geographies Covered

North America
Europe
APAC
Middle East and Africa
LATAM

Companies Profiles

EnerSys
GS Yuasa
Hitachi Chemical
Hoppecke
East Penn Manufacturing
Exide Technologies
MIDAC
SYSTEMS SUNLIGHT
Triathlon Batterien GmbH
Crown Battery
Saft
Electrovaya
Flux Power Holdings, Inc
BSLBATT
Segmental Analysis
Segment by Type
12 volts is uncommon in modern machinery, but pallet jacks utilized this voltage for many years. A completely charged lithium battery of 12 volts will maintain a 13.3-13.4 volts voltage.
Batteries with 24 volts are typically used in forklifts, typically found in warehouses and wholesale businesses. Perfect for use with walkie stackers, pallet jacks, and end riders, all examples of tiny electric lifts.
To provide greater stability on uneven ground, 36-volt forklift batteries are increasingly used in 3-wheel and 4-wheel forklifts. Developed for use with medium-sized lifts such as forklifts that operate in confined aisles.
Adapted for use with more substantial machinery such as counterbalanced forklifts. Only 24 cells and 23 cell connectors are in a 48V forklift battery.
A battery with 80V has 40 cells and 39 cell connectors. 80-volt batteries are used in forklifts ranging from 2.5 to 7 tons. 80V battery system permits greater levels of acceleration and torque.
Segment by Application
A forklift, also known as a fork truck, is an electronic industrial truck used to lift and transport palletized products within a warehouse. The E-commerce industry has experienced a significant boom, contributing to a worldwide increase in warehouse activity. Establishing warehouses in multiple locations for improved logistics has increased the demand for material-handling equipment such as forklifts. Warehouse forklifts are utilized for various warehouse tasks, such as stocking orders, lifting equipment and personnel, transporting and stacking materials, and more.
Forklifts are heavy-duty industrial vehicles for transporting, positioning, loading, and offloading products and materials. They have distinctive components made of resilient and sturdy metals that can withstand demanding and stressful working conditions. In addition, they can be used to lift, lower, or remove large or multiple smaller objects on shipping containers or in boxes, storage containers, or other containers.
In factories, the primary function of forklifts is to convey (raw) materials from the outside to the factory and finished products back to the warehouses.
Distribution centers significantly rely on forklifts to efficiently move and handle materials and goods. Forklifts are primarily used to load and unload products from trucks and trailers. For the selection of orders, forklifts with attachments such as clamp arms or specialized spikes are utilized. Forklifts are utilized to restock product containers and stand in picking areas. They convey products from reserve storage areas to active picking zones, ensuring a constant supply of inventory for order fulfillment.
Regional Analysis
North America
The lithium forklift battery market in North America will be one to monitor over the next decade or even longer. Numerous factors contribute to the expansion of the market. The increased adoption of digitization and Industry is increasing the demand for automated material handling equipment. Lithium batteries can be charged within the vehicle and do not require replacement during shifts. They limit equipment downtime as much as possible. Sales of lithium-ion forklift batteries in North America will increase as warehouse activity grows.
Europe
Regarding market share, Europe's lithium-ion forklift batteries are expected to dominate the global market over the next decade. The adoption of sustainable solutions in the region is primarily driven by an emphasis on sustainability and reducing carbon emissions. Increasing use of electric forklifts and other electric equipment in manufacturing facilities, attractive government subsidies on the use of electric equipment, and a rise in manufacturing activity throughout the region is anticipated to drive the shipment of forklift batteries in Europe.
Asia-Pacific
In the Asia-Pacific region, the demand for lithium-ion forklift batteries is anticipated to be driven by rising industrial activity and investments in the development of manufacturing sectors. Increasing construction activity due to the region's high demand for infrastructure development is also expected to boost the forklift batteries market. Economies such as India and China are anticipated to be extremely profitable markets for lithium-ion forklift battery manufacturers.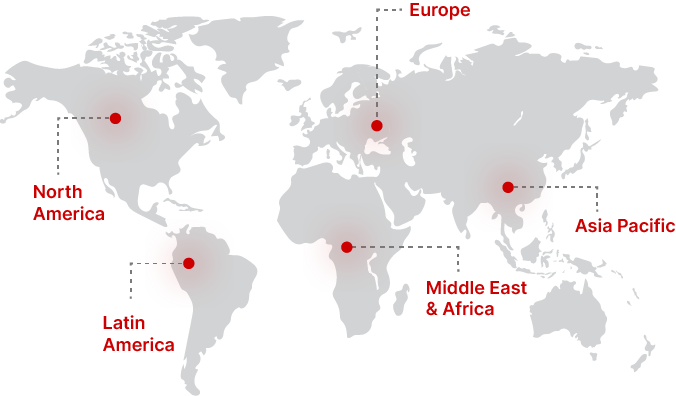 Regional Growth Insights
Download Free Sample
Key Players
GS Yuasa
Hitachi Chemical
Hoppecke
East Penn Manufacturing
Exide Technologies
MIDAC
SYSTEMS SUNLIGHT
Triathlon Batterien GmbH
Crown Battery
Saft
Electrovaya
Flux Power Holdings, Inc
BSLBATT
Recent Developments
August 2022- UgoWork, an energy solutions provider specializing in lithium-ion batteries for industrial vehicles, has introduced its new end-to-end forklift battery management solutions.
March 2022- Flux Power introduced a lithium-ion battery based on the Vista base for the forklift vehicle market. The company announced that this L-36 lithium-ion battery can power vehicles with three wheels.
Lithium-Ion Forklift Batteries Market Segmentations
Segment by Type
Segment by Application
Warehouses
Factories
Distribution Centers
Frequently Asked Questions