Market Overview
The Global Luxury Tableware Market Size is slated to grow substantially at a CAGR of approximately 5.9% during forecast period.
Tableware, also known as dinnerware or crockery, refers to the plates and dishware used to set the table, serve food, and display it. Other names for tableware are dinnerware and crockery. It consists of useful goods such as cutlery, glassware, serving dishes, and other items that serve both functional and ornamental purposes. Tableware refers to the various items used to prepare a table for eating or serving meals. They are made of Glass, ceramic, earthenware, stoneware, or porcelain. Religion, culture, and food all affect the way dinnerware is made. It can be put into four groups: drinkware, which includes glasses, serve ware, plates, and silverware. Tableware can always be used for any event, whether a small get-together or a big party. Luxury dinnerware is the main attraction of a beautiful table setting. Luxury Tableware can be broadly classified into Western, Japanese, and Chinese Styles.
Market Dynamics
Market Drivers
Higher Disposable Income and Luxury Lifestyle Adoption
The most effective approach for those who have a taste for the more luxurious things in life to make a statement during dinner parties is to purchase luxury dinnerware. Luxury tableware is preferred by everyone in today's society because it is constructed from materials of the greatest quality to the most stringent industry standards. They are available in various sophisticated patterns and styles to satisfy the preferences of all customers. The highest-end tableware brands use luxurious components and are meticulously handcrafted by skilled artisans to achieve outstanding quality and attention to detail. With higher disposable income, people are adopting a luxurious lifestyle leading to the growth of the Luxury Tableware Market.
Market Restraints
Shortage of Skilled Labor and Fluctuations In Raw Material Prices
Luxury tableware is made of glass, ceramic, earthenware, stoneware, or porcelain. Glass tableware is in high demand. Glass production demands relatively high temperatures to refine the raw ingredients, resulting in significant wasted energy. The expense of the component contributes significantly to the overall cost of the finished product. Also, luxury tableware's brittle and stiff; when stressed, it breaks easily with only negligible strain. Luxury tableware requires highly skilled labor, as its little finishings are important to its beauty. These factors can repress the growth of the luxurious tableware market.
Market Opportunities
Growing E-commerce Industry Worldwide
The rapidly growing e-commerce business is being propelled by the availability of items at competitive prices and payment plans with manageable outlays. As a result, major retail and consumer goods manufacturers are increasing their investments in the online space. Luxury tableware is easily available on various e-commerce platforms. They are available cheaply and in good quality compared to direct shopping. A luxury dinner set will be popular for many years, bringing with it the pleasure of encountering exquisite food. Hence, its demand is expected to grow gradually.
Market Scope
Report Metric
Details
Market Size by 2031
USD XX Million/Billion
Market Size in 2023
USD XX Million/Billion
Market Size in 2022
USD XX Million/Billion
Historical Data
2019-2021
Base Year
2022
Forecast Period
2023-2031
Report Coverage
Revenue Forecast, Competitive Landscape, Growth Factors, Environment & Regulatory Landscape and Trends
Segments Covered

Segmentation by Type

Stainless Steel Tableware
Silver Tableware
Glass Tableware
Ceramic Tableware

Segmentation by Application

Household
Commercial

Geographies Covered

North America
Europe
APAC
Middle East and Africa
LATAM

Companies Profiles

Alessi
Arte Italica
Christofle
Corelle
Gien
Iittala
Kate Spade
Leilani
Lenox
Michael Aram
Alessi
Noritake
Oneida
Rosenthal
Royal
Ten Strawberry Street
Vera Wang
Versace
Waterford
Wedgwood
Segmental Analysis
Segmentation By Type
Stainless Steel Tableware
Material made of stainless steel is very flexible. Stainless steel doesn't let much electricity through. The metal chromium in stainless steel makes it resistant to rusting. Living things can't use this material can't be used by living things, so it's best for making kitchen tools and cutlery.
It is well-known that silverware helps purify water and protect it from bacteria. It keeps water and food fresh, supports and boosts immunity, and is nontoxic; hence, it is highly used by our ancestors. Doctors recommend feeding babies with a silver spoon to avoid infections.
Glass tableware is safe, long-lasting, and good for the environment, making cooking much more fun than worrying about dangerous non-stick coatings.
Ceramic crockery is proven to be non-sticky. They have a smooth glassy texture that helps clean the dishes easily. They can be cleaned with much ease by just applying soap and water.
Segmentation By Application
Everyday dishes are usually made of porcelain, bone China, stoneware, or Vitrelle glass because they are cheap, easy to clean, and strong. In households, people generally keep one set of dinnerware that is nice enough for a dinner party but relaxed enough for breakfast cereal.
Many commercial industries use luxury tableware in meetings, small parties, get-togethers, etc. They are symbols of high standards. They are used in many commercial kitchens.
Regional Analysis
The Global Luxury Tableware Market is segmented by region as North America, Europe, Asia Pacific, Latin America, and Middle East and Africa.
North America
North America's food industry is increasing rapidly. It is abundantly clear that customer preferences positively impact restaurants and the larger spectrum of food service. This is evident in the emergence of food startups, alternative formats, and changes in appetites (such as the rise of vegetarianism and higher consumption of coffee, for example). The market will see even more growth due to these factors, such as the thriving restaurant and dining business, shifting demographics, high levels of disposable income, and an increasing inclination to lead a trendy lifestyle.
Europe
Europe has a long history of human development and is considered the birthplace of Western Civilization. Many countries in Europe focus on maintaining elegance. They want an aesthetic touch to their lifestyle, from fashion to houses. Rising consumer preference towards social and fine dining will be one of the leading factors for the advancement of the market.
Asia-Pacific
Asia Pacific leads the global glass tableware industry in global production and consumption share. In India, various prominent dinnerware companies offer diverse dinnerware and tableware to meet every demand. These companies are set to provide artistically designed, functional, and thoughtfully created elegant designs to suit every theme and setting of their customer. China remains the largest porcelain tableware and kitchenware-consuming country in Asia-Pacific due to the availability of porcelain. Hence, the APAC region has a high demand for this market.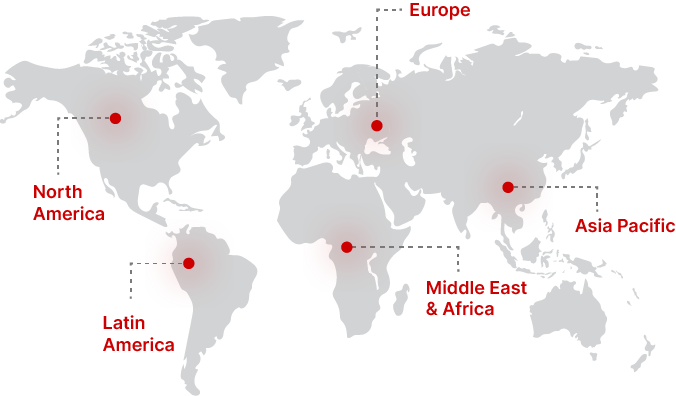 Regional Growth Insights
Download Free Sample
Key Players
Arte Italica
Christofle
Corelle
Gien
Iittala
Kate Spade
Leilani
Lenox
Michael Aram
Alessi
Noritake
Oneida
Rosenthal
Royal
Ten Strawberry Street
Vera Wang
Versace
Waterford
Wedgwood
Recent Developments
Feb 2022 - Corelle Brands LLC, an Instant Brands company, is prominent in the kitchenware segment, headquartered in Rosemont, Illinois; the company manufactures and markets kitchenware products worldwide. The brand is all set to invest in marketing and distribution resources, devoted to leveraging its relationship with its target audiences in India with new product launches beyond the dinnerware category, focusing on innovation. The brand has recently been associated with Stone Sapphire Private Limited (SSPL), a leading eco-friendly stationary brand, as its sole distributor in India. As part of this partnership, Corelle India will take advantage of SSPL's vast distribution network to offer its range of products across the length and breadth of the country. The consolidation phase with SSPL is a game-changer for the brand in the market regarding freshness on the shelf, assurance of steady supply to customers and cashing on economy of scale.
Luxury Tableware Market Segmentations
Segmentation by Type
Stainless Steel Tableware
Silver Tableware
Glass Tableware
Ceramic Tableware
Segmentation by Application
Frequently Asked Questions