Market Overview
According to Reed Intelligence the Global Motorized Curtains Market Size will approximately grow at a CAGR of 12.3% during the forecast period.
Motorized curtains are either powered by a single motor or two motors if the width of the window necessitates double-sided curtains. Since the motor must be capable of lifting heavy drapes, hardwired variants are standard. Curtains can be opened and closed wholly or in increments using a remote control or voice command. It offers a remote or touch control, allowing user's greater simplicity and versatility in opening and closing the curtains. These are ideal for lengthy curtains that are typically out of reach, particularly in office and commercial buildings.
Motorized automatic curtain systems are designed to work with the existing fabric or curtains. Still, they require installing ceiling brackets and attaching a new motorized track to them. Curtains are a fundamental element of home decor. Electric drapes offer numerous advantages over conventional drapes, including energy efficiency, security, convenience, and adaptability.
Market Dynamics
Market Driver
Rising Trend Of Smart Homes
Motorised curtains is a significant and vital part of the growing trend of Smart homes, characterized by a high level of automation and the use of remote controls to operate nearly all aspects of the home. A growing number of residential consumers have been inspired to install motorized curtains in their homes as a means of giving them the appearance of being luxurious due to the growing trend of smart homes. Installing an automatic curtain, Automatic Curtain can help refresh your house. The increasing use of smart homes by a wide variety of residential houses will lead to the development of the market for motorized curtains.
Market Restrain
Motorised curtains are more than just window coverings; they can include technological components such as motors, remote control, power supply, and other components that enable motorized curtains to connect to a phone or remote control device. A remote can also be used to control electric curtains. The majority of the time, automatic curtains require a major initial investment. High costs are required for the installation of all items, as well as for their maintenance and repair. The costs associated with their installation and maintenance hinder the expansion of the market for motorized curtains.
Market Opportunities
Increasing Construction Activity
Demand for residential and non-residential buildings has increased, leading to increased construction initiatives and investment. It is estimated that many people own their own homes, which would increase the demand for furniture and fixed-asset fixtures. Thus, there is an increasing demand for automatic draperies in newly built homes. Additionally, a developing population's income enables them to purchase pricey motorized curtains for their new homes. These factors contribute to the growth of the motorized curtain market.
Market Scope
Report Metric
Details
Market Size by 2031
USD XX Million/Billion
Market Size in 2023
USD XX Million/Billion
Market Size in 2022
USD XX Million/Billion
Historical Data
2019-2021
Base Year
2022
Forecast Period
2023-2031
Report Coverage
Revenue Forecast, Competitive Landscape, Growth Factors, Environment & Regulatory Landscape and Trends
Segments Covered

Segment by Type

Blinds
Shades
Draper

Segment by Application

Household
Commercial

Geographies Covered

North America
Europe
APAC
Middle East and Africa
LATAM

Companies Profiles

HunterDouglas
Somfy
Budget Blinds
Silent Gliss
MC Matcher
Curtains London
Fiate Sunshade
Haier
Winton
Duya Shades
Qingying Sun-shading
Bali
Mecho
Segmental Analysis
Segment by Type
The blinds completely hide the window. Roller blinds, Venetian blinds, and Roman blinds are just a few of the many types of blinds available in various styles. Blinds are made up of slats, often referred to as louvers, and they may be tilted open to let in light or closed to block the light and maintain privacy. The blinds' length and width fit the window frame. Horizontal blinds are more popular. However, vertical blinds can hang. These are usually on patio doors or huge sliding windows.
Shades are most commonly constructed from a variety of fabrics; however, they can also be made from other materials such as vinyl or bamboo. They are attached to a rod or frame, and their dimensions are such that they may be accommodated within the window frame. Other common shades are Roman shades, which can be pulled into deep pleats, and balloon shades, which may be poufed into fabric balloons. And tie-up shades are attached using a fabric tie to hold them open. Roman shades are among the most popular types of shades.
Drapes are hung in a space to achieve several goals: they block light, they provide privacy, and they give visual flair. Drape panels are frequently sold in pairs as a form of window dressing. And much like curtains, drapes are hung from a rod using rings, hooks, or a fabric sleeve, just like curtains.
Segment by Application
Curtains are an essential component in the overall design of the home interior. The demand for motorized curtains in residences across the world has been pushed by rapid urbanization, rising populations, and shifting lifestyles. The global market has driven this demand. The growing interest in automated systems for the home is also contributing to the expansion of the market in the residential sector.
The commercial sector is further subdivided into hospitality, healthcare, retail malls and centers, educational centers, and office spaces. The commercial segment is expected to hold the largest market share in the global motorized curtain market, as it is the fastest-growing segment. Motorized curtains provide hotels with cost savings in areas such as maintenance and cleaning costs, operational costs owing to remote control, and personnel costs.
Regional Analysis
North America (USA and Canada)
The changing regulatory compliance landscape and rising consumer spending power may exceed North American demand. New product and technological developments are crucial for players in the worldwide motorized curtains market.
Europe (Germany, the U.K., France, Russia, Italy, Rest of Europe)
The Europe region is anticipated to hold the largest market share for motorized current. The primary element driving the market's rise is the rising popularity of home automation systems and the increasing demand for electric curtains. In addition, the trend among customers to purchase technology-based smart home goods is further accelerating the market's growth for motorized curtains.
Asia-Pacific (China, Japan, South Korea, India, Southeast Asia, Rest of Asia-Pacific)
China, India, and Japan, among others, are predicted to grow rapidly motorized curtain market due to strong economic growth estimates and large populations that consume a lot of commodities and products. Smart homes are driving APAC demand for automatic curtains and blinds. The expanding preference for smart home appliances among Asia's large population is driving the growth of the motorized curtain market in this region. The increasing purchasing capacity of consumers and the introduction of new products in this region are the primary factors propelling market expansion.
Middle East and Africa (Saudi Arabia, UAE, Egypt, South Africa, Rest of MEA)
The second-largest market share is predicted to belong to the Middle East and Africa region. The rise of the motorized curtain market in this region is driven by the area's fast urbanization and the rising popularity of automated curtains in hotels, conference rooms, and office buildings due to their convenience. Additionally, a large selection of motorized curtains that can be customized for various occasions and window sizes draws customers to this area. Rising individual disposable income will continue to support market expansion in this region.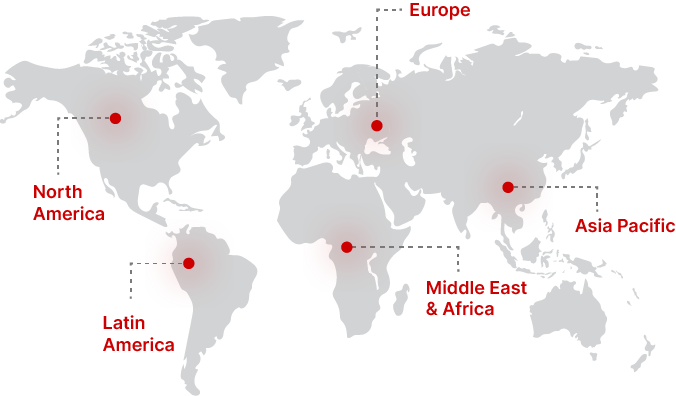 Regional Growth Insights
Download Free Sample
Key Players
HunterDouglas
Somfy
Budget Blinds
MC Matcher
Curtains London
Fiate Sunshade
Haier
Winton
Duya Shades
Qingying Sun-shading
Bali
Mecho
Recent Developments
June 2023- The Forest Group's motorized rod system (MRS) was upgraded. MRS, the motorized rod system of the next generation, establishes a new standard for elegant motorized rod systems. The most significant innovations are a completely redesigned motor and return pulley, created to make the draperies even more appealing. The new motor pulley is positioned wholly backward instead of slightly backward, allowing curtain carriers to pass in front of the motor.
Motorized Curtains Market Segmentations
Segment by Type
Segment by Application
Frequently Asked Questions