Market Overview
According to Reed Intelligence the Network Diode Market Size will approximately grow at a CAGR of 12.5% during the forecast period.
A network diode is an electronic component that allows the flow of electricity in only one direction. This makes it useful for connecting two pieces of electrical equipment that need to be isolated, such as between the power supply and a computer. The network diodes protect networks from unauthorized access and data breaches. These are used in critical infrastructure, government, and financial services sectors.
The Network Diode Market is growing as demand for data security and compliance is increasing. Different companies readily invest in data security solutions to protect their data from unauthorized access and breaches. These specialized diodes allow data to flow in one direction only.
The rising cyber-attack threat is another major driver of the network diode market. Due to this, organizations need to invest in robust data security solutions to protect confidential data. There is a significant demand for cloud computing and loT due to technological advancements. Cloud computing and IoT are increasing the amount of data generated and stored. This is creating data traffic which is giving rise to new data challenges. Network diodes can help address these challenges.
Technological advancements and increased concern for data security drive the demand for the Network diode market, mainly in technologically advanced regions.
Market Dynamics
Market Drivers
Increasing Demand for Data Security
The demand for data security is a major driver of the network diode market. Network diodes are security devices that allow data to flow in one direction only. This property makes it ideal for protecting sensitive data from unauthorized access. As the threat of cyber crimes increasing, the network diode has made it easy to save themselves from such attacks. New network diode technologies are being developed to meet the needs of organizations. This is leading to innovation in the products, which is driving the growth.
Some organizations make use of network diode to follow the regulatory compliance. These regulatory compliance have made it compulsory to use the network diodes and driving the market's demand. The IoT can connect a huge number of devices to the internet, which is creating security challenges for organizations. Network diodes can help to protect IoT devices from unauthorized access, and the demand for these devices is expected to grow as the IoT market expands.
Growing Adoption of Cloud Computing
The growing adoption of cloud computing is positively impacting the network diode market. Organizations use the cloud to load their work and protect their data from cyber threats. Network diode is an important tool for protecting cloud-based networks, as they can help to prevent unauthorized access and data exfiltration. Network diode vendors are developing new products specifically designed for cloud-based networks. These products offer several features capable of solving unique challenges of cloud security. Network diode vendors partner with cloud service providers to offer integrated security solutions. This makes it easier for organizations to deploy and manage network diodes in their cloud environments.
Market Restraints
The high cost of Network diodes is the major restraint for the Network diode market. As network diodes are net security solutions, there is still a lack of awareness about them among some organizations. These factors can resist the investors in the Network Diode Market even though they offer several advantages over traditional security solutions. The high cost can be a barrier to adoption for organizations with limited budgets, like organizations with small or medium-sized businesses, which are mostly the target of cyber-attacks. The high cost of network diodes could encourage innovation of the products in the Network Diode Market. Vendors may develop new ways to reduce the cost of network diodes, but this will lead to a lack of innovation, and the vendors could compromise quality. Thus, the High Cost is the major restraint of the Network Diode Market.
Market Scope
Report Metric
Details
Market Size by 2031
USD XX Million/Billion
Market Size in 2023
USD XX Million/Billion
Market Size in 2022
USD XX Million/Billion
Historical Data
2019-2021
Base Year
2022
Forecast Period
2023-2031
Report Coverage
Revenue Forecast, Competitive Landscape, Growth Factors, Environment & Regulatory Landscape and Trends
Segments Covered

Segment By Type

Unidirectional
Bidirectional

Segment By Application

Rail
Power
Water Utilities
Manufacturing

Geographies Covered

North America
Europe
APAC
Middle East and Africa
LATAM

Companies Profiles

Tressy
MicroArx
Owl Cyber Defense
Belden
WizLAN
Garland Technology
Genua
Advenica
Waterfall
Infodas
Siemens
Fox-IT
Fibersystem
BAE Systems
Vado
Deep Secure
Nexor
Victory Idea
Toecsec
Segmental Analysis
Segment By Type
A Unidirectional Network Diode (UND) is a device used to secure and protect computer networks from unauthorized access or data leakage. It is a hardware device that allows information to flow in only one direction. The information flow is generally from a more secure network to a less secure network. The diode acts as a one-way flow for data, which prevents any information from flowing back in the opposite direction. These diodes are generally used where the transfer of information is strictly monitored. They are commonly used by government agencies, military organizations, financial institutions, and other organizations that deal with highly sensitive or classified information. Allowing only one-way data transfer effectively mitigates the risk of data leakage or intrusion from the less secure network.
Bidirectional network diodes use a physical barrier to prevent data from flowing in the opposite direction. There are two main types of bidirectional network diodes, i.e., optical and electrical. Optical bidirectional network diodes use fibre optic cables to transmit data, while electrical bidirectional network diodes use copper cables. Optical bidirectional network diodes are more expensive than electrical bidirectional network diodes. But they are also more secure. This is because fibre optic cables are less susceptible to interference than copper cables.
In optical bidirectional network diodes, the physical barrier is a one-way optical coupler, and in electrical bidirectional network diodes, the physical barrier is a one-way electrical switch. When data is transmitted from one network to another, it is converted into light or electrical signals. The one-way optical coupler or electrical switch only allows the signals to flow in one direction. This prevents the data from flowing back to the original network.
Segment By Application
Networked diodes play an important role in train control and signalling systems. It helps in the safe and efficient operation of trains. The Communication networks present in it allow the transfer of information between trains and can helps in controlling centres and wayside equipment train movement, signalling, and track switching. It provides real-time information to the passengers about the train schedules, arrivals, departures, delays, etc. These systems may utilize local or wide-area networks to provide information to the display terminals.
Video cameras, access control systems, and intrusion detection systems can be interconnected through network and enhanced security and safety can be provided. Providing Wi-Fi access to passengers has become increasingly common in rail systems. The Network diodes have made it easy to provide high-tech services to passengers.
Network diodes can establish secure communication channels between different power system components, such as substations, control centres, and remote monitoring stations. In power system applications, network diodes can collect data from different sources, such as sensors, meters, and monitoring devices. They ensure that the collected data can only be transmitted in one direction, thus reducing the risk of interference or manipulation. It is important to safeguard power systems against cyber threats and attacks.
Supervisory Control and Data Acquisition systems are mainly used in power systems for monitoring and control. Network diodes can be integrated into SCADA networks to ensure the secure transmission of data from field devices, like remote terminal units (RTUs) and intelligent electronic devices (IEDs), to the central control centre.
Network diodes can establish a unidirectional data flow between different parts of a water utility's network. This helps prevent unauthorized access to data and data breaches by ensuring that information can only move in one direction. Water utilities usually rely on pumps, valves, and reservoirs. Network diodes can be implemented to maintain the safety of these systems from cyber threats.
By using a unidirectional communication path, network diodes can prevent external attacks from compromising or manipulating the control systems of these infrastructure components. Many water utilities use remote monitoring and control systems to manage their infrastructure efficiently. They make sure that commands and data are sent to remote locations. This is done to prevent any unauthorized data or commands from being sent back to the main network, which reduces the risk of cyber-attacks.
Manufacturing plants rely on Industrial Control Systems to monitor and control various processes. Network diodes can be used to secure the communication between the ICS, and diodes can be used to secure the communication between the ICS and external networks such as enterprise networks or the Internet. By allowing data to flow in only one direction, network diodes prevent potential cyber threats from compromising the integrity of the control systems. Manufacturing networks can be sensitive to malware attacks from external sources, such as infected devices or malicious software. Network diodes can help reduce this risk by allowing only outbound traffic, effectively blocking any incoming data or malware from infiltrating the manufacturing network. This helps to maintain the stability of the manufacturing processes.
Regional Analysis
North America
The smart manufacturing market in North America is expected to grow at a CAGR of 5.2%. This is due to Increasing demand for automation. There is an increase in the demand for automation due to the need for efficient and quality business practices. In the United States, data is utilized on a large scale for production while integrating the data with various manufacturing systems throughout the supply chain. The network diodes are used to secure the data as the manufacturing units need it. Automotive manufacturing is one of the largest revenue generators for the United States in the manufacturing sector. The market for Network diodes is expected to increase due to strict regulatory complaints and increased demand for automated and cloud-based networking to maintain data safety.
Europe
The manufacturing industry of the Europe is the strength of the region. The European Union's research and innovation programs have been supporting the development of smart technologies and solutions that enable the European manufacturing industry to take full advantage of digital opportunities. Germany is expected to have significant growth in the power market in Europe. This is mainly because of Germany's energy transition project. Even though the number of data breaches and cyberattacks is increasing in several European countries, customers in the region do not feel secure to share their data with third-party companies. This can drive the demand for network diodes which are used for data security.
Asia Pacific
The Asia-Pacific power market is expected to grow at a CAGR of over 3.8%. The thermal power segment is expected to be the largest segment. China is the region's largest energy producer and the largest market in the region. A high level of industrialization and increasing urbanization in the country drives the automation and cloud computing market in power generation. India's network security and cyber risk management market is expected to grow in the upcoming years. The initiative of the Government of India towards digitization is expected to be the major driving factor for the market. Government schemes such as 'Make in India,' 'Start-Up India,' and 'Digital India 'drives the growth of Cyber Security market in India. This creates an opportunity for the Network diode market in the region.
South America
The Latin American cybersecurity market size is expected to grow at a CAGR of 7.2%. The expansion of digital penetration, reinforced by internet usage and mobile development in the region, is driving demand for cybersecurity. Rapid digitalization and extensive use of digital technology drive the Latin American cybersecurity market. The key drivers of the Latin American cybersecurity industry have been the use of new technologies such as the IoT, Big Data, and cognitive intelligence, as well as the acceptance of cloud-managed services to save data and reduce the frequency of cyber-attacks in the region.
Middle East and Africa
The Network diode market in the region is expected to grow steadily. This is due to developing manufacturing practices and developing innovations in the cyber security market in the region. The emerging needs of data security is expected to drive the market of Network diodes in the region of Middle East and Africa.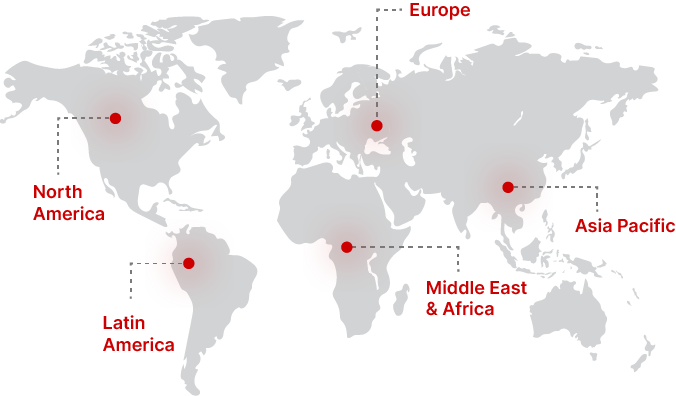 Regional Growth Insights
Download Free Sample
Key Players
Tressy
MicroArx
Owl Cyber Defense
Belden
WizLAN
Genua
Advenica
Waterfall
Infodas
Siemens
Fox-IT
Fibersystem
BAE Systems
Vado
Deep Secure
Nexor
Victory Idea
Toecsec
Network Diode Market Segmentations
Segment By Type
Unidirectional
Bidirectional
Segment By Application
Rail
Power
Water Utilities
Manufacturing
Frequently Asked Questions