Market Overview
The Global NIR Laser Diodes Market Size is projected to grow at CAGR of approximately 10.1% during the forecast period.
The market for NIR laser diodes is a rapidly expanding subset of the broader laser diode industry. NIR laser diodes have several uses in fields such as medicine, industry, and academia. Forecasts for the market's future growth point to rising interest in high-tech medical solutions, expanding applications in manufacturing and industry, and rising demand for monitoring and protection services.
Both the media and entertainment industry's decreased adoption of new laser projectors and the COVID-19 pandemic-induced shutdown of movie theaters have had a significant negative impact on the market's expansion. NIR Laser diodes can be made in a variety of ways thanks to the variety of methods for making them. As a result, it can be seen that the NIR laser diode market suffered as a result of the pandemic, but that this market is now growing thanks to new developments.
Market Dynamics
Market Drivers
NIR laser diodes are used in a variety of medical procedures, including surgery, and advanced diagnostic. The requirement of NIR laser diodes is anticipated to increase as the healthcare sector continues to develop and innovate.
Several industrial processes, including welding, cutting, and drilling, require NIR laser diodes. The need for NIR laser diodes is anticipated to rise as markets like automotive, and aerospace develop and innovate.
Security and surveillance systems employ NIR laser diodes for tasks like image recognition. The demand for these systems is rising along with security concerns, which is fueling the market for NIR laser diodes.
Market Restraints
Threats Posed By Rival Technological Developments
Other lighting technologies, such as LEDs and more conventional light sources, pose a threat to the market share of NIR laser diodes. In some contexts, the utilization of these alternative technologies may be less expensive and more straightforward, respectively.
Costly Initial Investments in NIR Laser Diode-Based Industries
The higher initial investment required for NIR laser diodes compared to other light-emitting diodes severely restricts the market for NIR laser diodes as a whole. A few hundred to thousands of watts of laser power are required for various systems, processes, and applications. Installation of laser equipment is quite costly, despite the fact that using laser products in the automotive and industrial sectors would reduce labor costs. Laser-enabled products typically cost more to install than standard products.
Market Opportunities
The use of NIR laser diodes in medical applications is growing at a rapid rate as a result of developments in healthcare technology such as surgical procedures that are minimally invasive and non-invasive medical diagnostics, amongst others.
NIR laser diodes find widespread application in a variety of cutting-edge manufacturing techniques, including machining operations and 3D printing. Together with the development of these technologies comes an increase in the demand for NIR laser diodes.
Market Scope
Report Metric
Details
Market Size by 2031
USD XX Million/Billion
Market Size in 2023
USD XX Million/Billion
Market Size in 2022
USD XX Million/Billion
Historical Data
2019-2021
Base Year
2022
Forecast Period
2023-2031
Report Coverage
Revenue Forecast, Competitive Landscape, Growth Factors, Environment & Regulatory Landscape and Trends
Segments Covered

Segment by Type

Single Mode
Multi Mode

Segment by Application

Optical Storage & Display
Telecom & Communication
Industrial Applications
Medical Application

Geographies Covered

North America
Europe
APAC
Middle East and Africa
LATAM

Companies Profiles

Ushio
Thorlabs
LDX Optronics
Sheaumann Laser
Segmental Analysis
NIR Laser Diodes Segment by Type
The light from these laser diodes is focused into a single, narrow beam. Its great power, efficiency, and spatial coherence make them useful in a variety of applications.
These laser diodes produce several light beams of various widths and phases. They are frequently used for fiber optic connectivity, optical sensing, and medical applications and are employed in applications that call for a wide range of output powers and wavelengths.
NIR Laser Diodes Segment by Application
Optical Storage & Display
NIR laser diodes are utilized in display technologies like microscopy and projectors as well as optical storage systems like CD and DVD writers.
In fiber optic communication systems, NIR laser diodes are used to convert electrical impulses into light signals that are then communicated across optical fibers.
NIR laser diodes are employed in a variety of commercial processes, including laser welding, laser cutting, and laser marking. They are also employed in manufacturing for quality assurance and inspection.
In medical procedures like laser therapy and surgery, NIR laser diodes are employed to provide precise and controlled amounts of light energy to particular tissues. They are additionally employed in diagnostic and imaging procedures including spectroscopy and endoscopy.
Regional Analysis
The Global NIR Laser Diodes Market is segmented by region as North America, Europe, Asia Pacific, Latin America, and Middle East and Africa.
The rising demand for NIR laser diodes in a wide range of industries and applications, including manufacturing, military, and medicine, bodes well for the North American market. The North American market is primarily driven by the United States and Canada.
Due to the rising need for cutting-edge medical technology and industrial automation systems, Europe is a sizable market for NIR laser diodes. Applications including lidar, gesture recognition, and optical communications are expanding rapidly in the area. The market in Europe is mostly driven by countries like Germany, France, and the United Kingdom.
Rising demand for NIR laser diodes in rising nations like China and India, which are undergoing fast industrialization and infrastructure development, bodes well for the Asia Pacific market. Applications like consumer electronics and automobiles are also expanding rapidly in the area. The regional market is primarily driven by Japan, South Korea, and Taiwan.
Investments in healthcare and infrastructure are on the rise across the Middle East and Africa, which could lead to modest economic growth in the area. Applications including oil and gas exploration, as well as military and security, are expanding rapidly in the area. Major players in the region's market include Saudi Arabia, the United Arab Emirates, and South Africa.
Due to rising demand for NIR laser diodes in fields including medicine and consumer electronics, the Latin American market is predicted to expand at a modest pace in the coming years. The region's market is driven mostly by countries like Brazil and Mexico.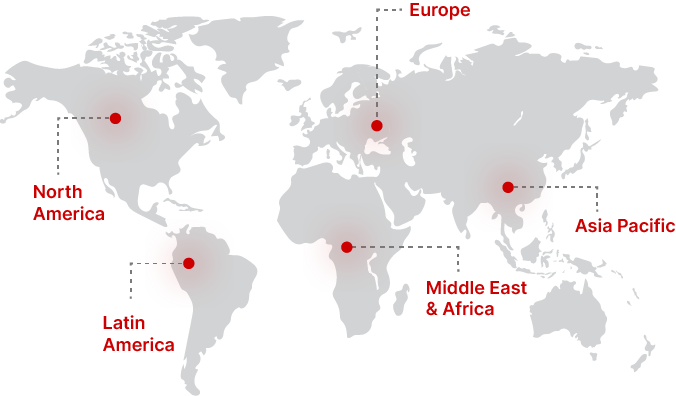 Regional Growth Insights
Download Free Sample
Key Players
Ushio
LDX Optronics
Sheaumann Laser
Recent Developments
In January of 2022, Hamamatsu Photonics introduced a new series of NIR laser diodes with both high output power and high beam quality. The primary applications for these diodes are in the fields of science, metrology, and sensing.
A new NIR laser diode module will be released in November 2021, according to Sony Semiconductor Solutions Corporation. This module generates significant output while drawing minimal current. The module is designed for implementation in manufacturing environments, where procedures like material processing and inspection are commonplace.
NIR Laser Diodes Market Segmentations
Segment by Type
Segment by Application
Optical Storage & Display
Telecom & Communication
Industrial Applications
Medical Application
Frequently Asked Questions