Market Overview
According to Reed Intelligence the Global Online Form Builder Software Market Size will approximately grow at a CAGR of 16.8% during the forecast period.
Online Form Builder software helps in building or customizing forms through a web-based interface which do not require coding skills as such. Due to automation and technological advancements the market is growing at a significant rate. It has become easy for the customers, to get the forms customized. Online form builder software offers a rage of features to facilitate form creation and customization. It has features such as pre built form templates, conditional logic, data validation, form branching and integrations with third party applications, data reporting and analytics collaboration tools etc.
It helps the users who are technologically not that strong to build creative and professional without any knowledge of coding. It allows customer to form a form with customization features as per the requirement of the job and form to be built. The form data can be automatically saved in central database, which is useful for analysing responses. It has strong integration capability is useful to transfer he data to other systems in marketing automation platforms. It is mostly used by businessmen, companies, nonprofit organizations, enterprise, educational professionals etc.
Various deployment options are available in various deployment options to accommodate different user preferences and IT infrastructures. It includes cloud-based solutions, on premises installation, hybrid models etc. Integration of AI artificial intelligence and machine learning is used to collect and analyse data and report features and industry specific templates etc. The market is growing faster where the use of technology is more and the paying capacity of people is more.
Market Dynamics
Market Drivers
The online form builder offers many features and easy to use and time efficient processes of building forms. It includes the drag and drop option that allows the user to create form by dragging form fields from the toolbar and dropping them onto the form canvas. It eliminates the need of manual coding or programming skills. It has a collection of pre-built templates of surveys, registration forms, order forms, contact forms. feedback forms etc. The user can choose the desired template from the collection which saves time of making it on own. The field types such as text box, check box, dropdowns, set validation rules add placeholders and default values and specifying formatting options enables users to collect specific information as per the requirement.
The form builder software solutions offer integration capabilities as CRM i.e., Customer Relationship Management software, email marketing platforms, project management tools etc. It allows data transfer, enhances workflow automation, Form data management. Mobile responsive forms can automatically change into different sizes and devices, which allows users to fill forms automatically which allows convenience on smart phones and tablets. Many forms building software offer API i.e., Application Programming Interfaces which allows the developers to connect and interact with the form builder software programmatically. The organizations can integrate the form building softwares with the existing systems such as CRM, email marketing, project management or database systems. All these features drive the demand for the software's which makes the tasks easy to perform and convenient.
Market Restraints
The users trust can be broken due to the security breaches or data privacy concerns. The users may refuse to use the software which would be vulnerable to cyber threats. Organizations are supposed to follow the data protection and privacy based on General Data Protection Regulation in Europe or California Consumer Privacy Act in U.S.I f there is no secure data handling, data encryption, appropriate data handling practices the user may refuse to use such software due to the need of regulatory compliance. Data breach cases may also take place which may cause severe consequences to the individual as well as the organization. It involves unauthorised access to sensitive data, identification of thefts, financial fraud, reputational damage. These are the major concerns due to which the users may avoid using such software's.
Market Scope
Report Metric
Details
Market Size by 2031
USD XX Million/Billion
Market Size in 2023
USD XX Million/Billion
Market Size in 2022
USD XX Million/Billion
Historical Data
2019-2021
Base Year
2022
Forecast Period
2023-2031
Report Coverage
Revenue Forecast, Competitive Landscape, Growth Factors, Environment & Regulatory Landscape and Trends
Segments Covered

Segment by Type

Cloud-based
Web-based

Segment by Application

SMEs
Large Enterprises

Geographies Covered

North America
Europe
APAC
Middle East and Africa
LATAM

Companies Profiles

Typeform
Wufoo
Formstack
JotForm
FormAssembly
Zoho Forms
Brandquiz
Formsite
Cognito Forms
Ninja Forms
KiSSFLOW
Forms on Fire
Bitrix24
123FormBuilder
SendX
Capptions
IntakeQ
Instapage
Salesforce
ProntoForms
SurveyLegend
EPACT
Segmental Analysis
Segment by Type
Cloud based form builders can be available on the web browser which allows the users to create, manage and distribute forms from long distances where there is an internet connection. The data can be accessed from any device connected with internet. The data can be stored, submissions can be done on time by using the cloud-based softwires forms made are securely stored in the system for the purpose of maintaining record. It also ensures data redundancy, automatic backups, disaster recovery measures and minimizing the risk of loss of data. The cloud-based software handles the software maintenance in the cloud infrastructure. Automatic Updates, buff fixes, feature enhancements without any manual installation are some of the features of cloud-based software systems.
These are the form builders which use cloud computing infrastructure to store and process the data. The Templates, form submissions, remote services are accessible through the internet. It allows collaboration, scalability and provides easy access to forms from anywhere where there is an internet connection. The library of free built templates is available which can be accessed by the users whenever they want just by having an access to internet connection. The forms can be customized according to the requirement of the use of the software. It emphasizes on data privacy and security measures such as data encryption, secure transmission protocols user authentication access control and regular backups.
Segment by Application
The Online form building software helps the small and medium sized enterprises in numerous ways. In SMEs the form building software can be used for creating feedback forms to carry out customer survey by getting their opinions. Form building is also required in recruiting process for operations such as accepting the job applications, recruiting the selected candidates, to collect resumes and other relevant information. It is also required for building forms required while ordering or supplying material to the companies. It helps the HR Department to build forms for getting feedback, any application or any legal procedure to be carried out in the organization. They can be utilized to create support ticket forms or helpdesk for customers and submit enquiries issues or support requests.
Online form building software may be used for various purposes in the organizations. It can be used in the department of HR to manage employee information, recruiting, onboarding performance evaluations leave requests etc. It can be used to create job applications, employee feedback, performance reviews, leave requests etc. It can be used to manage the inventory in the organization by using forms required for the vendors record keeping. It is also used in the management of IT services management processes. It can help in creating self-service portal, IT ticketing systems, service request forms and change management forms. It can be used to track incidents and provide centralized platform for IT service management.
Regional Analysis
North America
The Technological Advancements and workforce management need have led to the demand of online form building software. The growth of online platforms for applications, registration for any purposes such as exams, official work are the drivers of the software development for form building in the region. Increasing adoption of the cloud-based solutions in the region has led to increase in online platforms, rising the demand of the softwires' U.S. the Enterprises are increasingly adopting solutions to manage their workforce and optimize their operations. In Canada the automation in logistics and technological advancements are leading to the need of form building software.
Europe
In Europe the CRM i.e., Customer Relationship Management market is expected to grow at a CAGR of 5.9%. Increased focus on business and customer management is driving the demand of online form building software in the region. The online retail sector which is managed by the CRM increases the efficiency in the operations carried out in an organization. Germany is expected to be the highest in the business software market in Europe due to industrialization and increased demand of automation. This has led to increased efficiency of the work force and ease in handling the business operations from long distances. These factors may lead to the demand of Form Building Software market in the region as the businesses would require form filling for different tasks and for getting approvals etc.
Asia Pacific
In Asia Pacific the online programmatic advertisement market is expected to grow at a CAGR of 8.9%. In India the Online Travel Market and Online retail market is growing significantly from past few years which is an opportunity for the online form building market in the region. In China the High-Performance computing market is growing due to technological advancements and need of increase in efficiency is required for real time data processing during live broadcasting of a sporting event, as well as for analysing market patterns, following a growing storm, and testing new products. The need of these operations is increasing the demand for online form building software market in the region.
South America
The online retail market in south America is growing steadily from last few years. The growth in E-commerce in the region is due to increasing capacity to pay, awareness about the technological advancements have led to increase in the online shopping, online retail etc. The workforce management software market is growing in the region due to increasing industrialization in the region. All these factors may lead to increase in demand for the Online Form Building Software in the region.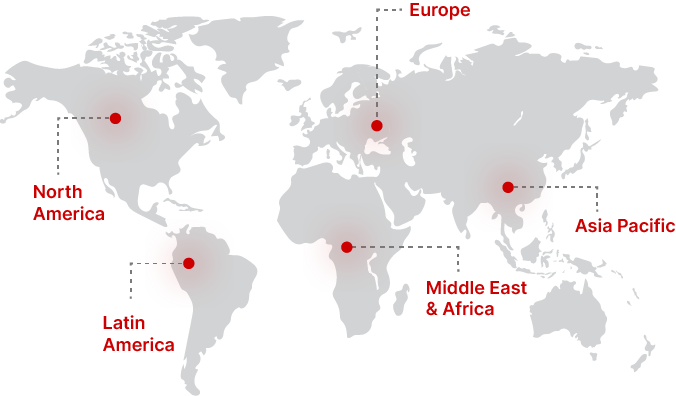 Regional Growth Insights
Download Free Sample
Key Players
Typeform
Wufoo
Formstack
JotForm
FormAssembly
Zoho Forms
Brandquiz
Cognito Forms
Ninja Forms
KiSSFLOW
Forms on Fire
Bitrix24
123FormBuilder
SendX
Capptions
IntakeQ
Instapage
Salesforce
ProntoForms
SurveyLegend
EPACT
Online Form Builder Software Market Segmentations
Segment by Type
Segment by Application
Frequently Asked Questions