Market Overview
The Global Photonic Neuron Chip Market Size is slated to grow substantially at a CAGR of approximately 38% during forecast period.
A photonic neuron chip is a kind of computer chip that processes data without the usage of electricity. Potentially, this kind of microprocessor can function faster and use less energy than conventional chips. Optical neural networks, which are systems that can mimic the functioning of the brain, have previously been prototyped using photonic neuron devices. Autonomous vehicles, machine learning, and artificial intelligence are some of the potential uses for photonic neuron devices. The expansion of the market can be ascribed to the growing demand for applications that make use of artificial intelligence (AI) and machine learning. The increasing use of photonic neuromorphic circuits in data processing and image recognition applications is another factor that is driving the expansion of this market.
Market Dynamics
Market Drivers
Applications of artificial intelligence (AI) and machine learning (ML) are becoming more and more popular,The efficiency of machine learning and artificial intelligence applications could be considerably improved by photonic neuron chips, making them faster and more effective. The need for photonic neuron chips is anticipated to rise as such uses continue to gain acceptance and use.
As current high-performance computing methods approach physical constraints, there is an increasing demand for new high-performance computing methods. High-performance applications are attracted to photonic neuron chips because they have the promise for considerably quicker and more effective processing.
The manufacture of more complex and potent photonic neuron chips is made possible by the invention of novel photonic material and fabrication methods. The functionalities of photonic neuron chips are anticipated to grow as these technologies advance.
Market Restraints
The cost of designing and producing photonic neuron chips can prevent smaller businesses or organizations from using them. This can reduce the size of the possible market and slow down innovation.
Lack of Knowledge And Understanding
Interested consumers of photonic neuron chips may lack knowledge and comprehension because photonics is a relatively young and complicated field. This can impede market expansion and slow adoption
Market Opportunities
As energy consumption becomes a more crucial factor in computing, photonic neuron chips may be a desirable solution for a variety of applications due to their low power consumption.
Exciting Developments In Machine Learning And Artificial Intelligence Applications
As artificial intelligence and Machine Learning (ML) applications keep developing, that will be increasing opportunities for equipment that may handle these technologies. The emergence of photonic neuron chips presents an exciting opportunity for companies to improve the effectiveness and efficacy of their applications, giving them a competitive edge in their respective fields.
The growing emphasis on applications for neuromorphic computing and artificial intelligence (AI) is one of the key trends in the market for photonic neuron chips. In comparison to conventional electronic chips, photonic neuron chips provide a number of advantages, including quicker processing times and less power consumption. They are hence suitable for use in neural networks, machine vision, and natural language processing applications in AI.
Market Scope
Report Metric
Details
Market Size by 2031
USD XX Million/Billion
Market Size in 2023
USD XX Million/Billion
Market Size in 2022
USD XX Million/Billion
Historical Data
2019-2021
Base Year
2022
Forecast Period
2023-2031
Report Coverage
Revenue Forecast, Competitive Landscape, Growth Factors, Environment & Regulatory Landscape and Trends
Segments Covered

Segment by Type

Signal Processing
Data Processing
Image Identification

Segment by Application

Aviation
Telecommunications
Car

Geographies Covered

North America
Europe
APAC
Middle East and Africa
LATAM

Companies Profiles

Applied Brain Research
BrainChip Holdings
Hewlett Packard Enterprise
Samsung Group
IBM Corp
General Vision
Intel Corp
Segmental Analysis
Segment By Type
The process of converting analog signals to digital signals and vice versa is known as signal processing. Different methods are applied to the data in signal processing before it flows from a single device to another. This chip's primary purpose is to detect, identify, and categorize patterns in light beams that travel from origin to destination.
The act of arranging, modifying, and altering data in order to produce fresh information is known as data processing. It is a crucial component of photonic neuromorphic chips that aids in the development of synthetic neural networks. The behavior of neurons and synapses in the brain can be mimicked with this technique.
The process of recognizing objects, people, places, and activities in photographs is known as image recognition. The identification, classification, and interpretation of images is another area of artificial intelligence. The photonic neuromorphic chip is an image recognition device that processes data without the usage of power. In comparison to conventional image recognition systems, it is hence quicker and more effective.
Segment By Application
Photonic neuron chips may be utilized to enhance the functionality and effectiveness of onboard systems in the aviation sector. For instance, they might be applied to analyzing data collected by sensors from multiple airplane systems or flight control systems.
Photonic neuron chips could be utilized to boost the efficiency of storage facilities and network structures in the telecoms sector. They could also be utilized to speed up and improve the effectiveness of telecommunications tools and equipment, like routers and switches.
Photonic neuron chips have the potential to be utilised in autonomous and advanced driver assistance systems, or ADAS, for the automotive sector. They might be included into sensors and processing systems, for instance, to increase the speed and precision of item detection and recognition, or they might be utilized in the creation of cutting-edge neural networks for autonomously making choices.
Regional Analysis
The Global Photonic Neuron Chip Market is segmented by region as North America, Europe, Asia Pacific, Latin America, and Middle East and Africa.
North America
In terms of revenue share, North America dominated the world market in 2017. The proliferation of players and research facilities engaged in the creation of photonic neuromorphic chips can be blamed for the expansion. Additionally, throughout the course of the forecast period, rising company investments in the development of these chips are anticipated to fuel regional expansion.
Europe
Photonic neuron chip sales are predicted to increase significantly in Europe. In addition to a rising curiosity in neural computing and AI, this region has a long history of research and development funding. The UK, France, and Germany are probably going to be major players in this industry.
Asia Pacific
The worldwide demand for photonic neuron chips is anticipated to grow significantly in this area. Many of the largest electronics firms in the world are based in this area, which also places a great emphasis on invention and development. South Korea, Japan, and China are projected to play a major role in this market.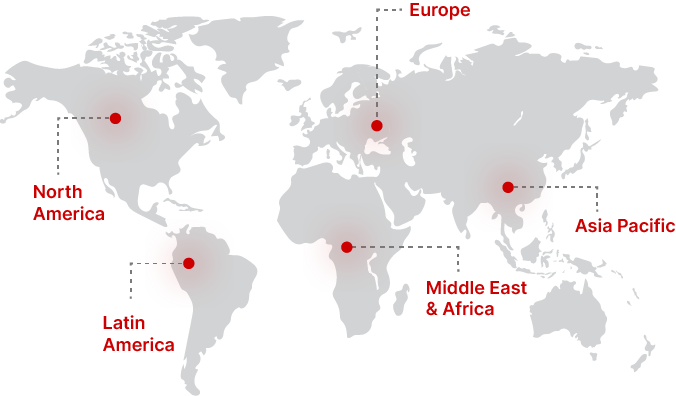 Regional Growth Insights
Download Free Sample
Key Players
BrainChip Holdings
Hewlett Packard Enterprise
Samsung Group
IBM Corp
General Vision
Intel Corp
Recent Developments
Specialists from the educational institution of California, Berkeley and Intel revealed the creation of a new photonic neuron chip in November 2021. This chip can process data up to 20 times quicker than earlier models. Future development of more sophisticated AI and computer applications may result from this innovation.
The European Commission declared in September 2021 that over the following seven years, it would invest €2 billion in a new research program aimed at creating cutting-edge technology, including photonic neuron chips. This program is a component of a larger drive to increase creative thinking and competitiveness in Europe.
Photonic Neuron Chip Market Segmentations
Segment by Type
Signal Processing
Data Processing
Image Identification
Segment by Application
Aviation
Telecommunications
Car
Frequently Asked Questions