Market Overview
The Global Platelet Agitator Market Size will significantly grow at a CAGR of approximately 4.79% by forecast period.
A platelet agitator is a device for mixing or agitating platelets in a blood bag. This is essential because it helps maintain the viability and functionality of platelets. Platelets are also known as thrombocytes. If they do not undergo movement and remain attached in the same position, they tend to clump. Platelets are stored to support the continuous swaying motion to prevent this clumping process and preserve its viability. A device known as the platelet agitator is used for the oscillating motion. When platelets are separated from whole blood until given to a patient, they must be kept in these temperature-controlled agitators. Other substances, including nutrition and stabilizers, are also applied to keep platelets viable.
Market Dynamics
Market Drivers
Increasing Chronic Diseases
Platelets are responsible for various conditions, including abnormal bleeding and platelet function. These are utilized during chemotherapy as well as other treatments. Platelet agitator market usage is expected to be driven by increased chronic diseases like autoimmune hematological diseases, cancer, etc. When a person is experiencing increased hemorrhaging due to an accident, platelets are preserved, and emergency care is administered. Thrombocytopenia is a condition characterized by a low platelet count in the circulation. Platelets (thrombocytes) are colorless blood cells that aid in blood clotting. By clumping and forming plugs in blood vessel injuries, platelets cease bleeding. Thrombocytopenia may be acute and resolve within six months or chronic and persist beyond six months. Due to the increase in the incidence of platelet-related disorders, the demand for platelets preserved in blood banks must be increased.
Market Restraints
The Risk Associated With Platelet Agitator
Agitation maintains the viability and functionality of platelets without disturbing their structure. Agitators are commonly used in blood banks and laboratories for additional functions. Agitation maintains platelets in suspension and rotates them in a single direction slowly. In addition to their benefits, however, platelet agitators are associated with a degree of risk. Excessive exposure of the platelet cell membrane to mechanical stress results in the disintegration of the external cell membrane structure and the release of clotting factors from the cell. This reduces the integrity of platelets and shortens their shelf life. Physical tension causes the fragmentation and eventual death of platelet cells. Agitators also promote the growth of bacteria in the bacterial suspension store bags. Due to bacterial proliferation in suspension, platelet cells are attacked and lose their viability. A platelet agitator's market is diminished by its associated high risk.
Market Opportunities
Increased Blood Donation Camps and NGO Campaigns
Blood is essential to existence. Increasing people's awareness of the significance of blood donation. Additionally, people now realize the importance of blood donation. There are increasing medical advancements, treatments, medications, and blood-related transfusion disorders in the healthcare industry. For emergency remedies, hospitals require blood in the event of an emergency treatment. For such a scenario, the medical community requires immediate blood supply. Blood donations serve a crucial role in emergency blood supply. Blood donation camps ensure blood is available in an emergency at the appropriate time. The government has also contributed significantly to this blood donation camp. The government collaborates with NGOs and provides them with all the necessary facilities and resources to organize blood donation camps. As a result of the government and camp initiatives mentioned previously, the demand for platelet preservation is rising. Ultimately, this creates a global market opportunity for platelet agitators.
Market Scope
Report Metric
Details
Market Size by 2031
USD XX Million/Billion
Market Size in 2023
USD XX Million/Billion
Market Size in 2022
USD XX Million/Billion
Historical Data
2019-2021
Base Year
2022
Forecast Period
2023-2031
Report Coverage
Revenue Forecast, Competitive Landscape, Growth Factors, Environment & Regulatory Landscape and Trends
Segments Covered

Segment by Type

Flatbed Agitators
Circular Agitators
Combination Devices

Segment by Application

Blood Banks
Hospitals & Diagnostic Centers
Academic & Research Institutes

Geographies Covered

North America
Europe
APAC
Middle East and Africa
LATAM

Companies Profiles

Terumo Penpol
Boekel Scientific
Helmer Scientific
EMSAS
LMB Technologies
Sarstedt
Labcold
Biolab Scientific
Jeshra Instruments
Thermoline Scientific
Meditech Technologies
KW Apparecchi Scientifici
Segmental Analysis
Segment by Type
A flatbed agitator is a mechanical device to stimulate in vitro blood clotting formation. It comprises two plates, one round and one flat. The circular plate is perforated with several openings that serve as a path for blood flow. As this device is used with whole blood, it facilitates access to all bloodstream components, resulting in enhanced mixing and coagulation.
The Circular Agitator is a device used to promote the in vitro formation of blood clots. It consists of a plate that rotates around an axis, to which small brushes or tines are attached for stirring the blood clot. Technological advancements such as automation, miniaturization, and cost-effectiveness have increased the use of this apparatus.
Combination devices are platelet agitator form that combines a flatbed and a circular agitator into a single unit. This device can provide both the gentle motion of a flatbed agitator and the higher speeds of a circular agitator, allowing the user to modify the settings according to their specific requirements.
Segment by Application
A platelet incubator, frequently used in blood banks, offers precise and stable storage conditions for platelets, small cell fragments best recognized for their involvement in blood clotting and wound healing. To maintain the viability of platelets for long-term use, blood banks keep them in freezers. Platelets are kept from clumping together during storage with the aid of an agitator. For an extended shelf life, platelets are stored in special storage bags. The platelet agitator keeps the platelet concentration in suspension, stopping them from adhering to the container and settling. The agitator constantly monitors the platelet quality and temperature with the aid of the control system.
Hospitals & Diagnostic Centers
Platelet agitators are extremely important in hospitals and clinics. During surgery, blood transfusions are frequently required. This life-saving method allows for replacing blood lost during the incidents. In hospital blood transfusion surgeries, platelet agitators are used. Platelets are constantly available when needed due to the agitator. When there is a medical emergency, platelets are necessary. Agitator provides immediate platelets to serious/emergency patients who bleed or have low platelet counts due to trauma, surgery, or other medical issues.
Academic & Research Institutes
The Platelet Research Laboratory's main objective is to thoroughly analyze hereditary and acquired hemostasis defects and treat them with pharmacological and transfusion methods. Agitated platelets are mostly used in research on platelet counts and deficiencies. To develop and test platelet function assays, platelet agitators are used. These tests evaluate the platelets' adhesion, aggregation, and clot formation capacities. Platelet problems such as thrombocytopenia, bleeding disorders, and thrombosis can be studied using agitated platelet samples. Pharmaceutical firms are creating new medications to treat platelet problems. These medications are mostly investigated in vitro rather than directly evaluated on human subjects. For testing and evaluating medications on platelets, platelet agitators assist researchers in demonstrating well-functioning, live cells.
Regional Analysis
North America
North America dominated the platelet incubator agitator market in the following years, Due to the presence of a well-established healthcare infrastructure, high levels of public awareness about blood donation, and robust government support for increasing blood donations, it is anticipated that the region will maintain its position. Additionally, the availability of technologically sophisticated products and the increase in the number of manufacturers contribute to the expansion of this region.
Europe
Increasing demand for platelet agitator incubators in European countries is due to the increasing number of hospitals, rising patient count and advancements in technology, an increase in chronic diseases like autoimmune hematological diseases are predicted to drive the consumption of platelets in the European market.
Asia-Pacific
The platelet incubator agitator market in Asia-Pacific is anticipated to exhibit enormous growth potential. Increasing biomedical expenditures and investments in technological advances in healthcare infrastructure create opportunities in the region. In addition, the market in the region is being propelled by the improvement of healthcare infrastructure and the rise in the prevalence of chronic diseases in China and India.
Latin America
The market for platelet incubator agitators in Latin America is anticipated to expand steadily. Increasing healthcare expenditures from private and public sectors, high-demand technology assumptions, a significant number of market participants, and a growing awareness of the significance of platelet transfusions are driving market growth in the region.
Middle East and Africa
The development rate of the platelet incubator agitator market in the Middle East and Africa is expected to grow. The growth is attributed to strategic partnerships and mergers and acquisitions, which have fueled market expansion. Increasing platelet-related disorders also stimulate expansion.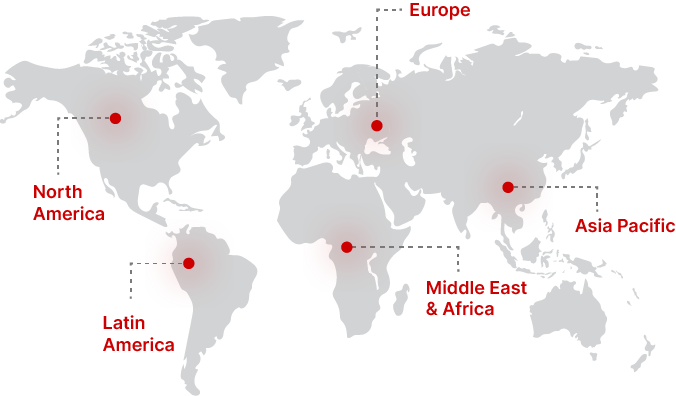 Regional Growth Insights
Download Free Sample
Key Players
Boekel Scientific
Helmer Scientific
EMSAS
LMB Technologies
Sarstedt
Labcold
Biolab Scientific
Jeshra Instruments
Thermoline Scientific
Meditech Technologies
KW Apparecchi Scientifici
Platelet Agitator Market Segmentations
Segment by Type
Flatbed Agitators
Circular Agitators
Combination Devices
Segment by Application
Blood Banks
Hospitals & Diagnostic Centers
Academic & Research Institutes
Frequently Asked Questions