Market Overview
According to Reed Intelligence the Portable Barbeque Grill Market Size will approximately grow at a CAGR of 4.9% during the forecast period.
A Portable Barbeque Grill (abbreviated as BBQ) is a sort of outdoor cooking apparatus that is made to be conveniently moved and used in a variety of locations. These grills are well-liked for outdoor activities like camping, picnics, football games, and tailgating.
Portable BBQ grills come in a variety of designs, including gas grills, charcoal grills, and electric grills. Because they heat up quickly and need little maintenance, gas grills are popular because of their ease. Electric grills are the best choice for those who desire a smokeless option, but some people prefer charcoal grills for its smoky flavour and traditional cooking style.
There is fierce competition in the market for portable BBQ grills, with numerous brands providing a variety of alternatives at various price points. While selecting a portable grill, buyers should take into account their own demands and tastes as well as aspects like strength, usability, and safety features. Finding a portable BBQ grill that will meet your demands and enable you to have enjoyable outdoor cooking experiences is simple thanks to the wide variety of alternatives available.
Market Dynamics
Portable Barbeque Grill Market Drivers
Outdoor Cooking has Become a Popular Activity
The market for portable BBQ grills is expanding as outdoor gatherings, camping, and travelling in Caravana become more and more common. Outdoor cooking has become a popular activity for these events as a result of the growing number of individuals looking for ways to take advantage of nature and spend time with friends and family. Whether at a campsite, park, or backyard party, portable BBQ grills provide a practical and simple way to prepare food while on the go. They are made to be portable and compact, making them simple to put up and travel. Several types are also adaptable and may run on a range of fuels, including gas, charcoal, or electricity, based on choice and accessibility. People are increasingly having outdoor gatherings, going camping, and travelling in Caravans as they look to get away from the rush and bustle of daily life and enjoy nature. The ability to cook and consume good meals in these outdoor settings is made possible by portable BBQ grills, which enhances the experience. When people congregate around the grill to prepare and enjoy meals, they also foster a sense of community and shared experiences.
Increase in no of Meat Eating Population
The Portable Barbeque Grills Market Growth is significantly fueled by the growing meat-eating populace. Outdoor cooking has grown in popularity as a method of preparing and consuming meat meals as more people want to consume meat and cook it at home. Because they provide a quick and practical way to grill steaks, burgers, and other meat items, portable BBQ grills are perfect for cooking meat outside. They are also made to be portable and small, making them simple to put up in a number of outdoor locations such backyards, parks, and camping sites. Because of reasons including rising prosperity and shifting dietary preferences, the population that consumes meat has been growing recently. Grilling is frequently viewed as a healthier option to other cooking techniques, such as frying or baking, as people become more health conscious and search for healthier ways to prepare meat. Customers find portable BBQ grills to be an appealing alternative since they can cook meat in a method that is both practical and nutritious.
Portable Barbeque Grill Market Restraints
The market for portable barbecue grills may be constrained by the rising prevalence of chronic illnesses. Some food kinds, especially those that are processed or heavy in fat, can aggravate a number of chronic ailments, including heart disease, diabetes, and respiratory illnesses. These dishes are frequently prepared by barbecuing, which may deter some people with chronic illnesses from buying a portable barbecue. A portable grill may also be difficult to use for those with chronic diseases who have special cooking requirements or dietary restrictions. For instance, those with diabetes may need to stay away from foods heavy in carbohydrates, while people with respiratory conditions may need to stay away from smoking or other irritants.
Price and Seasonal Demand
As summer is the primary season for barbecuing, there is a cyclical demand for portable grills. Sales of portable BBQ barbecues typically go off dramatically in the winter. Compared to other grill kinds, portable barbecue grills can be quite pricey. Price-conscious customers may find this to be a huge turnoff, particularly if they only intend to use the grill occasionally.
Portable Barbeque Grill Market Opportunities
Portable Electric Barbeque
In comparison to conventional gas or charcoal grills, electric barbecues have a number of benefits, such as convenience, use, and cleaner cooking. They are a more environmentally responsible choice because they are also typically safer to operate and emit fewer emissions. Customers may be more inclined to think about buying a portable electric grill for use outside as they become more aware of the advantages of electric barbecues. In addition to offering the same benefits as its larger counterparts, portable electric grills also have the advantage of being light and portable. Also, users can now utilize portable electric barbecues in places where gas or charcoal grills might not be allowed owing to fire rules or other limitations.
Market Expansion on a Global Scale
The Portable Barbeque Grills Market Analysis is not regionally constrained, producers have the chance to develop new markets for their products. The demand for portable barbecues is projected to rise as more people around the world adopt outdoor cooking as a lifestyle, opening up new economic prospects for producers.
Market Scope
Report Metric
Details
Market Size by 2031
USD XX Million/Billion
Market Size in 2023
USD XX Million/Billion
Market Size in 2022
USD XX Million/Billion
Historical Data
2019-2021
Base Year
2022
Forecast Period
2023-2031
Report Coverage
Revenue Forecast, Competitive Landscape, Growth Factors, Environment & Regulatory Landscape and Trends
Segments Covered

Segment by Type

Charcoal Grills
Electric Grills
Gas Grills

Segment by Application

Online Shopping
Retailers
Supermarket
Other

Geographies Covered

North America
Europe
APAC
Middle East and Africa
LATAM

Companies Profiles

Middleby
Spectrum Brands
Cuisinart
Char‑Broil
The Coleman Company
Masterbuilt
Weber
Global Leisure Group
Green Mountain Grills
Venyn
Bismar
NomadiQ Grills
KitchenAid
NAPOLEON
Landmann
Segmental Analysis
Segment by Type
Using lump charcoal or charcoal briquettes as the fuel source, charcoal grills are the classic style of BBQ grill. They are a preferred option for outdoor gatherings like camping and picnics since they are frequently more compact and portable than other kinds of BBQ grills. Grills made of charcoal can generate a lot of heat and give meals a characteristic Smokey flavor.
Electric grills have heating elements that may be altered to manage the temperature at which food is cooked. Since they simply need a power outlet to function, they are practical and simple to use. In places where charcoal or gas barbecues are prohibited or when cooking inside, electric grills are frequently favoured.
Gas grills often include controllable burners that allow the heat output to be adjusted. They can run on propane or natural gas as their fuel source. They take very little setup time and are quick to start. Gas grills are a common option for backyard grilling and outdoor culinary events because they are frequently bigger and more expensive than other types of BBQ grills. For convenience and financial savings, they can also be converted to natural gas.
Segment by Application
Online shopping is the sale of portable BBQ grills through online shops and e-commerce sites like Amazon and eBay. Portable BBQ grills can be browsed and purchased online by customers from the comfort of their homes, and the items are delivered right to their door.
Retailers, a term used to describe physical establishments with a focus on selling grilling and outdoor gear. Home Depot, Lowe's, and Walmart are a few examples of stores that sell portable BBQ grills. Before making a purchase, customers can visit these establishments and inspect the goods in person.
Supermarkets, which are grocery stores that occasionally stock portable BBQ grills. Some retailers, such as Safeway, Kroger, and Whole Foods, sell portable BBQ grills. When shopping, customers can buy portable BBQ barbecues.
Regional Analysis
The Global Portable Barbeque Grill Market is segmented by region as North America, Europe, Asia Pacific, Latin America, and Middle East and Africa.
North- America
Due to the rising popularity of outdoor activities and backyard barbecues, the portable barbecue grill market in North America is anticipated to expand. The demand for portable grills that are convenient for outdoor cooking and simple to use is what propels the market. Not only do Americans love grilling outside, but barbeques are an integral part of their society as well. According to statistics, 7 out of 10 US adults possess a grill or roaster. In the US, 75% of barbecue owners enjoy grilling in the winter as well. The Fourth of July, Memorial Day, and Labor Day are the three holidays where barbecue is most popular.
Asia- Pacific
Due to two important considerations, the Portable Barbeque Grills Market Analysis is expanding in the Asia-Pacific area. First off, outdoor activities like camping, picnics, and beach visits are becoming more and more popular. Another factor driving up the demand for portable grills that can be utilized in outdoor areas like balconies or backyards is the growing trend of throwing barbecues at home. The lifestyle and living conditions in the area are what are driving the need for small and portable grills. In the Asia-Pacific region, a large number of people reside in urban regions with constrained living options. So, small, portable barbecues that are simple to store in limited locations are in high demand. During the height of a hot summer, cracking open a cold beer with a BBQ is as customary in Beijing as it is in Sydney or Texas. The Far East is no exception to this rule.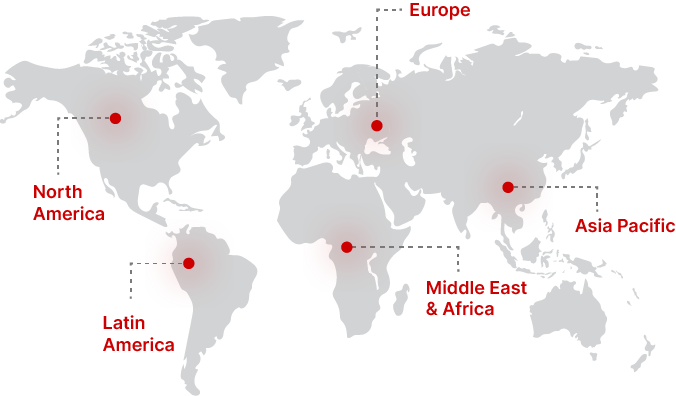 Regional Growth Insights
Download Free Sample
Key Players
Spectrum Brands
Cuisinart
Char‑Broil
The Coleman Company
Masterbuilt
Weber
Global Leisure Group
Green Mountain Grills
Venyn
Bismar
NomadiQ Grills
KitchenAid
NAPOLEON
Landmann
Portable Barbeque Grill Market Segmentations
Segment by Type
Charcoal Grills
Electric Grills
Gas Grills
Segment by Application
Online Shopping
Retailers
Supermarket
Other
Frequently Asked Questions