Market Overview
The Global Potassium Sorbate Powder Market Size is expected to grow at a CAGR of approximately around 5.3% during the forecast period.
The growth in the market can be attributed to the increasing demand for food-grade potassium sorbate powder from the food and beverage industry and the rising demand for pharma-grade potassium sorbate powder from the pharmaceutical industry. In addition, growing awareness about personal care products among consumers is also contributing to the growth of this market. Potassium Sorbate Powder is a food-grade preservative used to prevent mold, bacteria, and fungi growth in food products. It is a white, odorless, and tasteless powder that is soluble in water. It is often used in pickles, jams and jellies, sauces, condiments, and other foods to extend shelf life and prevent spoilage.
Market Dynamics
Market Drivers
There is a rising need for food preservatives.
Increasing knowledge of the advantages of potassium sorbate powder.
The rise in appeal of organic food.
Market Restraints
At larger concentrations, sorbates affect the taste of finished goods, which has an effect on market expansion. A further potential adverse effect is skin inflammation. Regulatory bodies thus established a maximum allowed level (200 ppm) for its usage in foods and drinks.
Market Opportunities
In the beverage business, where it is used as a stabilizer to prevent secondary fermentation and reinfection, as well as in the wine industry, where it is employed in the fermentation process, potassium sorbate is gaining favor.
Market Scope
Report Metric
Details
Market Size by 2031
USD XX Million/Billion
Market Size in 2023
USD XX Million/Billion
Market Size in 2022
USD XX Million/Billion
Historical Data
2019-2021
Base Year
2022
Forecast Period
2023-2031
Report Coverage
Revenue Forecast, Competitive Landscape, Growth Factors, Environment & Regulatory Landscape and Trends
Segments Covered

Segmentation by Type

Food Grade
Pharma Grade
Industrial Grade

Segmentation by Application

Food & Beverages
Pharmaceuticals
Personal Care

Geographies Covered

North America
Europe
APAC
Middle East and Africa
LATAM

Companies Profiles

Bimal Pharma
Tianjin Haitong Chemical Industry
Mil-Spec Industries
Hydrite Chemical Co.
Wanglong Chemicals
FBC Industries
Kailash Chemicals
Nantong Acetic Acid Chemical
Lubon Industry
Hawkins Inc.
Wintersun Chemical
Segmental Analysis
Segmentation By Type
Potassium sorbate powder is a recognized food additive that may be used to preserve food. It is used to stop the development of mold, yeast, and certain bacteria in food. It tastes white, flavorless, and a little salty. Additionally, it is used in cosmetics and nutritional supplements. When used according to the authorized dosages, this kind of powder is regarded as safe for human consumption.
Potassium sorbate powder that is pharma-grade is a premium, ultra-pure powder that may be used in medications, food, and drinks. It is ideal for use in the production of medications and other items since it is created to the highest standards of quality and purity.
Potassium sorbate powder used in industrial grade prevents the development of germs and fungus in food, medicine, and cosmetics. It must adhere to requirements for purity, safety, and efficacy and is often used in powdered form. Due to the possibility of impurities that are unsafe for ingestion, this kind of potassium sorbate powder is often not acceptable for use in food applications.
Segmentation By Application
The market for potassium sorbate powder was headed by the food and beverage sector, which accounted for more than60% of total sales. The product is extensively utilized in a broad range of food and beverage applications, including dairy goods, processedmeats, fruit juices, soft drinks (carbonated and non-carbonated), bakery and confectionery items, and seafood. Due to its extensive use in toothpaste and other oral hygiene products, the market for medicines is expected to increase significantly.
A chemical substance known as a pharmaceutical medicine is used to treat, cure, prevent, or diagnose illnesses as well as to enhance wellness. It is also referred to as a drug or medicine. Historically, medicines were made by extracting them from medicinal plants; more recently, however, they were also made organically. Pharmaceutical treatments for chronic diseases may be used seldom or only temporarily.
Consumer products for cosmetics and personal care are included in the beauty and personal care market. The category of beauty cosmetics for the face and lips includes skincare, fragrances, and personal care items including hair care, deodorants, and shaving creams.
The application of a product, such as cosmetics, skincare, oral care, or hair care, as well as its kind, such as organic, inorganic, or herbal, may be used to categorize personal care items. Items for bathing and shaving are also included in the category of personal care products, along with toothpaste, deodorants, mouthwashes, hair care and coloring products, and cosmetics. The personal care industry and many other industries cross across.
Regional Analysis
The Global Potassium Sorbate Powder Market is segmented by region as North America, Europe, Asia Pacific, Latin America, and Middle East and Africa.
Due to expanding exports and domestic consumption, there is an increase in demand for potassium sorbate powder in China, which is the cause of this rise. The product's widespread usage as a food preservative has expanded the range of applications for it throughout time.
A 38% market share of potassium sorbate was held by North America. Due to its health advantages, consumers are turning away from processed foods that include artificial and synthetic ingredients like flavors, colorants, and preservatives and toward natural and organic food products. This has resulted in a major rise in the usage of potassium sorbate in recent years. The US Food and Drug Administration (FDA) has approved the use of sorbates in dairy foods, bread goods, fruit and vegetable products, sugar, fat emulsion products, confectionary products, and various meat and fish products.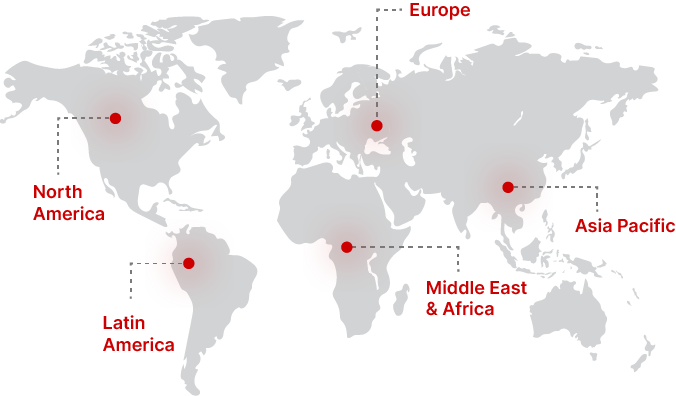 Regional Growth Insights
Download Free Sample
Key Players
Tianjin Haitong Chemical Industry
Mil-Spec Industries
Hydrite Chemical Co.
Wanglong Chemicals
FBC Industries
Kailash Chemicals
Nantong Acetic Acid Chemical
Lubon Industry
Hawkins Inc.
Wintersun Chemical
Potassium Sorbate Powder Market Segmentations
Segmentation by Type
Food Grade
Pharma Grade
Industrial Grade
Segmentation by Application
Food & Beverages
Pharmaceuticals
Personal Care
Frequently Asked Questions