Market Overview
According to Reed Intelligence the Global Power Supply for Industrial Market Size will approximately grow at a CAGR of 5.6% during the forecast period.
A power supply is the basic component in the automated manufacturing process that needs high stability and safety protection functions. DIN rail mounting and panel mounting industrial power supplies are both extremely efficient and stable. Industrial power supply is helpful for sensitive computerized equipment PLCs in contemporary manufacturing.
Market Dynamics
Market Drivers
The Global Demand For Electric Vehicles
A decade ago, the only true options for fuel were fossil fuels, diesel, or gasoline. However, commercialization of mild hybrid electric vehicles (MHEVs), hybrid electric vehicles (HEVs), and battery electric vehicles (BEVs) has lately occurred. The global demand for electric vehicles is increasing considerably as a result of ambitious plans and efforts by governments around the world to reduce carbon emissions by encouraging the use of eco-friendly vehicles, due to which power supply for industrial market analysis is driving.
These governments provide a variety of incentives to encourage the use of electric cars and are focused on the development of public electric vehicle charging infrastructure. In electric vehicles, DC-DC converters are used to increase or reduce voltage levels generated by attached batteries depending on the power requirements of various automotive systems.
A DC-DC converter is a dependable option for vehicles with limited space due to the deployment of excessive electronics because it is lightweight, compact, highly efficient, and has low electromagnetic interference and fewer current-voltage ripples. These converters are essential for electric cars because they connect fuel cells/batteries or supercapacitor modules.
Market Restraints
Significant Challenge to The Big Players
In their various markets, they fight fiercely with global suppliers by providing low-cost, low-quality power supply products that emit toxic gases when heated or exposed to fire. In terms of price competitiveness and local distribution network, these market players outperform the large players; this poses a significant challenge to the big players in the market, due to market growth is restricted.
Increasing The Use of HVDC and Green Energy Sources
Renewable energy sources such as solar and wind provide DC energy; the produced energy can be stored in batteries, resulting in a compatible interface with renewable resources. The growing adoption of renewable energy sources, as well as the increasing adoption of HVDC, will impede the growth of the AC-DC power supply market in the near future, acting as a restraint on market growth.
Market Opportunities
Medical & Healthcare Segment Growing Market Opportunity
Transportation, military & the aerospace industry, lighting, test & measurement, semiconductor, battery charging & test, robotics, industrial 3D printing, laser, lighting, telecommunication, consumer electronics, automotive, energy, food & beverage, and medical & healthcare are the verticals that have been segmented in the industrial power supply market. Because people's living standards around the world are rising, so is the demand for affordable and high-quality healthcare, which will raise the demand for industrial power supply solutions.
Industrial power source solutions are used in a wide range of uses, including robotics, semiconductors, transportation, spacecraft power systems, battery-powered equipment, automotive spare parts, and other electronic devices. During the forecast period, the increasing adoption of power supply for various end user applications is anticipated to provide lucrative opportunities for the industrial power supply market.
Market Scope
Report Metric
Details
Market Size by 2031
USD XX Million/Billion
Market Size in 2023
USD XX Million/Billion
Market Size in 2022
USD XX Million/Billion
Historical Data
2019-2021
Base Year
2022
Forecast Period
2023-2031
Report Coverage
Revenue Forecast, Competitive Landscape, Growth Factors, Environment & Regulatory Landscape and Trends
Segments Covered

Segment by Type

Panel Mount Industrial Power Supply
DIN Rail Industrial Power Supply

Segment by Application

Semiconductor
Energy and Power
Oil and Gas
Chemical
Pharmaceutical
Automotive
Aerospace and Defense

Geographies Covered

North America
Europe
APAC
Middle East and Africa
LATAM

Companies Profiles

Delta
MeanWell
Siemens
Omron
Bicker
Phoenix Contact
Emerson
PULS GmbH
Adel Systems
Deutronic Elektronik GmbH
Segmental Analysis
Segment By Type
Panel Mount Industrial Power Supply
Panel Mount Industrial Power Supplies are ideal for use in enclosures, control cabinets, and other industrial equipment because they are intended to be mounted on a panel or chassis.
DIN Rail Industrial Power Supply
DIN Rail Industrial Power Supplies, on the other hand, are intended to be mounted on a DIN rail, a standardized metal rail used for mounting electrical devices.
Segment By Application
DC power supplies are widely used in the semiconductor industry for a variety of uses such as testing and measurement, wafer fabrication, and the production of integrated circuits. This business frequently employs programmable power supplies and high-voltage power supplies.
Power supplies must be reliable and efficient for a variety of uses in the energy and power business, including power generation, transmission, and distribution.
To work in harsh environments such as offshore drilling platforms and refineries, the oil and gas sector needs rugged and reliable power supplies.
For a variety of applications such as electroplating, electroforming, and electrochemical machining, the chemical industry requires power supplies that can work in hazardous environments and provide precise control of voltage and current.
Pharmaceutical power supplies must be dependable, exact, and consistent in order to run various applications such as tablet coating, sterilization, and other manufacturing processes. In this industry, programmable power supplies and DC-DC converters are widely used.
Automotive power supplies must be rugged, dependable, and provide consistent power for a variety of uses such as engine control, battery charging, and lighting. This sector frequently employs switching power supplies, DC-DC converters, and automotive grade power supplies.
Power supplies that are rugged, reliable, and capable of operating in extreme environments such as high altitude and high temperatures are required by the aerospace and military industries.
Regional Analysis
The Global Power Supply for Industrial Market is segmented by region as North America, Europe, Asia Pacific, Latin America, and Middle East and Africa.
North America
Due to increased investments in automotive projects and the development of the food and beverage industries, North America is anticipated to be the second-fastest growing industry. The region's food and beverage sector is one of the largest in the globe. The region's food and beverage business is being driven by the region's massive agricultural sector and consumers' ever-increasing demand for processed foods.
Asia Pacific
The country part of the report also includes individual market-impacting factors as well as changes in regulation in the domestic market that affect current and prospective market trends. Downstream and upstream value chain analysis, technical trends, porter's five forces analysis, and case studies are some of the indicators used to forecast the market scenario for specific countries. In addition, the presence and availability of global brands, as well as the challenges they face as a result of large or scarce competition from local and domestic brands. Because of the surge in government initiatives in this region, Asia-Pacific (APAC) is anticipated to grow significantly from 2022 to 2029. As predicted, Asia is by far the most important regional market for AC-DC and DC-DC industrial power supplies.
India, the third BRIC nation, is also increasing demand for AC-DC and DC-DC power supplies across a wide range of applications as it invests in new projects. An expanding middle class is driving additional demand, as they buy more electrical consumer products than ever before. As a consequence, the Indian market for AC-DC and DC-DC power supplies is expected to grow between 2013 and 2018.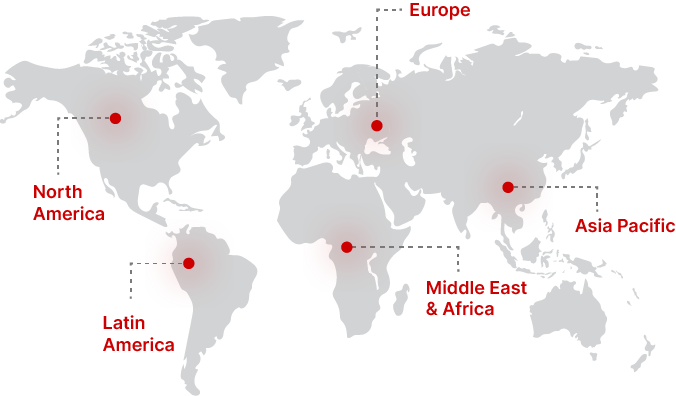 Regional Growth Insights
Download Free Sample
Key Players
MeanWell
Siemens
Omron
Bicker
Phoenix Contact
Emerson
PULS GmbH
Adel Systems
Deutronic Elektronik GmbH
Power Supply for Industrial Market Segmentations
Segment by Type
Panel Mount Industrial Power Supply
DIN Rail Industrial Power Supply
Segment by Application
Semiconductor
Energy and Power
Oil and Gas
Chemical
Pharmaceutical
Automotive
Aerospace and Defense
Frequently Asked Questions