Market Overview
According to Reed Intelligence the Global Presaturated Wipes Market Size will approximately grow at a CAGR of 5.2% during the forecast period.
Presaturated wipes are disposable cleaning or disinfecting wipes pre-soaked with a solution. They are also known as prewetted wipes or premoistened wipes. These wipes are used in various industries and applications, including healthcare, pharmaceuticals, electronics manufacturing, food service, and general cleaning. They provide simplicity and efficiency by removing the need for consumers to moisten the wipes before use manually.
In industrial and manufacturing settings, saturated wipes are used for equipment cleaning, surface preparation, and maintenance. They provide constant and regulated cleaning agent applications, increasing efficiency and saving waste.
The necessity of preserving hygiene and cleanliness, especially in healthcare settings, has increased demand for effective cleaning and disinfection products. Presaturated wipes are a simple and effective way to keep surfaces clean and reduce the risk of infection.
Market Dynamics
Market Drivers
Convenience and Time Efficiency
Compared to cleaning procedures, pre-soaked wipes provide a high level of convenience and time efficiency. These wipes are pre-moistened with the proper cleaning or disinfecting solution, removing the need for users to measure and combine cleaning solutions. This convenience is useful when quick and easy cleaning or disinfection is required in domestic and business situations. Presaturated wipes save the time and effort required for preparing and applying cleaning solutions, allowing workers to focus on their primary activities in healthcare facilities, labs, and manufacturing environments.
Hygiene and Infection Control
Demand for effective hygiene and infection control solutions has been a significant driver for the pre-saturated wipes industry in healthcare, pharmaceuticals, food service, and public facilities. Presaturated wipes are intended to give a constant and regulated application of disinfectants or sanitizing agents, lowering the danger of cross-contamination and spreading disease. These wipes are used in hospitals for surface decontaminating patient rooms, operating rooms, and laboratories. They help to keep food preparation surfaces clean and sanitary in restaurants. The ongoing worry about infectious diseases and the requirement for stringent hygiene measures have increased the demand for pre-saturated wipes.
Market Restraint
Regulatory Issues and Compliance
The pre-saturated wipes market also experiences constraints due to changing regulations and compliance requirements. Regulatory agencies in various locations may issue guidelines about the composition of cleaning products, the sorts of chemicals used in wipes, labeling regulations, and other issues. Manufacturers and providers of pre-saturated wipes may need to engage in research and development to ensure their goods fulfill these evolving regulations. Adapting to these regulatory changes can add complexity and cost to the manufacturing process, hurting market growth and profitability.
Market Scope
Report Metric
Details
Market Size by 2031
USD XX Million/Billion
Market Size in 2023
USD XX Million/Billion
Market Size in 2022
USD XX Million/Billion
Historical Data
2019-2021
Base Year
2022
Forecast Period
2023-2031
Report Coverage
Revenue Forecast, Competitive Landscape, Growth Factors, Environment & Regulatory Landscape and Trends
Segments Covered

Segment By Type

Sterile Presaturated Wipes
Non-sterile Presaturated Wipes

Segment By Application

Healthcare
Pharmaceutical Production
Microelectronics
Medical Instrument
Food Manufacturing

Geographies Covered

North America
Europe
APAC
Middle East and Africa
LATAM

Companies Profiles

Berkshire
Filtration Group
Contec
ITW
Kimberly-Clark
Chemtronics
Ecolab
Gekatex
Blue Thunder Technologies
High-Tech Conversions
Veltek Associates
Acute Care Pharmaceuticals
Bel-Art - SP Scienceware
Decon Labs
Foamtec International
JNJ Industries
Metrex
Teknipure
MicroCare
MMRC
Segmental Analysis
Segment By Type
Sterile Presaturated Wipes
Sterile pre-saturated wipes are pre-moistened wipes that have been processed and packaged to ensure they are free of germs, bacteria, or pollutants. These wipes are intended for usage in locations where maintaining a sterile or aseptic condition is critical, such as in healthcare settings (operating rooms, laboratories, and medical equipment), pharmaceutical manufacture, biotechnology, and cleanroom environments. Sterile wipes are required to prevent the entry of extraneous particles or germs that could impair sensitive processes or patient safety.
Non-sterile Presaturated Wipes
On the other hand, non-sterile pre-saturated wipes are pre-moistened wipes that have not been treated to be fully free of microorganisms. They are used for general cleaning, surface disinfection, and washing down equipment and surfaces that do not require a sterile atmosphere. Non-sterile wipes are used in various industries, including industrial production, electronics, food processing, hospitality, and general cleaning applications.
Segment By Application
Presaturated wipes are used in hospitals, clinics, and other medical facilities for surface cleaning and disinfection. They are useful for wiping down high-touch surfaces, medical equipment, and patient care areas to prevent the transmission of illnesses and keep the environment sterile.
Pharmaceutical Production
Presaturated wipes are important in keeping pharmaceutical manufacturing facilities clean and controlled. They are used to clean workstations, laboratory equipment, and manufacturing locations to prevent cross-contamination and ensure the quality and purity of pharmaceutical goods.
Presaturated wipes are used to clean fragile components, electronic devices, and semiconductor production equipment in the microelectronics industry, where cleanliness and precision are critical. They help in the removal of impurities that may have an impact on the performance and reliability of electrical goods.
Presaturated wipes are used to clean and disinfect medical instruments before and after use. They contribute to ensuring that medical equipment is free of pollutants and pathogens, lowering the risk of infection when the devices are used on patients.
Presaturated wipes are used in the food processing and service industries to clean and sanitize food preparation surfaces, equipment, and utensils. They are critical for ensuring hygiene and limiting the spread of foodborne infections.
Regional Analysis
North America (USA and Canada)
The rising demand for hygiene and sanitation goods in North America due to the COVID-19 pandemic has increased sales of pre-saturated wipes for personal and household use. Rising environmental consciousness and using biodegradable and recyclable materials for wipes production, such as bamboo, cotton, and wood pulp.
Presaturated wipes are now used in industries such as healthcare, pharmaceutical, semiconductor, automotive, and aerospace to maintain high standards of cleanliness and prevent contamination. Some of the major companies in the North American pre-saturated wipes market are Johnson & Johnson, Rockline Industries, Edgewell Personal Care, and Procter & Gamble are among the companies represented. These businesses focus on generating novel items in sizes, shapes, colors, and fragrances to attract customers and obtain a competitive advantage in the market. They are also investing in R&D to increase the quality and performance of their wipes.
Europe (Germany, the U.K., France, Russia, Italy, Rest of Europe)
In Europe, Pre-saturated wipes are used in various industries to clean and maintain equipment, machinery, and workstations. They provide convenience, constant dosing of cleaning solutions, and limit the possibility of cross-contamination. Material and production technique advancements have enhanced pre-saturated wipes' quality, longevity, and effectiveness. Manufacturers may develop wipes with specialized qualities such as antibacterial, low-linting, or ESD.
Asia-Pacific (China, Japan, South Korea, India, Southeast Asia, Rest of Asia-Pacific)
As the Asia Pacific region's economies expand, disposable income and spending power climb. This could lead to an increase in demand for time-saving cleaning goods like pre-saturated wipes. While the convenience of pre-saturated wipes is an important selling factor, there have been environmental concerns regarding disposable items. Some customers and industries may seek more sustainable options, such as eco-friendly pre-saturated wipes.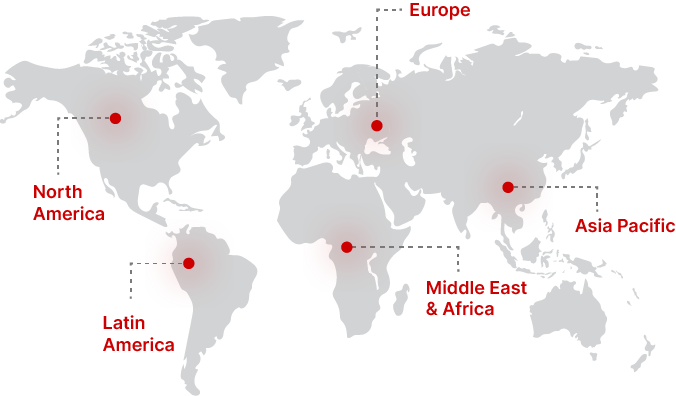 Regional Growth Insights
Download Free Sample
Key Players
Berkshire
Filtration Group
Contec
ITW
Kimberly-Clark
Ecolab
Gekatex
Blue Thunder Technologies
High-Tech Conversions
Veltek Associates
Acute Care Pharmaceuticals
Bel-Art - SP Scienceware
Decon Labs
Foamtec International
JNJ Industries
Metrex
Teknipure
MicroCare
MMRC
Recent Developments
June 2023: Kimberly-Clark has introduced a new range of pre-saturated wipes known as Huggies Natural Care Wipes. These wipes are produced from natural substances and do not contain alcohol, parabens, or colors. They are intended to be mild on the skin and, therefore, suitable for newborns and children.
Presaturated Wipes Market Segmentations
Segment By Type
Sterile Presaturated Wipes
Non-sterile Presaturated Wipes
Segment By Application
Healthcare
Pharmaceutical Production
Microelectronics
Medical Instrument
Food Manufacturing
Frequently Asked Questions