Market Overview
According to Reed Intelligence the PTZ and Remote Cameras Market Size will approximately grow at a CAGR of 13.2% during the forecast period.
PTZ cameras are Internet Protocol (IP) cameras that allow users to remotely position and move the camera lens from any location in the world using software controls and an Internet connection. Because of the optical zoom capabilities, which are expected to drive the PTZ industry, users can concentrate on tiny details like features and license plates. These cameras offer complete auto focus capabilities as well as built-in event management functions. You may put the camera on a flat surface using the mounting accessories that are included with it. Additionally, these cameras are used globally in a variety of video surveillance applications. The sector is likely to expand gradually during the anticipated time frame.
The worldwide market is expanding as a result of increased demand for high-definition cameras and expanding use of video surveillance systems for security. The market is expanding as a result of the rising demand for high-tech PTZ IP Camera features like HD resolution and night vision. The sector is growing as more people become aware of the benefits of employing cameras.
Market Dynamics
Market Drivers
The market for PTZ cameras is expanding globally as a result of technological improvements. Many different companies employ modern security camera technology, including 4K cameras, to provide protection against threats, shoplifting, and terrorism. The development of cameras is also being greatly influenced by the internet of things (IoT), which is driving PTZ and Remote Cameras Market Growth. Modern digital cameras are far more useful than earlier analog models. Digital video cameras with an Ethernet network connection and a web server are known as network cameras. Any computers linked to a network may immediately see the digitally compressed footage from the camera.
Market Restraints
Issues with cybersecurity are anticipated to be a major worry for the sector over the anticipated time frame. The protection of hardware and software against online dangers including malware, password breaches, and distributed denial-of-service (DDoS) attacks is referred to as cybersecurity. Attacks using malware might be quite expensive for corporations. Ransomware, spyware, rootkits, riskware, trojans, worms, and viruses are a few examples. Businesses must use firewalls, antivirus software, and malware protection solutions to secure their hardware and software from such attacks. Cybercriminals are increasingly focusing on IP-based and wireless cameras. The frequency of cyberattacks on internet-connected cameras is rising, which is reducing the market for IP-based systems and posing a serious problem for manufacturers.
Market Opportunities
In the near future, it's anticipated that the adoption of wireless IP-based video surveillance and the expanding trend of VSAAS services would enhance PTZ and Remote Cameras Market Demand. The PTZ camera market is expected to benefit from new opportunities as a result over the projected year. Safety and security are becoming more and more important to end-use industries globally, which is boosting the market.
Market Scope
Report Metric
Details
Market Size by 2031
USD XX Million/Billion
Market Size in 2023
USD XX Million/Billion
Market Size in 2022
USD XX Million/Billion
Historical Data
2019-2021
Base Year
2022
Forecast Period
2023-2031
Report Coverage
Revenue Forecast, Competitive Landscape, Growth Factors, Environment & Regulatory Landscape and Trends
Segments Covered

Segmentation By Type

Indoor Cameras
Outside Cameras

Segmentation By Application

Government and Military
Industry
Residential
Commercial

Geographies Covered

North America
Europe
APAC
Middle East and Africa
LATAM

Companies Profiles

AXIS
Hikvision
FLIR
Panasonic
Wolfowitz
Logitech
Dahua Technology
Canon
Bosch Security Systems
Honeywell
Sony
Vaddio
Infinova
YAAN
Bolin Technology
ACTi
Pelco
Videotec
MOBOTIX
Vicon
Avonic
Marshall
CP PLUS
Segmental Analysis
Segmentation By Type
Indoor cameras are often used in commercial, residential, and industrial settings. For the sake of safety, control, and monitoring, they are often utilized within structures.
Due to their unique exterior design, these cameras are often utilized for outside monitoring, surveillance, and security. They are made to endure a variety of weather conditions and are sturdy and water-resistant.
Segmentation By Application
PTZ and remote cameras are often used by government and military organizations for a range of tasks, including as border surveillance, safeguarding crucial infrastructure, keeping an eye on public safety, and data collection.
In industrial settings, PTZ and remote cameras are used to monitor production operations, guarantee safety protocols, keep an eye on potentially risky locations, and perform quality control inspections. They may be used in manufacturing facilities, storage facilities, construction sites, and other industrial settings.
PTZ and remote cameras are used in residential settings for general surveillance, home security, and keeping an eye on children or pets. These remote-controllable cameras may be used to look about; home security systems often include them.
In offices, hotels, and restaurants, PTZ and remote cameras are utilized for security and surveillance. These cameras allow you to improve staff security, decrease theft, and even utilize the video footage as evidence in the case of an accident or other disaster.
Regional Analysis
The Global PTZ and Remote Cameras Market is segmented by region as North America, Europe, Asia Pacific, Latin America, and Middle East and Africa.
North America
There is a substantial market for remote cameras and PTZs in North America, which includes of the United States and Canada. Customers in many different sectors, including the public, commercial, and residential ones, are in great demand for modern security and surveillance systems. The market for this sector is growing as a result of the use of cutting-edge technology and the presence of important market players.
Europe
Europe is a large market for PTZ and remote cameras, with countries like Germany, the United Kingdom, France, and Italy leading the market. Due to strict security regulations, a focus on public safety, and an increase in the usage of video surveillance systems in industries including retail, transportation, and government, the market is growing.
Asia Pacific
The Asia Pacific region, which includes countries like China, Japan, South Korea, India, and Australia, offers a substantial market potential for PTZ and remote cameras. Rapid urbanization, rising industrialization, rising security concerns, and more government investment in smart city programs are driving the demand for advanced monitoring systems in this industry.
Latin America
Countries like Brazil and Mexico have increased their use of PTZ and remote cameras as a result of the growing need for more effective security measures in public places, commercial buildings, and residential areas. Infrastructure improvements and local economic growth both support market development.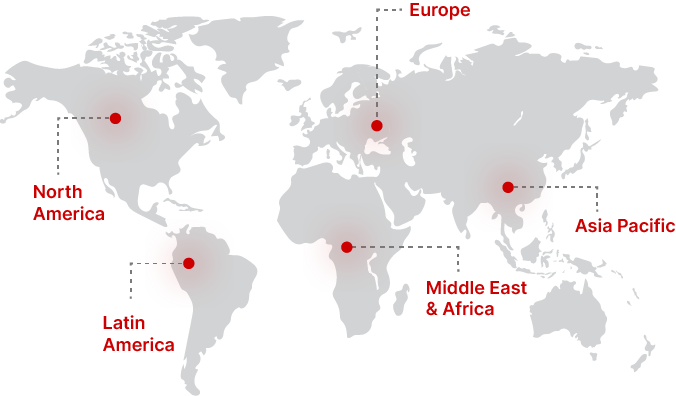 Regional Growth Insights
Download Free Sample
Key Players
AXIS
Hikvision
FLIR
Panasonic
Wolfowitz
Logitech
Dahua Technology
Canon
Bosch Security Systems
Honeywell
Sony
Vaddio
Infinova
YAAN
ACTi
Pelco
Videotec
MOBOTIX
Vicon
Avonic
Marshall
CP PLUS
Recent Developments
Due to its acceptability, PTZ and remote cameras are being used more often in vertical industries. For instance, these cameras are used in the retail industry to control inventory, monitor consumer behavior, and deter theft. As part of their responsibilities in the healthcare industry, they take care of patients and protect the security of medical facilities. These cameras are used by the transportation industry to monitor traffic, keep an eye on public transit, and increase passenger safety.
PTZ and Remote Cameras Market Segmentations
Segmentation By Type
Indoor Cameras
Outside Cameras
Segmentation By Application
Government and Military
Industry
Residential
Commercial
Frequently Asked Questions