Market Overview
The Global Secondary Zinc Market Size is slated to grow substantially at a CAGR of approximately 5.2% during forecast period.
Zinc is a moderately reactive metal that may react with dilute acids to produce hydrogen as well as interact with oxygen and other non-metals. Zinc is widely available in nature. The first mile of the earth's crust beneath the surface is thought to contain 224,000,000 million tonnes of zinc. However, these estimates do not take into account whether or not it is feasible economically or environmentally to use these resources. Sphalerite, sometimes referred to as zinc blende, is the most typical zinc mineral. This mineral, which is present in practically all commercially mined zinc resources, crystallizes as pure zinc sulfide from the hydrothermal solution. Among other metals, lead, copper, silver, and zinc are frequently mined together.
The COVID-19 pandemic had a significant impact on the Global Secondary Zinc for Chemical and Material industry, with trade restrictions and government lock-downs disrupting the overall supply and demand. Additionally, production was adversely affected due to a shortage of raw materials.
Market Dynamics
Market Drivers
Increasing use of hot-dip galvanizing in automotive for advance high strength steels (AHSS) with exceptional surface quality, increase in use of zinc-air batteries in electric vehicles, and use of zinc in medicine for depression and psychosis.
Market Restraints
The availability of replacements and the environmental restrictions placed by various nations on the use of lead is anticipated to impede the market's expansion.
Market Opportunities
Galvanizing will remain the largest segment due to growing demand of galvanized steel in construction, automobile, and other industrial sectors. Zinc compounds segment will witness the highest growth over the forecast period supported by rising demand in rubber, paper, chemicals and paint applications.
Market Scope
Report Metric
Details
Market Size by 2031
USD XX Million/Billion
Market Size in 2023
USD XX Million/Billion
Market Size in 2022
USD XX Million/Billion
Historical Data
2019-2021
Base Year
2022
Forecast Period
2023-2031
Report Coverage
Revenue Forecast, Competitive Landscape, Growth Factors, Environment & Regulatory Landscape and Trends
Segments Covered

Segmentation by Type

Residue and Drosses
Whole Products
Steel Filter Dust

Segmentation by Application

Galvanized Coil
Rolls and Extruded Products
Pigments and Other Compounds

Geographies Covered

North America
Europe
APAC
Middle East and Africa
LATAM

Companies Profiles

Glencore International AG
Nyrstar N.V.
Hindustan Zinc Ltd.
Korea Zinc Co., Ltd.
Boliden Group
China Minmetals Corp. Ltd.
Nexa Resources SA
Shaanxi Non-ferrous Metals Holding Group Co., Ltd
Teck Resources Ltd.
Peñoles
Noranda Income Fund
Segmental Analysis
Segmentation By Type
Dross is a mass of solid impurities floating on a molten metal or dispersed in the metal, such as in wrought iron. It forms on the surface of low-melting-point metals such as tin, lead, zinc or aluminium or alloys by oxidation of the metal. For higher melting point metals and alloys such as steel and silver, oxidized impurities melt and float making them easy to pour off.
With wrought iron, hammering and later rolling remove some dross. With tin and lead the dross can be removed by adding sodium hydroxide pellets, which dissolve the oxides and form a slag. If floating, dross can also be skimmed off.
Whole product is a generic product (or core product) augmented by everything that is needed for the customer to have a compelling reason to buy. The core product is the tangible product that the customer experiences. The whole product typically augments the core product with additional elements required for the product to have compelling value to a customer.
Dust and particle filtration systems refer to systems that we use to separate particles with dust from air or gas. This system is specifically designed to handle large volumes of dust loads released from commercial and industrial processes. Typically, an industrial dust collector system comprises of a dust filter, a blower, a dust removal system, and a filter cleaning system.
Segmentation By Application
The process of applying a protective zinc coating to steel or iron, to prevent rusting. The most common method is hot-dip galvanizing, in which the parts are coated by submerging them in a bath of hot, molten zinc.
Rolls and Extruded Products
Extruded products are mostly manufactured without plasticizers (rigid), which includes all major products such as window and door profiles, siding, and pipes, and many other products such as blinds, clear compounds, fencing, interior profiles, planks, and sheets. Tubing and medical devices are made from semi-rigid formulations, and gaskets, some pipes (such as irrigation pipe), some medical devices, and water-stop seals are made from flexible formulations.
Pigments and Other Compounds
Pigment is any colored material of plant or animal cells. Many biological structures, such as skin, eyes, fur, and hair contain pigments (such as melanin). Animal skin coloration generally comes about through specialized cells called chromatophores, which creatures such as the octopus and chameleon can manipulate to modify the animal's hue. Many conditions affect the levels or nature of pigments in plant, animal, some protista, or fungus cells. For instance, the disorder called albinism affects the level of melanin production in animals.
Regional Analysis
The Global Secondary Zinc Market is segmented by region as North America, Europe, Asia Pacific, Latin America, and Middle East and Africa.
Asia Pacific
China is a large market for secondary zinc in the Asia Pacific area. The world's biggest producer and user of zinc is China. The demand for zinc, especially secondary zinc, is being driven by the expanding industry, infrastructure development, and building activities in the area. As a result of rising auto manufacturing in nations like South Korea, Japan, and India, the market is growing.
Europe
A sizable secondary market for secondary zinc exists in Europe. Numerous nations, notably Germany, Belgium, and Spain, have robust zinc industries. The demand for secondary zinc as a recycled resource has increased as a result of the area's emphasis on sustainable practices and the circular economy. Secondary zinc is most often used in the automotive, building, and electrical sectors in Europe.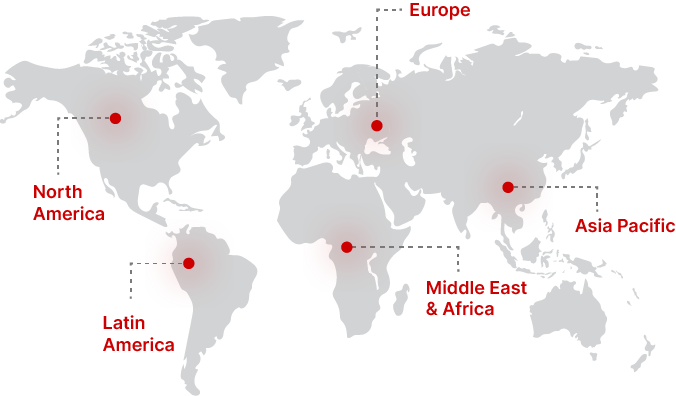 Regional Growth Insights
Download Free Sample
Key Players
Glencore International AG
Hindustan Zinc Ltd.
Korea Zinc Co., Ltd.
Boliden Group
China Minmetals Corp. Ltd.
Nexa Resources SA
Shaanxi Non-ferrous Metals Holding Group Co., Ltd
Teck Resources Ltd.
Peñoles
Noranda Income Fund
Recent Developments
Lucintel forecasts that construction and infrastructure will remain the largest end use industry over the forecast period due to increasing urbanization, industrialization, building, and construction activities.
Secondary Zinc Market Segmentations
Segmentation by Type
Residue and Drosses
Whole Products
Steel Filter Dust
Segmentation by Application
Galvanized Coil
Rolls and Extruded Products
Pigments and Other Compounds
Frequently Asked Questions