Market Overview
The Global Smart Spin Mops Market Size is projected to grow at a CAGR of approximately 7% during the forecast period.
Smart spin mops are a particular kind of cleaning instrument that uses a spinning motor to drain extra water from the mop head. This enables quicker drying periods and more effective cleaning. Other features that some smart spin mops have include removable mop heads for simple cleaning, adjustable handles for varying user heights, and even built-in spray bottles for sprinkling cleaning solution straight on the floor. Smart spin mops can be a practical and efficient solution to maintain clean, organized floors with minimal time and effort.
The market for smart spin mop has expanded recently because to the rise in demand for cleaning equipment that are effective, simple to use, and environmentally friendly. To meet the demands and budgets of various customers, the market offers a variety of brands and models with varied features and costs. The ability of smart spin mops to clean floors more efficiently and with less effort than conventional mops is one of its key advantages. Also, they often last longer and are more sanitary because they are simple to wash and disinfect after use.
In the upcoming years, it is anticipated that the market for smart spin mops will expand as more people look for cleaning products that are quick, efficient, and safe for the environment.
Market Dynamics
Market Drivers
Increasing Trend Towards Improved Hygiene Awareness
The demand for the smart spin mop market is being driven by an increasing trend towards improved hygiene awareness. Customers are seeking for creative and practical solutions to maintain high standards of hygiene as their concern for the cleanliness of their homes and workplaces grows.
Since they can successfully clean floors without using harsh chemicals or a lot of physical effort, smart spin mops are gaining popularity. With the use of cutting-edge technology, these mops spin the mop head to clean and hygienically eliminate dirt and grime from floors.
The market for smart spin mop is expanding as a result of manufacturers reacting to this need by releasing novel and inventive products that are even more efficient and user-friendly.
Rise In The Use of Easy Cleaning Tools and Technology
The market for smart spin mop is expanding significantly as a result of the increased use of technology and simple cleaning products. Consumers are searching for equipment and technologies that can help them clean fast and conveniently without losing efficacy due to their busy lifestyles and limited time for cleaning. Modern technology is used in the construction of smart spin mops to speed up and simplify cleaning compared to conventional mops. These mops' rotating function makes it easier to rapidly and efficiently remove dirt and filth from floors with little to no physical labor.
The market for smart spin mop is anticipated to continue expanding as a result of the rising demand for simple cleaning products and technologies. Manufacturers are reacting to this trend by releasing novel, cutting-edge goods that are even more user-friendly and efficient, which is further boosting the market's expansion.
Market Restraints
The cost of high-quality goods is rising along with the demand for intelligent spin mops in this sector. The expense of cutting-edge technology and materials used in manufacturing, as well as greater rivalry among manufacturers, are some of the causes of this price increase. Although there is a growing need for smart spin mops, there may also be some market restraints because customers are price sensitive.
Some customers might be reluctant to shell out more money for a smart spin mop, especially if they are accustomed to using more affordable conventional mops. High-quality smart spin mops may be getting more expensive, but demand for these items is still anticipated to be robust overall due to shifting customer tastes and the need for cost-effective cleaning methods.
A significant market limitation might also come from the spinning mechanism in smart spin mops. While the spinning mechanism is an important characteristic that distinguishes smart spin mops from conventional mops, it can also pose certain difficulties.
Durability is one possible barrier. With repeated usage, the spinning mechanism may deteriorate with time, resulting in less efficient cleaning. Those who are searching for a durable cleaning instrument that can offer dependable performance over time may find this to be a worry.
Market Opportunities
The market for smart spin mop is presented with a substantial potential by dirt trapping technology. With the use of specific materials and designs, this technology traps dirt and debris in the mop head, potentially improving cleaning performance and user experience.
Technology that captures dirt can also aid in lowering the quantity of water required for cleaning. Less water is required to attain the same degree of cleaning since dirt and debris are trapped. Customers who are seeking for environmentally friendly cleaning products or who are worried about their water usage may find this helpful.
Manufacturers may offer consumers a more effective and efficient cleaning solution by implementing this technology into their goods, which can promote market acceptance and expansion. Moreover, producers may distinguish their goods from conventional mops and other cleaning instruments on the market by highlighting the advantages of dirt trapping technology.
Expansion Into New Markets
Emerging economies as well as developed ones are seeing an increase in demand for smart spin mops. Manufacturers have the chance to increase their market share and attract new clients. Manufacturers of smart spin mop might collaborate with cleaning firms to sell their goods as a part of cleaning services. This might encourage consumer adoption of smart spin mops by raising their visibility and awareness.
Market Scope
Report Metric
Details
Market Size by 2031
USD XX Million/Billion
Market Size in 2023
USD XX Million/Billion
Market Size in 2022
USD XX Million/Billion
Historical Data
2019-2021
Base Year
2022
Forecast Period
2023-2031
Report Coverage
Revenue Forecast, Competitive Landscape, Growth Factors, Environment & Regulatory Landscape and Trends
Segments Covered

Segment by Type

Plastic
Microfibre
Others

Segment by Application

Personal
Commercial
Industrial

Geographies Covered

North America
Europe
APAC
Middle East and Africa
LATAM

Companies Profiles

Gala
Spotzero
Duverra
Smile mom
Swiffer
Das Industries
OKCHEM
Felton
SUN-SMILE
Sabco
Segmental Analysis
Segment By Type
The Smart Spin Mop is comprised of high-quality plastic materials that are long-lasting and resistant to wear and tear. It usually comes with a plastic bucket and a wringer, which allows the user to effortlessly wring out the mop head. The mop head is likewise constructed of plastic strands that effectively catch dirt and debris. The plastic Smart Spin Mop is a popular choice among customers since it is inexpensive, lightweight, and simple to use.
The microfiber Smart Spin Mop is constructed of high-quality microfiber materials that are designed to efficiently clean surfaces. The mop head is constructed of microscopic microfibers that catch dirt and debris, making it an efficient cleaning tool. Since microfiber is mild on floors, it is a popular choice for houses with fragile flooring. A bucket with a wringer is often included with the microfiber Smart Spin Mop, allowing the user to effortlessly wring out the mop head. Because of the better grade materials utilized, this Smart Spin Mop is often more costly than the plastic version.
Segment By Application
The personal Smart Spin Mop is intended for usage in the home, often in single-family houses or flats. It's great for cleaning hardwood, tile, and laminate floors, among other things. Personal Smart Spin Mops are lightweight and simple to use, making them popular among households looking for an efficient and effective cleaning equipment for their daily cleaning needs.
The Smart Spin Mop commercial is intended for usage in business environments such as office buildings, hotels, and restaurants. It is usually bigger and more robust than the personal version, and it can clean greater areas faster. To make it simpler to use in industrial settings, the commercial Smart Spin Mop may have extra features such as a longer handle or a bigger bucket with a wringer.
The Smart Spin Mop industrial is intended for use in industrial environments such as factories or warehouses. It is the most robust and long-lasting Smart Spin Mop, featuring a bigger mop head and stronger fibers that can endure intensive use and harsh cleaning agents. The industrial Smart Spin Mop is also often designed to clean bigger areas faster, and may include features such as a motorised mop head or a longer handle for difficult-to-reach places.
Regional Analysis
The Global Smart Spin Mops Market is segmented by region as North America, Europe, Asia Pacific, Latin America, and Middle East and Africa.
North America
The North American smart spin mops market share is predicted to rise steadily in the next years due to the rising demand for cleaning products that save time and effort. Furthermore, the growing number of houses with hardwood and laminate flooring is likely to boost market expansion in the area. Because of the presence of several of the top spin mop producers in the US, North America dominates the spin mops industry. The United States dominated the spin mops market in North America, followed by Canada and Mexico. The growing popularity of DIY in-home cleaning has contributed to the region's market's expansion. Additionally, the increased interest in environmentally friendly and sustainable cleaning products is projected to drive market expansion. The region's smart spin mops market is dominated by the United States and Canada.
Asia Pacific
Due to expanding urbanization and consumer disposable incomes, the Asia Pacific smart spin mops market is predicted to develop at the fastest rate of any region. Growing demand for cleaning products that save time and effort, as well as increased awareness of the advantages of eco-friendly and sustainable cleaning products, are driving market expansion. Asia-Pacific is the fastest growing area due to the presence of some of the important manufacturers, as well as the emergence of startups, which is one of the primary drivers of regional market growth. Rising urbanization, disposable income, and the growing millennial population are some of the main drivers expected to drive the market throughout the study period. China, India, Japan, South Korea, and Australia are the key contributors to the Asia Pacific market.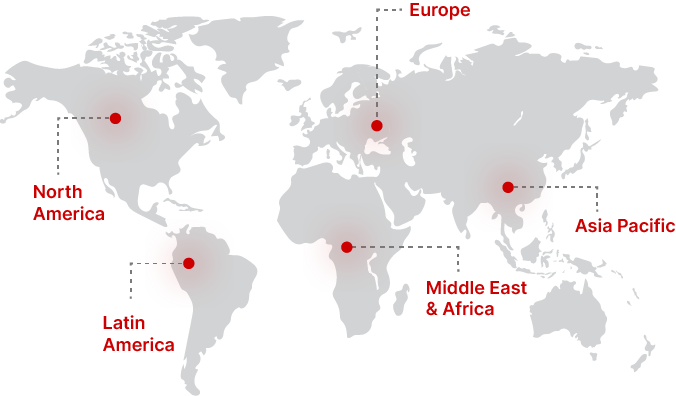 Regional Growth Insights
Download Free Sample
Key Players
Gala
Duverra
Smile mom
Swiffer
Das Industries
OKCHEM
Felton
SUN-SMILE
Sabco
Smart Spin Mops Market Segmentations
Segment by Type
Plastic
Microfibre
Others
Segment by Application
Personal
Commercial
Industrial
Frequently Asked Questions