Market Overview
According to Reed Intelligence the Global Smart Window Materials market Size will approximately grow at a CAGR of 10.3% during the forecast period.
A smart window is a technologically sophisticated window system whose optical power can be altered. These windows are constructed with multiple layers of smart glass that transform from transparent to translucent to regulate the amount of sunlight and heat entering a room. There are currently a variety of glasses on the market that can be used to manufacture smart windows, including liquid crystals, suspended particles, and micro-blinds. In recent years, these windows have acquired immense popularity as they are regarded as a more energy-efficient alternative to systems such as electric window shades.
The dynamic nature of smart glass enables a traditionally static material to become multifunctional. This technology permits the manipulation of visible, ultraviolet, and infrared light. Smart window technology primarily refers to active technologies in which electrically charged privacy glass films and coatings alter the aspect and functionality of the glass. Active smart glass technology enables the electrical control of various types of light (visible, IR, UV). Electricity transforms opaque glass into transparent glass, allowing for dynamic light control. PDLC and SPD smart glass technology is an electric state-changing active glass technology. The individual particles or molecules within our films disperse or align as the films are turned on and off, allowing light to pass through for opacity or transparency and the switchable control of different types of light (visible, infrared, ultraviolet).
Market Dynamics
Market Drivers
Incorporation of additional features in smart windows
Smart windows is integrated with illumination and air-conditioning control systems to improve the thermal and visual comfort of the occupants and generate substantial energy savings. Moreover, integrating smart windows with the Internet of Things (IoT) has facilitated enhanced user management and configurability. These are some of the factors propelling the global expansion of the Smart Window Materials Market Share.
Innovation in smart windows
Manufacturers are developing smart windows with electrochromic technology to help to build owners and administrators save energy and reduce ventilation, heating, and lighting costs by increasing their focus on R&D. Similarly, products containing perovskites that turn black at high temperatures and can harvest solar energy like PV cells are being developed. However, the high cost of switching from conventional glass windows to smart windows poses a significant barrier to the Smart Window Materials Market expansion.
Market Restraints
High initial cost restrains the market growth
Initial costs for installation, components, and energy consumption present a challenge for the Smart Window Materials Market. The majority of consumers prefer hassle-free, low-up-front-cost methods for uncomplicated fixtures. As the installation of smart windows is automated, the bass is installed before window installation. It is a lengthy procedure. In addition, high product costs and capital expenditures for developing smart window products are anticipated to impede the global smart window market's expansion.
Market Opportunities
Increasing demand for smart windows in various sectors
The smart window market is experiencing accelerating revenue expansion. Growing usage and demand for smart windows in the transportation and healthcare industries drive market expansion. Due to their cost-effective and environmentally-friendly window implementation solution, smart windows are increasingly utilized in various industries, including healthcare, defense, and media & entertainment. In architectural and construction applications, the prevalence of smart windows continues to increase. In addition, growing smart city programs and government initiatives for infrastructure development stimulate market expansion. This application of smart windows in various industries expands the market and, consequently, the material manufacturer's market share.
Market Scope
Report Metric
Details
Market Size by 2031
USD XX Million/Billion
Market Size in 2023
USD XX Million/Billion
Market Size in 2022
USD XX Million/Billion
Historical Data
2019-2021
Base Year
2022
Forecast Period
2023-2031
Report Coverage
Revenue Forecast, Competitive Landscape, Growth Factors, Environment & Regulatory Landscape and Trends
Segments Covered

Segment by Type

Electrochromic
Photochromic
Thermochromic
SPD
PDLC

Segment by Application

Automotive industry
Construction Industrial
Aerospace Industry

Geographies Covered

North America
Europe
APAC
Middle East and Africa
LATAM

Companies Profiles

Sensory
SPD Control System
Saint Gobain
Corning
Gentex
Polytronix
Ravenbrick
PPG
View
SageGlass
Glass Apps
Pleotint
Kinestral Technologies
Smartglass International
Segmental Analysis
Segment by Type
An electrochromic window's structure resembles that of a battery. Glass electrodes sandwich an electrochromic layer, typically comprised of tungsten oxide, and an electrolyte, typically containing lithium ions. A voltage across the device induces the movement of ions into the electrochromic material, altering its optical properties to absorb visible and infrared light. Inverting the voltage causes the ions to leave the window, restoring its colorless state.
Photochromic smart glass is implemented by attaching a self-adhesive photochromic film to existing glass and does not require electrical power. Therefore, this technology is considered passive smart glass. Photochromic windows or photochromic film applied to building surfaces are an additional excellent application area, as incoming solar radiation causes contamination that decreases productivity.
Thermochromic materials include silicate, borosilicate, and phosphosilicate glasses in addition to transition metal oxides, with vanadium dioxide being the most prevalent. After the sun's heating, adjacent building materials such as masonry, spacers, or the metallic frame may undergo indirect thermal exchange via conduction or convection, causing the dynamic tint.
Smart Glass is the world's quickest variable color glazing technology. The only adaptable window technology allows users to instantaneously and precisely adjust the level of darkness and light. It enables exceptional light and solar transmission control, increasing user comfort and interior protection. SPD-Smart (TM) products - windows, skylights, doorways, walls, roofs, and much more - are available in glass and lightweight polycarbonate substrates.
PDLC stands for 'Polymer-Dispersed Liquid Crystals, which can be applied as a self-adhesive plastic film to existing glass or engineered into glass end-products such as smart (switchable) windows. PDLC smart glass is used in commercial and residential smart windows, consumer electronics, retail and museum display cases, healthcare, hospitality, and transportation.
Segment by Application
Several companies in the global automotive industry are incorporating modern concepts into their vehicles to create a unique selling proposition for their progeny. In the past decade, as consumer spending capacity has increased, clients have demanded the inclusion of luxury features in the vehicle selection process. Switchable glass is an example of a design modification that has garnered significant traction in the automotive sector. They are used in windows, rear-view mirrors, windshields, sun visors, sunroofs, and panoramic view windows. These products increase the vehicle's energy efficiency and the passengers' convenience due to their properties. As a result of the factors mentioned above, the growing demand for switchable glass for producing automotive glass panels is anticipated to propel the growth of the smart window market.
Smart glass contributes to the illumination of the premises, thereby creating multifunctional spaces that adapt and respond to users' requirements with the flip of a switch. It can also provide thermal and acoustic isolation in buildings, conserving energy while providing building architects and interior designers with 3D design options. These glasses are used in smart facades, skylights, and windows, giving the building a unique, dynamic appearance and allowing for greater control over privacy, particularly in office spaces and hospital partitions. As spending by consumers in emergent economies rises, the demand for smart construction materials is anticipated to increase to facilitate consumers' elegant living.
The swift expansion of the aerospace industry has increased demand. Manufacturers of aircraft are advocating the installation of larger windows with enhanced functionality and passenger control. They are using these containers, primarily SPD glass, for this purpose. This glass provides the essential properties required to improve the aircraft's functionality, including rapid and uniform response, outstanding acoustic insulation, light control, and superior heat rejection when parked on the ramp. The demand for these spectacles is rising in the aerospace industry, as their properties increase customer satisfaction during the flight and help aerospace companies maintain energy efficiency in aircraft.
Regional Analysis
North America (USA and Canada)
Improving the performance of end-user industries such as construction and automotive in North America has led to a rise in the adoption of smart glass varieties. These spectacles are further necessitated by government regulations mandating an increase in the demand for energy-efficient buildings in the region. This factor increases the demand for smart windows in North America, increasing the market for smart window manufacturers.
Europe (Germany, the U.K., France, Russia, Italy, Rest of Europe)
In Europe, the growth of smart windows is primarily driven by the increasing demand for multifunctional products, the rapid rate of product innovation, and features such as voice assistants. Moreover, countries such as Germany, Italy, Russia, the Netherlands, Switzerland, Denmark, and Sweden, among others, have witnessed a significant increase in the adoption of smart windows over the past few years. Local manufacturers have innovated blinds and shades products in recent years by emphasizing completely automated products. Smart window solutions are gaining popularity in the United States as connected shades, blinds, and curtains substantially enhance comfort and convenience.
Asia-Pacific (China, Japan, South Korea, India, Southeast Asia, Rest of Asia-Pacific)
Asia-Pacific is among the largest windows influencing consumers and manufacturers. With growing economies and the number of nuclear families, it is anticipated that the demand for housing solutions will increase. Due to these developments, it is anticipated that the number of local vendors offering motorized and connected window coverings will increase. The increasing desire of consumers to purchase online is anticipated to increase consumer awareness of products, thereby compelling vendors to prioritize offering their solutions on online platforms.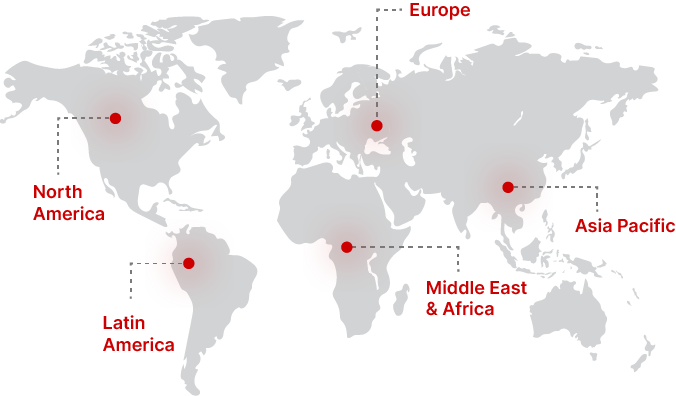 Regional Growth Insights
Download Free Sample
Key Players
Sensory
SPD Control System
Saint Gobain
Corning
Gentex
Ravenbrick
PPG
View
SageGlass
Glass Apps
Pleotint
Kinestral Technologies
Smartglass International
Recent Developments
March 2022 - SelectBlinds.com, an online retailer of window treatments, has introduced two new Motorized Architect Roller Shades products powered by new Eve MotionBlinds and Apple HomeKit technology. Eve MotionBlinds actuators are the first to support Thread smart home technology and Bluetooth capabilities.
May 2021 - Researchers at the Indian Institute of Technology Guwahati have developed materials to aid in designing intelligent climate control systems in buildings that conserve energy and reduce carbon emissions. IIT Guwahati developed a smart window material capable of regulating the heat and light that travels through windows in response to an applied voltage. According to the researchers, such materials can facilitate the creation of effective automatic climate control systems in buildings.
Smart Window Materials Market Segmentations
Segment by Type
Electrochromic
Photochromic
Thermochromic
SPD
PDLC
Segment by Application
Automotive industry
Construction Industrial
Aerospace Industry
Frequently Asked Questions