Market Overview
According to Reed Intelligence the Global SMF Battery Market will approximately grow at a CAGR of 6.5% during the forecast period.
One of the main reasons propelling the market is the growing need for reliable power backup solutions across various industries. The growing need for an uninterruptible power supply in sectors including telecommunications, data centers, healthcare, and industrial applications is what is driving the need for SMF batteries. Because of their improved power retention, longer life cycles, and less maintenance requirements, these batteries are popular choices for backup power applications.
The car sector has a substantial effect on the SMF Battery Market Growth. As the number of hybrid and electric vehicles (EVs) on the road rises internationally, SMF batteries are in great demand. These batteries provide electricity to the auxiliary systems in EVs, including the lighting, entertainment, and safety systems. The industry is anticipated to grow as more conventional cars adopt Start-Stop technology.
Market Dynamics
Market Drivers
As more people transition to EVs and hybrid vehicles, the need for SMF batteries rises, assisting the growth of the automotive sector. The lighting, entertainment, and safety systems in the automobile are all powered by these batteries. The usage of electric vehicles (EVs) and the Start-Stop system has increased the need for SMF batteries in the automotive sector.
A Growth in Renewable Energy Installations
It is anticipated that the usage of renewable energy sources, such solar and wind power, will expand; this might be beneficial for SMF Battery Market share. These batteries act as a reliable energy source during periods of little or no production and store extra energy generated during output spikes, ensuring a consistent supply of renewable energy.
Market Restraints
The Environmental Impact of Lead-Acid Batteries
If properly disposed of after serving their purpose, lead-acid batteries, especially SMF batteries that contain both lead and sulfuric acid, have the potential to be ecologically dangerous. These batteries must be disposed of and recycled with the utmost consideration for environmental laws and infrastructure in order to minimize their impact.
Threats from Competing Technologies
A modern kind of energy storage that rivals the SMF Battery Market is lithium-ion batteries. Lithium-ion batteries are more suitable for certain applications than lead-acid batteries because of their higher energy density, longer cycle life, and less weight. Competition in a variety of industrial categories limits the growth of SMF Batteries.
Market Opportunities
Growing Need for Renewable Energy Storage
As more renewable energy sources are employed, energy storage technologies, in particular SMF batteries, are expected to become more widespread. These batteries are crucial for storing excess renewable energy and ensuring a steady power supply when the output of renewable energy is constrained or unpredictable.
Advances in Battery Technology
The efficiency and performance of SMF batteries are the main areas of research and development. Because of improvements in battery chemistry, cycle life, energy density, and safety features, the industry can now provide SMF battery solutions that are more trustworthy and efficient.
Market Scope
Report Metric
Details
Market Size by 2031
USD XX Million/Billion
Market Size in 2023
USD XX Million/Billion
Market Size in 2022
USD XX Million/Billion
Historical Data
2019-2021
Base Year
2022
Forecast Period
2023-2031
Report Coverage
Revenue Forecast, Competitive Landscape, Growth Factors, Environment & Regulatory Landscape and Trends
Segments Covered

Segmentation By Type

AGM Battery
Gel Battery

Segmentation By Application

Telecom System
Uninterruptible Power Supply (UPS)
Emergency Lighting

Geographies Covered

North America
Europe
APAC
Middle East and Africa
LATAM

Companies Profiles

Exide
Enersys
Coslight Technology
Trojan
Johnson Controls
CSB Battery
GS Yuasa Corporate
EAST PENN Manufacturing
Sebang
DYNAVOLT
East Penn
Segmental Analysis
Segmentation By Type
Absorbent glass mat battery is referred to as AGM. A fiberglass mat absorbs the electrolyte from SMF batteries of the AGM kind. Low internal resistance, quick charging periods, and outstanding cycle performance are just a few of these batteries' astounding performance traits. AGM batteries are often used in several applications that need a reliable and maintenance-free power backup.
A different kind of SMF battery is the gel battery, sometimes referred to as a gel-cell battery. The sulfuric acid in these batteries is immobilized using an electrolyte that resembles gel. The gel electrolyte enhances acid stratification, vibration resistance, and deep discharge cycles. Applications requiring a high degree of safety, little maintenance, and longevity often employ gel batteries.
Segmentation By Application
In the telecom sector, SMF batteries are often used. They maintain communication by providing telecom towers and base stations with backup power during blackouts or grid problems. In telecom systems, SMF batteries are essential for preserving network connection and dependable communication services.
Uninterruptible Power Supply (UPS)
UPS systems are intended to provide backup power in the event that utility power is interrupted. In UPS systems, SMF batteries are often used to store electrical energy and provide it to vital loads in the event of a power loss. SMF batteries are the best UPS replacement in a variety of industries, including data centers, hospitals, industrial sites, and commercial buildings, due to their endurance and maintenance-free nature.
In systems for emergency illumination, SMF batteries are often employed. These gadgets are necessary when there are problems that prevent the use of regular lights, such as power outages. SMF batteries may also provide stable standby power and enough illumination for emergency lighting systems to meet security and safety standards.
Regional Analysis
The Global SMF Battery Market is segmented by region as North America, Europe, Asia Pacific, Latin America, and Middle East and Africa.
A disproportionately large chunk of the world market for SMF batteries lies in North America. The demand for SMF batteries is primarily being driven by the region's long-standing automotive sector as well as the growing appeal of electric and hybrid vehicles. Numerous significant telecommunications firms and data centers are located in North America, which presents prospects for SMF batteries to provide stable backup power solutions. Lead-acid battery recycling is governed by stringent environmental protection rules and regulations, which also affect the local market's dynamics.
Their is a sizable market for SMF batteries in Europe. The market for SMF batteries in applications such as renewable energy storage systems and UPS systems is impacted by the region's concentration on renewable energy, energy storage, and environmental activities. The development of renewable energy sources and energy-efficient technology has been accelerated by the supportive laws and regulations implemented by European nations. This is advantageous for company growth.
The SMF Battery Market has significant development potential in the Asia Pacific area. SMF batteries are in high demand as a result of the rapid industrialization, urbanization, and infrastructural development taking place in nations like China, India, and Japan. Market expansion is being accelerated by both the development of local telecommunications networks and the automobile industry, especially with respect to electric and hybrid cars. Government programs that encourage the use of renewable energy sources and energy storage lead to increased industry growth.
The markets in Latin America, Africa, and the Middle East are also promising for the sale of SMF batteries. As more Latin American nations, particularly Brazil and Mexico, adopt renewable energy sources and develop their telecommunications infrastructure, the demand for SMF batteries is growing. Due to their emphasis on renewable energy programs and their need for dependable power backup solutions, the Middle East and Africa provide a good market environment for SMF batteries.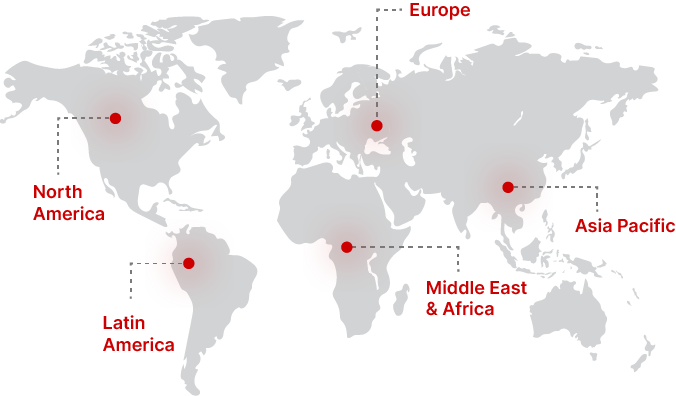 Regional Growth Insights
Download Free Sample
Key Players
Exide
Enersys
Coslight Technology
Trojan
Johnson Controls
GS Yuasa Corporate
EAST PENN Manufacturing
Sebang
DYNAVOLT
East Penn
Recent Developments
Recycling initiatives
To guarantee appropriate disposal and recycling of spent SMF batteries, the industry is concentrating on developing recycling technologies and infrastructure. The battery industry will be encouraged by this program to embrace eco-friendly practices and reduce its environmental effect.
SMF Battery Market Segmentations
Segmentation By Type
Segmentation By Application
Telecom System
Uninterruptible Power Supply (UPS)
Emergency Lighting
Frequently Asked Questions