Market Overview
According to Reed Intelligence the Sphere Spectrophotometer Market Size will approximately grow at a CAGR of 6.0% during the forecast period.
The sphere spectrophotometer market is the business that is focused on making, selling, and distributing sphere spectrophotometers. A sphere spectrophotometer is a specialized tool used in many businesses to measure and analyse the colour and look of objects or materials. It is used a lot in the car, paints and coatings, plastics, textiles, and printing industries. Sphere spectrophotometers measure how an object reflects and transmits different wavelengths of light. This gives manufacturers accurate and objective colour data that they can use to make sure their goods are consistent and of high quality. The market for sphere spectrophotometers has grown greatly because more people want to measure and analyse colours. Technology has made it possible to make products that are smarter and easier to use, like those with touch-screen interfaces, wireless connectivity, and advanced software for analysing data. Stringent rules and standards about how colours should look and how quality should be controlled have also helped the market grow. The market is very competitive, with big players spending money on research and development and teaming up with others to get more customers. Overall, the market for sphere spectrophotometers is expected to keep growing. This is because more businesses need to measure and control colour and quality, technology is improving, and it's important to follow colour standards.
Market Dynamics
Market Drivers
Regulatory Compliance and Standards
Many businesses, particularly those in the automotive, aerospace, and food packaging sectors, have severe rules and guidelines for colour accuracy. By assuring compliance and reducing colour disparities, sphere spectrophotometers assist organizations in adhering to these legal standards.
Increased Focus on Product Aesthetics
Due to rising consumer expectations and a competitive market environment, sectors like automotive, cosmetics, textiles, and packaging are giving more attention to the aesthetics of their products. These sectors can obtain consistent colour and appearance thanks to sphere spectrophotometers, improving the aesthetic attractiveness of their goods.
Market Restraints
Because sphere spectrophotometers are complex devices, they demand specialized technology and precise production. They frequently cost a lot as a result. Particularly for small or budget-constrained laboratories or organizations, the high price can be a major deterrent for potential purchasers.
Market Scope
Report Metric
Details
Market Size by 2031
USD XX Million/Billion
Market Size in 2023
USD XX Million/Billion
Market Size in 2022
USD XX Million/Billion
Historical Data
2019-2021
Base Year
2022
Forecast Period
2023-2031
Report Coverage
Revenue Forecast, Competitive Landscape, Growth Factors, Environment & Regulatory Landscape and Trends
Segments Covered

Segmentation by Type

Portable Sphere Spectrophotometer
Bench-Top Sphere Spectrophotometer

Segmentation by Application

Paint & Coating
Textile & Apparel
Plastic
Printing & Packing
Others

Geographies Covered

North America
Europe
APAC
Middle East and Africa
LATAM

Companies Profiles

X-Rite, Inc.
Konica Minolta
Shimadzu
Datacolor
Byk Gardner (Germany)
Hitachi High-Technologies
Elcometer
Shenzhen 3nh Technology
Segmental Analysis
Segmentation By Type
Portable Sphere Spectrophotometers
These are small, portable gadgets that can be used in different ways. Usually, they are used in the field or where measurements need to be taken in different places. The majority of portable sphere spectrophotometers have displays and easy-to-use controls that make them easy to use.
Bench-Top Sphere Spectrophotometers
These spectrophotometers are bigger and are made to stay in one place, like on a lab bench or in a factory. Most of the time, they have more advanced features and are more accurate, which makes them good for apps that need precise colour measurement and analysis.
Segmentation By Application
Sphere spectrophotometers are widely used in the paint and coating industry to measure and analyse the colour of paints, coatings, and other materials. This helps with quality control, colour matching, and ensuring that painting surfaces all look the same colour.
Sphere spectrophotometers are used in the textile and clothing business to measure the colour and look of fabrics, dyes, prints, and clothes. This helps with keeping colours accurate, figuring out how well colours don't run, and making sure colours stay the same when making textiles.
Sphere spectrophotometers are used in the plastic industry to measure the colour and look of things like pellets, films, moulded parts, and finished plastic goods. This helps with quality control, colour mixing, and making sure that plastic things all look the same.
Sphere spectrophotometers are used in the printing and packaging industries to handle colours and make sure the quality is good. They are used to measure and control the colour accuracy of printed materials like labels, packaging boxes, and printed images.
Sphere spectrophotometers are also used in a number of other businesses and applications, which are listed in this category. Some examples are cosmetics, automobiles, food and beverage, pharmaceutical, and any other industries that need precise colour measurement and analysis.
Regional Analysis
The Global Sphere Spectrophotometer Market is segmented by region as North America, Europe, Asia Pacific, Latin America, and Middle East and Africa.
North America
The market for sphere spectrophotometers in North America is well-established and is growing with technology. As a big industrial centre, the United States drives market growth, especially in industries like cars, aerospace, textiles, and coatings. Canada and Mexico also add to the market by making things and putting more and more emphasis on quality control and colour consistency.
Europe
Europe has a big market for sphere spectrophotometers because it has a wide range of manufacturing businesses and strict quality standards. Germany is a key player in the market. It is known for its advanced car and machinery industries. The United Kingdom, France, Italy and Spain also have strong manufacturing industries, such as automobiles, textiles, and printing, which drive the market for spectrophotometers. Along with other European countries, Russia helps the business grow as well.
Asia-Pacific
In the Asia-Pacific area, the market for sphere spectrophotometers is expanding quickly. In industries including textiles, plastics, paints, and printing, spectrophotometers are in high demand in China, a country known for its manufacturing prowess. The modern automobile and technology sectors of Japan and South Korea rely on spectrophotometers to regulate colour. With their developing industrial sectors and rising quality consciousness, Southeast Asian, Australian, and Indian nations all present growth prospects.
South America
A growing market for spherical spectrophotometers exists in South America, driven mostly by the packaging, automotive, textile, and plastics sectors. Brazil is a big market in the area, with a need for spectrophotometers for quality control and a sizable manufacturing base. Additionally contributing to the market are Argentina and Colombia, particularly in the textile, paint, and coatings sectors.
Middle East & Africa
The Middle East and Africa region have a growing market for sphere spectrophotometers. The UAE and Saudi Arabia, with their industrial growth and focus on quality control, are major contributors to the market. South Africa also plays a significant role in the market, with its manufacturing and textile sectors.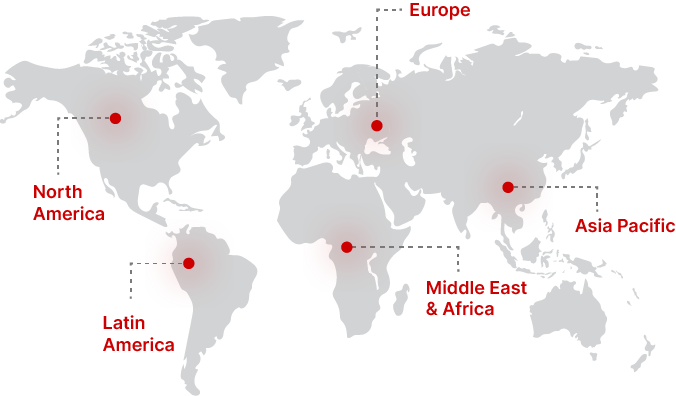 Regional Growth Insights
Download Free Sample
Key Players
X-Rite, Inc.
Konica Minolta
Shimadzu
Datacolor
Byk Gardner (Germany)
Elcometer
Shenzhen 3nh Technology
Sphere Spectrophotometer Market Segmentations
Segmentation by Type
Portable Sphere Spectrophotometer
Bench-Top Sphere Spectrophotometer
Segmentation by Application
Paint & Coating
Textile & Apparel
Plastic
Printing & Packing
Others
Frequently Asked Questions