Market Overview
The Global Sriracha Market Size is projected to grow at CAGR of approximately 6.2% during the forecast period.
The Sriracha market has expanded significantly, and it now accounts for a sizeable portion of the global hot sauce market. Sriracha sauce is a pretty well-liked condiment for a variety of cuisines and people due to its intensely fiery and sour flavor. The popularity of Asian cuisine, the rising demand for spicy meals, the influence of social media on food culture, and other reasons all contribute to the growth of this company.
One of the main issues influencing the Sriracha company is the growing consumer appetite for potent, spicy flavors. The best illustration of this global culinary trend, which unquestionably favors hotter and more adventurous flavor pairings, is Sriracha sauce. Sriracha is an excellent hot sauce substitute thanks to its distinctive flavor and heat.
The growth of the Sriracha market has also been significantly aided by the popularity of Asian cuisine. Sriracha has established itself as a vital component in many of the meals associated with Thai and Vietnamese cuisines as those cuisines are more popular throughout the world. Sushi, noodle dishes, rice, and stir-fries are just a few of the items that go well with Sriracha sauce. Sriracha is therefore a spice that is commonly used in restaurants and homes all over the world and is growing in popularity outside of Asian nations.
The Sriracha market does have some restrictions, though. Other spicy sauces, salsas, and regional chili sauces that are readily accessible compete with Sriracha. Consumers have a wide range of choices when it comes to hot sauces, and the availability of alternatives may have an impact on the Sriracha market's potential for growth. Additionally, dietary and health concerns about the sodium and sugar levels of Sriracha sauce may have an impact on consumer choices. In order to solve these problems, manufacturers are focusing on offering low-sodium or sugar-free products to satisfy health-conscious consumers.
The Sriracha industry is favored by the demand for hot flavors, the acceptance of Asian cuisine, the power of social media, and food culture. Due to opportunities for product diversity and innovation, the Sriracha industry is able to adapt to the changing needs of consumers for powerful and tasty sauces.
Market Dynamics
Market Drivers
Demand for Sriracha sauce has grown as Asian cuisine, particularly Thai and Vietnamese cuisine, has become more well-liked. As consumers become more aware of and appreciative of many culinary traditions, Sriracha has become a common condiment in many homes and restaurants.
Market Restraints
Nutritional and health issues
Because Sriracha sauce contains a lot of sugar and sodium, some consumers are apprehensive. Sriracha sales may decrease when people opt for healthier alternatives because of dietary constraints or health issues.
Market Opportunities
By concentrating on new geographic areas where Sriracha sauce isn't already well-known or popular, there are opportunities for market expansion. Both in developing countries and in regions where hot and ethnic flavors are becoming more and more popular, research is required.
Market Scope
Report Metric
Details
Market Size by 2031
USD XX Million/Billion
Market Size in 2023
USD XX Million/Billion
Market Size in 2022
USD XX Million/Billion
Historical Data
2019-2021
Base Year
2022
Forecast Period
2023-2031
Report Coverage
Revenue Forecast, Competitive Landscape, Growth Factors, Environment & Regulatory Landscape and Trends
Segments Covered

Segmentation By Type

Dual Flavoured
Singular Flavoured

Segmentation By Application

Catering Industry
Domestic Place

Geographies Covered

North America
Europe
APAC
Middle East and Africa
LATAM

Companies Profiles

HUY FONG
Terrapin Ridge Farms
Trader Joes
Lee Kum Kee
THAITHEPAROS
Kosol-Ampa
Real Thai (Thaitan Foods)
Healthy Boy's
Santa Maria (Paulig Group)
Pantainorasingh Manufacturer
Segmental Analysis
Segmentation By Type
There are two distinct flavors in these Sriracha sauces. In these variations, sriracha may be blended with complementary flavors such as lime, honey, garlic, or fruit extracts. Sriracha sauces with two tastes are popular because of their unique flavor profile, which combines heat and other flavor characteristics.
This group includes traditional Sriracha sauces that strongly emphasize the uncommon flavor combination of chili pepper and garlic. By excluding any additional flavorings, these sauces maintain the traditional Sriracha flavor profile of acidic heat.
Segmentation By Application
The catering sector region includes all eateries, lodging facilities, coffee shops, and catering companies. Sriracha sauce is commonly used as a condiment, ingredient, or flavor enhancer in the catering industry. It gives a range of meals, such as marinades, stir-fries, noodles, sandwiches, and hamburgers, a fiery kick and distinctive flavor.
The use of sriracha sauce as a dietary supplement at home is covered in this section. Today, many people have Sriracha on hand in their kitchens to season food, flavor meals, and try out new recipes. Due to its availability and flexibility, sriracha is a pantry staple in families all around the world.
Regional Analysis
The Global Sriracha Market is segmented by region as North America, Europe, Asia Pacific, Latin America, and Middle East and Africa.
North America
The demand for Sriracha sauce is particularly high in the United States. Asian cuisine influence, multiculturalism, and the popularity of spiciness all contribute to the expansion of the Sriracha market in this area.
Europe
Due to the rising popularity of Asian fusion cuisine and the gourmet exploration of international cuisines, the Sriracha market in Europe has expanded dramatically. Sriracha sauce is starting to gain popularity in countries like the United Kingdom, Germany, and the Netherlands.
Asia Pacific
Sriracha sauce was created in the Asia Pacific region, specifically in Thailand and Vietnam, where it is still extensively consumed today. Sriracha, which is also exported from this area to other parts of the world, is a staple of the local cuisine.
Due to the increased popularity of spicy flavors and the merging of international cuisines into regional culinary traditions, Latin America, the Middle East, and Africa present prospects for market expansion.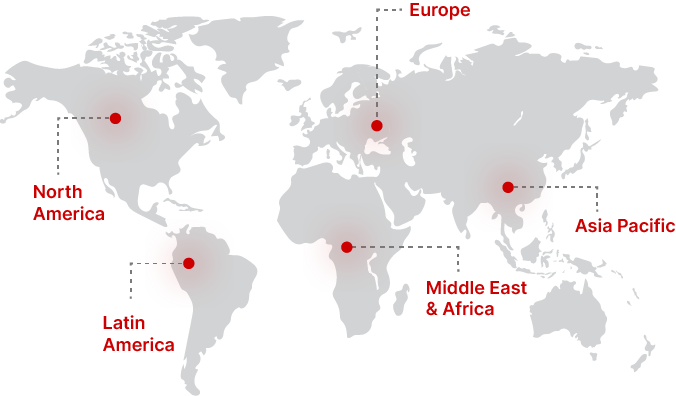 Regional Growth Insights
Download Free Sample
Key Players
HUY FONG
Terrapin Ridge Farms
Trader Joes
THAITHEPAROS
Kosol-Ampa
Real Thai (Thaitan Foods)
Healthy Boy's
Santa Maria (Paulig Group)
Pantainorasingh Manufacturer
Recent Developments
Collaborating with renowned chefs or food businesses to create Sriracha items in small quantities or with novel flavor combinations. Squeezable bottles, portable packaging, and other improvements in consumer-friendly packaging.
Sriracha Market Segmentations
Segmentation By Type
Dual Flavoured
Singular Flavoured
Segmentation By Application
Catering Industry
Domestic Place
Frequently Asked Questions