Market Overview
The Global Static Screen Market Size is projected to grow at CAGR of approximately 6.2% during the forecast period.
The static screen is an item of machinery used in industrial processes for the separation and classification of solid materials. It comprises a frame that supports one or more screen panels made of various materials, including wire mesh, perforated plates, or synthetic textiles. The screen panel(s) are made with holes or openings of sizes and shapes that let the necessary particles pass through while keeping out larger or undesirable particles.
Static screens have a variety of uses, including the removal of solids from wastewater before it is released into the environment, the removal of large boulders and other debris from mined ore, and the size and shape separation of food products in food processing facilities.
The name "static" refers to the fact that static screens are made to run continuously without any moving parts. They have a long service life and require little maintenance. They are frequently used with other separation tools like hydro cyclones and centrifuges to provide a more effective separation process.
Market Dynamics
Market Drivers
Increased Demand for Solid-Liquid Equipment
In several industries, including mining, construction, food processing, and wastewater treatment, there has been an increase in the demand for solid-liquid separation equipment, particularly static screens. Several factors, including tighter environmental rules, increased demand for high-quality goods, and growing sustainability awareness, cause this.
Static screens are used in the mining industry to filter large boulders and other trash from the ore that has been mined, ensuring that only the desired minerals are delivered for further processing. Static screens are used in the construction sector to grade materials for subsequent uses and remove soil and debris from excavation sites. Static screens are used in the food processing sector to separate products according to size and form and filter out pollutants.
Over the world, environmental regulations are tightening, and industries are facing more pressure to lessen their environmental impact. To comply with these rules, static screens are crucial because they aid in removing solids from wastewater and process streams before they are released into the environment. For instance, the Clean Water Act (CWA) in the United States limits the discharge of pollutants into rivers, and businesses must adhere to specified effluent levels for certain contaminants. By filtering solids and other contaminants from wastewater before it is released into waterways, static screens can assist the industry in meeting these regulations.
The Water Framework Directive (WFD) in the European Union lays out precise environmental goals for water bodies, including the need to prevent water quality degradation and to maintain "excellent ecological status." To meet these goals, businesses must lessen their negative effects on the environment, which frequently entails utilizing static screens and other solid-liquid separation tools to filter contaminants out of wastewater and other process streams.
Market Restraints
The initial cost of static screens is high, and they also need regular maintenance and replacement of screen panels and other parts. This can be a major obstacle for some industries, especially for small and medium-sized businesses.
Market Opportunities
Increased Adoption of Digital Technologies
Static screens can operate more effectively and efficiently when using digital technologies like automation, machine learning, and artificial intelligence. One way to decrease the need for manual intervention and enhance screen performance is to use automated systems to modify screen settings or to detect and react to changes in process circumstances.
Market Scope
Report Metric
Details
Market Size by 2031
USD XX Million/Billion
Market Size in 2023
USD XX Million/Billion
Market Size in 2022
USD XX Million/Billion
Historical Data
2019-2021
Base Year
2022
Forecast Period
2023-2031
Report Coverage
Revenue Forecast, Competitive Landscape, Growth Factors, Environment & Regulatory Landscape and Trends
Segments Covered

Segment By Type

150-1000 GPM
1000-2000 GPM

Segment by Application

Municipal
Industrial
Food & Beverage

Geographies Covered

North America
Europe
APAC
Middle East and Africa
LATAM

Companies Profiles

Multotec
Ultra Screeners
JWC Environmental
ESTRUAGUA
Toro Equipment
Parkson Corporation
Ultra Span
HydroCal
DAGYEE
Marel
EQUIPWATER
Segmental Analysis
The global Static Screen market is segmented based on Type and Application.
Based on Type
The market is segmented into 150-1000 GPM, 1000-2000 GPM, and Other.
This segment showcases static screens for applications with flow rates between 150 and 1000 gallons per minute (gpm). These screens are often employed in more compact applications and those demanding slower flow rates. They may be applied in manufacturing pharmaceuticals, wastewater treatment, and food and beverage processing.
This segment showcases static screens for applications with flow rates between 1000 and 2000 gpm. These screens are frequently employed in larger-scale operations and procedures demanding higher flow rates. They could be employed in mining, oil and gas extraction, and chemical processing.
By Application
The market can be divided into Municipal, Industrial, Food & Beverage, and Other.
Static screens are employed in this segment to filter out solids from wastewater in municipal wastewater treatment facilities. Before the wastewater is further processed, big particles, including sticks, rags, and plastics, are removed using static screens. This sector may also include screens used in water intake systems for municipal water treatment.
This covers static screens used in various industrial settings, including pulp and paper production, oil and gas extraction, mining, and chemical processing. Static screens are employed in these sectors to filter process water or wastewater of solid pollutants and particles.
This segment discusses static screens used in the food and beverage processing sector to filter contaminants and particles from liquids, including milk, juice, and beer. Static screens may also be utilized to eliminate solid particles from processed fruits and vegetables.
Regional Analysis
The Global Static Screen Market is segmented by region as North America, Europe, Asia Pacific, Latin America, and Middle East and Africa.
Depending on the region, the market is analyzed in North America, Asia-Pacific, Europe, and LAMEA. North America dominates the market.
North America is expected to account for a sizable percentage of the global static screen market due to multiple significant corporations, the increasing demand for static screens across numerous industries, including oil and gas, and the implementation of stringent environmental regulations.
Europe is home to nations including the UK, Germany, France, and Italy. The market for static screens is anticipated to increase significantly in this region due to the rising need for wastewater treatment and the implementation of environmental legislation to decrease water pollution.
In Asia-Pacific, Due to the rising demand for clean water, rapid industrialization, and rapid urbanization, it is anticipated to have the fastest-growing market for static screens.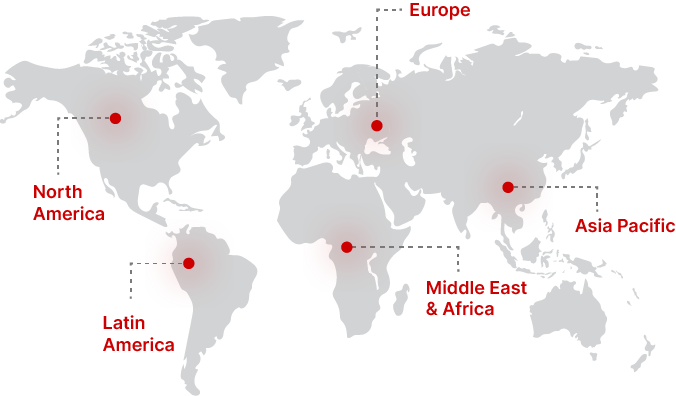 Regional Growth Insights
Download Free Sample
Key Players
Multotec
Ultra Screeners
JWC Environmental
ESTRUAGUA
Toro Equipment
Ultra Span
HydroCal
DAGYEE
Marel
EQUIPWATER
Recent Developments
In February 2023, Multotec and TURBO Makina collaborated.
Static Screen Market Segmentations
Segment By Type
150-1000 GPM
1000-2000 GPM
Segment by Application
Municipal
Industrial
Food & Beverage
Frequently Asked Questions