Market Overview
The Global Surface Mount Filter Market Size is anticipated to touch at a CAGR of approximately 7% during the forecast period.
An electronic component known as a surface mount filter is used to remove unwanted noise or signals from an electrical circuit. The filter can be used to enhance signal quality, lower noise or interference from other signals, or both. Although it can be utilized in other applications, radio frequency (RF) applications are where it is most frequently used.
Market Dynamics
Market Drivers
Rising Interest In Automobile Electronics
The use of electronic gadgets in automobiles has increased as a result of the growing popularity of connected and autonomous vehicles. Automotive electronics frequently employ surface mount filters to exclude extraneous signals and guarantee dependable connection.
Rising Interest In Home Electronics
The need for surface mount filters has grown alongside the popularity of portable electronic devices like smartphones, laptops, and tablets. It is common practice for electronic devices to employ such filters to eliminate background noise and unwelcome signals.
Technology Improvements In Wireless Communication
The demand for outstanding durability filters has grown with the introduction of 5G and other technology for wireless communications. In order to prevent interference and maintain clear communication in wireless networks, surface mount filters are commonly utilized.
Growing demand for Medical sector-Demand for medical electronics continues to rise as technological developments expand their uses in the medical field. In order to eliminate noise and maintain consistent performance, surface mount filters are commonly employed in medical electronics.
Market Restraints
Some manufacturers may struggle with the technical aspects of designing and producing surface mount filters due to the need for specialized knowledge and equipment.
Availability of Competing Technologies
Some clients may find that competing technologies, including through-hole filters, are more suited to their needs. Because of this, the need for surface mount filters in some industries may declin
Market Opportunities
Increasing Consumer Interest In IoT Gadgets
The need for surface mount filters is anticipated to be driven by the rising popularity of Internet of Things devices. These filters are utilized in IoT gadgets to block out noise and keep data transmissions secure.
As more and more uses for electronics become apparent, this could mean more prospects for surface mount filters. Filters, for instance, may find new applications as a result of the proliferation of electronic devices used in renewable energy systems.
Increased need for powerful filters in communication networks is predicted to be spurred by the widespread use of 5G technology. The compact and unobtrusive design of surface mount filters makes them ideal for use in 5G networks.
Market Scope
Report Metric
Details
Market Size by 2031
USD XX Million/Billion
Market Size in 2023
USD XX Million/Billion
Market Size in 2022
USD XX Million/Billion
Historical Data
2019-2021
Base Year
2022
Forecast Period
2023-2031
Report Coverage
Revenue Forecast, Competitive Landscape, Growth Factors, Environment & Regulatory Landscape and Trends
Segments Covered

Segment by Type

Highpass Filters
Bandpass Filters

Segment by Application

Communication
Instrumentation
Medical Equipment

Geographies Covered

North America
Europe
APAC
Middle East and Africa
LATAM

Companies Profiles

Mini-Circuits
Murata
AVX Corporation
Taiyo Yuden
Samsung Electro-Mechanics
TDK Corporation
APITech
Farnell
K&L Microwave
Amtele
Knowles Corporation
CTS Corporation
RLC Electronics
Walsin Technology
Shenzhen Sunlord Electronics
Segmental Analysis
Lowpass Filters Lowpass filters are designed to let signals of lower frequency through while rejecting those of a higher frequency. Power supply and audio equipment are only two examples of the many places you'll find them in use to filter out annoying high-frequency noise.
Segment By Type
Highpass filters are designed to let through signals at higher frequencies while rejecting those at lower ones. In audio and telecommunications systems, for example, they are frequently employed to filter out low-frequency noise.
Bandpass filters are designed to pass signals within a certain frequency band while rejecting those outside of it. Services like wireless communication networks use them frequently because different uses require distinct frequency bands.
Segment By Application
Applications related to communication fall under this category. Examples include mobile phone networks, communications via satellite, and wireless communication. Filters with a surface-mount design are utilized for these purposes because they are compact and can be easily installed.
Uses such as inspection and measurement instruments, control systems for factories, and data collection systems fall under the broader category of "instrumentation." In these contexts, surface mount filters are utilized to shield the measuring circuitry from external interference and noise.
Diagnostic tools, patient monitoring infrastructures, and imaging scanners all fall under the umbrella of medical equipment. Medical assessments and images can be improved by using surface mount filters to eliminate background noise and interference.
Regional Analysis
The Global Surface Mount Filter Market is segmented by region as North America, Europe, Asia Pacific, Latin America, and Middle East and Africa.
Market growth for surface mount filters may be broken down by geography, with Asia Pacific, Europe, and North America all playing important roles The proliferation of mobile connectivity and IoT gadgets in Europe is fuelling the region's industry. Demand for cutting-edge communications and electronics is booming in North America, and the region is also home to several of the world's largest electronics producers. The Americas consist of North America, which includes both Canada and Mexico. The expansion of the transportation and healthcare sectors, as well as the rising demand for electronic goods, are all factors fueling the market in the Asia-Pacific region. All of Asia and the Pacific, not only China, Japan, India, and South Korea, are included.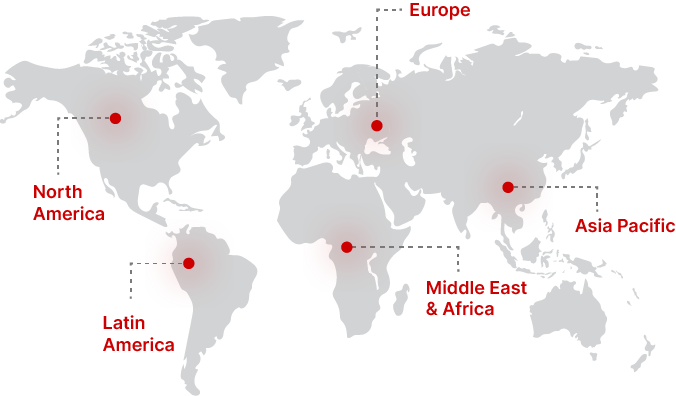 Regional Growth Insights
Download Free Sample
Key Players
Mini-Circuits
Murata
AVX Corporation
Taiyo Yuden
Samsung Electro-Mechanics
TDK Corporation
Farnell
K&L Microwave
Amtele
Knowles Corporation
CTS Corporation
RLC Electronics
Walsin Technology
Shenzhen Sunlord Electronics
Recent Developments
The BLM18SP_SH1 line of chip ferrite beads from Murata Manufacturing Co., Ltd. was introduced in September 2021. These surface-mount filters were developed for use in the suppression of high-frequency noise in a wide range of applications, from automobiles to Internet of Things gadgets.
The MLF1608 series of EMI filters from TDK Corporation will be released in August 2021. Smartphones, tablets, and smartwatches can all benefit from the high-frequency noise cancellation that these surface mount filters offer.
Surface Mount Filter Market Segmentations
Segment by Type
Highpass Filters
Bandpass Filters
Segment by Application
Communication
Instrumentation
Medical Equipment
Frequently Asked Questions