Market Overview
According to Reed Intelligence the Surgical Hemostatic Agents Market Size will approximately grow at a CAGR of 5.00% during the forecast period.
Hemostats are devices that are used to control or stop bleeding during surgery. These can be done through the use of smearing pressure, patching the bleeding, or thermal energy devices. Hemostats are typically used to coagulate blood during surgical procedures. Because of technological developments, topical hemostatic drugs are now used in various surgical circumstances. Change it to a new sentence. New tissue sealants and hemostats have addressed tissue contamination caused by prior sealants the new tissue sealants' approach to the prior sealant. New tissue sealants aid in the reduction of tissue contamination.
The global hemostatic agents market is developing due to increased surgical operations worldwide. The global market is predicted to expand significantly faster due to an increase in the geriatric population, the adoption of hemostatic products to control bleeding, and an increase in research & development in both established and developing economies.
Market Dynamics
Market Drivers
Increasing Surgical Procedures
The increasing number of surgical procedures worldwide is crucial for the Surgical Hemostatic Agents Market Growth. Factors such as an aging population, the frequency of chronic diseases, and technological breakthroughs in surgical methods all contribute to the rising demand for surgical operations. As procedures get increasingly sophisticated, the requirement for appropriate hemostatic medications to regulate bleeding and limit the risk of consequences becomes critical.
Hemostatic Technology Advances
Ongoing developments in hemostatic technologies drive the market. Manufacturers are continually developing novel surgical hemostatic medications with increased efficacy, safety, and convenience of use. These improvements include using biodegradable and biocompatible materials, using hemostatic sealants and adhesives, and inserting active agents that encourage clotting and hasten the healing process. Such innovations improve surgical results, reduce post-operative complications and fuel market development.
Market Restraint
High Cost of Surgical Hemostatic Agents
The high cost of surgical hemostatic agents is one of the key barriers to the industry. Advanced hemostatic drugs may need sophisticated manufacturing procedures and specialized materials, resulting in higher production costs. Furthermore, regulatory regulations and the need for extensive clinical testing raise the overall costs. The high cost of surgical hemostatic agents can limit their use, particularly in resource-constrained healthcare settings, and offer a market growth hurdle.
Market Opportunity
Growing Demand in Emerging regions
The surgical hemostatic agents market is seeing substantial growth in emerging regions. Countries in Asia-Pacific, Latin America, and the Middle East are experiencing significant growth in healthcare infrastructure, rising healthcare expenditure, and increased demand for innovative surgical treatments. As these regions' healthcare systems evolve, there is a greater emphasis on improving surgical outcomes and lowering complications. This provides an opportunity for producers to extend their presence in these regions and meet the expanding demand for surgical hemostatic agents.
Market Scope
Report Metric
Details
Market Size by 2031
USD XX Million/Billion
Market Size in 2023
USD XX Million/Billion
Market Size in 2022
USD XX Million/Billion
Historical Data
2019-2021
Base Year
2022
Forecast Period
2023-2031
Report Coverage
Revenue Forecast, Competitive Landscape, Growth Factors, Environment & Regulatory Landscape and Trends
Segments Covered

Segmentation By Type

Thrombin Hemostats
Oxidized Regenerated Cellulose Hemostats
Combination Hemostats
Gelatin Hemostat
Collagen Hemostats

Segmentation By Application

Hospitals
Retail
Government/Military

Geographies Covered

North America
Europe
APAC
Middle East and Africa
LATAM

Companies Profiles

Johnson & Johnson
Takeda (Corza Health)
BD
Baxter
B. Braun
Pfizer
Teleflex
Medtronic
Integra LifeSciences
Ferrosan Medical Devices
GELITA
Advanced Medical Solutions
Medtrade Products
Marine Polymer Technologies
Eurasian AG
Betatech Medical
Equimedical
Segmental Analysis
Segmentation By Type
Thrombin hemostats are surgical hemostatic drugs used to reduce bleeding during surgery. Thrombin is a naturally occurring enzyme that is essential in the coagulation of blood. It transforms fibrinogen, a soluble protein in the blood, into fibrin, which creates a mesh-like network that aids in blood clot formation.
Oxidized Regenerated Cellulose Hemostats
ORC (oxidized Regenerated Cellulose) Hemostats are surgical hemostatic drugs that are used to keep bleeding under control during surgical procedures. ORC is obtained from natural cellulose sources, mainly cotton, and goes through an oxidation and regeneration process to produce a hemostatic substance.
Combination hemostats are surgical products used to improve hemostasis, or the cessation of bleeding. They are commonly used in surgical operations to reduce bleeding and aid in wound closure. Combination hemostats are made up of different materials and chemicals that work together to achieve hemostasis.
Gelatin Hemostasis refers to the process of stopping bleeding, and these medications are especially developed to enhance coagulation and clot formation in order to achieve hemostasis.
Collagen is a fibrous protein present in animal connective tissues, including human connective tissues. It is found in tendons, ligaments, skin, and blood vessels. Collagen-based hemostatic drugs are primarily produced from bovine or porcine (pig) sources in the context of hemostasis. The collagen is processed into powders, sheets, sponges, and gels that can be applied directly to the bleeding site.
Segmentation By Application
Surgical hemostatic drugs are widely used in hospitals to control bleeding and improve hemostasis during surgical procedures. They are especially beneficial in complicated surgeries, trauma situations, and procedures involving highly vascularized organs. These agents might be administered directly, sprayed, or integrated into dressings or sponges to increase their effectiveness. They give doctors another option to control bleeding and reduce the risk of problems during operation.
Surgical hemostatic agents may be offered for home healthcare applications in the retail sector by healthcare professionals or individuals. While these items are not as powerful or sophisticated as those used in hospitals, they can nevertheless be used as a stopgap measure to control small bleeding or manage wounds before seeking medical assistance. Basic hemostatic agents, such as gauze impregnated with hemostatic agents or adhesive bandages having clotting capabilities, may be available in retail settings.
Surgical hemostatic drugs are critical in government and military contexts, where controlling bleeding quickly and effectively can mean the difference between life and death. They are frequently employed on the battlefield, by emergency medical response teams, and during natural catastrophes. Because hemostatic medicines are readily available, medics and healthcare workers may immediately control bleeding, stabilize patients, and transport them to more advanced medical facilities.
Regional Analysis
The Global Surgical Hemostatic Agents Market is segmented by region as North America, Europe, Asia Pacific, Latin America, and Middle East and Africa.
North America
Because of upgraded healthcare infrastructure, increased surgical operations, and an aging population, North America's market is likely to be considerable. The largest contributors to the market in this area are the United States and Canada. Factors such as the rising frequency of chronic diseases, increased demand for minimally invasive operations, and the availability of new medical technology are driving the market. Baxter International Inc., Ethicon LLC (a subsidiary of Johnson & Johnson), and Pfizer Inc. are among the major participants in the North American market.
Europe
Europe also has a well-established industry for surgical hemostatic agents. The presence of a well-developed healthcare system, an increase in surgical operations, and expanding awareness regarding sophisticated hemostatic agents are driving the region's market. Germany, the United Kingdom, France, and Italy are likely to make substantial contributions to market growth. Pfizer Inc., C.R. Bard (a subsidiary of Becton, Dickinson and Company), and Takeda Pharmaceutical Company Limited are among the major participants in the European market.
Asia-Pacific
The Surgical Hemostatic Agents Market Share is expanding rapidly in the Asia Pacific region. Factors such as increased chronic illness prevalence, rising healthcare expenditure, and improved healthcare infrastructure are driving market expansion. The largest contributors to the market in this area are China, Japan, India, and South Korea. Furthermore, the expanding medical tourism business in countries such as India and Thailand is driving up demand for surgical hemostatic agents. CryoLife Inc., CSL Behring LLC, and Integra LifeSciences Holding Corporation are key participants in the Asia Pacific market.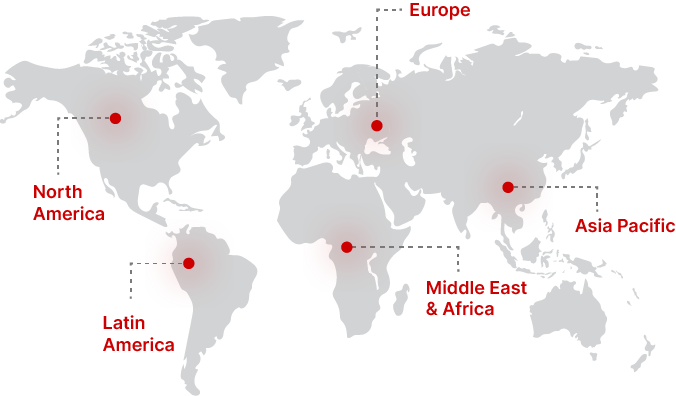 Regional Growth Insights
Download Free Sample
Key Players
Johnson & Johnson
Takeda (Corza Health)
BD
Baxter
B. Braun
Pfizer
Teleflex
Medtronic
Ferrosan Medical Devices
GELITA
Advanced Medical Solutions
Medtrade Products
Marine Polymer Technologies
Eurasian AG
Betatech Medical
Equimedical
Recent Developments
July 2022, Medcura, Inc., a medical device business, and ASO LLC have announced the release of Rapid-Seal, a new kind of antibacterial hemostatic gel. This product satisfies the market requirement for a clear gel that may be simply applied to injuries.
Surgical Hemostatic Agents Market Segmentations
Segmentation By Type
Thrombin Hemostats
Oxidized Regenerated Cellulose Hemostats
Combination Hemostats
Gelatin Hemostat
Collagen Hemostats
Segmentation By Application
Hospitals
Retail
Government/Military
Frequently Asked Questions