Market Overview
According to Reed Intelligence the Threaded Inserts Market Size will approximately grow at a CAGR of 4.3% during the forecast period.
Businesses that produce and sell threaded inserts, a crucial component utilized in a variety of sectors including automotive, aerospace, electronics, construction, and furniture, make up the market. Thanks to the inserts' robust and long-lasting threads, connections may be made in a variety of materials, including metal, plastic, and wood, with confidence.
The market is impacted by a number of things. The market for threaded inserts is expanding in the first place as a consequence of rising demand from a variety of end-use sectors. Threaded inserts are essential for applications that call for the greatest levels of strength and accuracy in the automotive and aerospace industries. The use of threaded inserts in fasteners and structural connections assists the construction sector.
The development of manufacturing techniques has also fueled the market's expansion. Due to improved designs, automated production techniques, and the creation of high-performance materials, threaded inserts are now more efficient, versatile, and high-quality. The development and promotion of new goods takes a lot of time and effort on the part of producers to keep up with changing consumer tastes.
Market Dynamics
Market Drivers
The Expansion of Industrial Manufacturing Operations
As industrial manufacturing operations rise, so does the need for fasteners like threaded inserts on a global scale. In areas that are developing their infrastructure and becoming more industrialized, this problem is especially important.
Technical innovations that have facilitated the expansion of the market include high-performance materials, automated production processes, and enhanced designs. These advancements make it possible to produce goods that are more useful, adaptable, and of higher quality.
Market Restraints
Price fluctuations for raw materials have an effect on this market. Brass, aluminum, and stainless steel are a few examples of these materials. Volatile raw material prices may have an influence on the threaded insert industry's profitability and production costs, presenting a threat to the market's expansion.
The market is very competitive as a result of the existence of several businesses that operate internationally. Price wars and pressure on profit margins are results of the fierce rivalry among market participants. It could be difficult for small producers to compete with big businesses in terms of price and distribution clout.
Market Opportunities
The fast industrialization, urbanization, and infrastructure development that is occurring in emerging nations is a significant potential opportunity for the market. These areas have a sizable client base and bright market development prospects.
Technological Developments and Product Innovation
The market is expected to expand as a result of ongoing technological developments and product innovations, such as the creation of self-tapping and self-locking inserts. Manufacturers may acquire a competitive edge by introducing new and enhanced goods.
Market Scope
Report Metric
Details
Market Size by 2031
USD XX Million/Billion
Market Size in 2023
USD XX Million/Billion
Market Size in 2022
USD XX Million/Billion
Historical Data
2019-2021
Base Year
2022
Forecast Period
2023-2031
Report Coverage
Revenue Forecast, Competitive Landscape, Growth Factors, Environment & Regulatory Landscape and Trends
Segments Covered

Segmentation By Type

Steel
Brass

Segmentation By Application

Home
Commercial

Geographies Covered

North America
Europe
APAC
Middle East and Africa
LATAM

Companies Profiles

Blum Inc
Hettich
ASSA ABLOY
Accuride
Hafele
GRASS
Taiming
Formenti & Giovenzana S.p(FGV)
Allegion
Spectrum Brands Holdings (HHI)
Salice
King Slide Works Co. Ltd
The J.G. Edelen
Yajie
Segmental Analysis
Segmentation By Type
Steel threaded inserts are extensively utilized in a variety of industries due to its high strength, prolonged lifespan, and resistance to corrosion. They provide trustworthy threading alternatives for applications needing robust fastening.
Threaded inserts made of brass are renowned for their outstanding conductivity, resistance to corrosion, and aesthetic value. They are often used in industries like electronics and electrical equipment where electrical conductivity is crucial.
Segmentation By Application
A number of fixtures, appliances, and furniture items employ threaded inserts. They assist with component setup, secure connection configuration, and boosting the durability of home items.
A broad number of industries are covered in the commercial domain, including those in the building, electronics, aerospace, and automobile sectors. These sectors often employ threaded inserts for tasks like joining, connecting, and creating sturdy threads in materials like metal, plastic, and wood.
Regional Analysis
The Global Threaded Inserts Market is segmented by region as North America, Europe, Asia Pacific, Latin America, and Middle East and Africa.
The market in North America is growing significantly as a result of the domination of several significant industries, including as the automobile, aerospace, and electronics sectors. The region's robust industrial base, technical advancements, and emphasis on product innovation make market growth possible. The United States and Canada are the two nations that contribute the most to the market in this sector.
In Europe, there is a considerable market for threaded inserts. The region benefits from a flourishing industrial sector and a focus on innovative production methods. The growth of the market has been significantly aided by the economies of France, Germany, and the UK. The strict quality requirements and laws in industries like aerospace and automotive further restrict the market for premium threaded inserts.
Asia Pacific offers a sizable potential market for threaded inserts. The requirement for threaded inserts is significantly increased by the region's developing urban, industrial, and infrastructure sectors. In developing nations like China and India, the industrial sector has grown significantly, which is good for the market. This company is expanding as a result of increased investment in the construction, electronics, and automotive industries.
Africa, the Middle East, and Latin America all have tremendous development potential. In these regions, spending is increasing on construction, infrastructure, and industrial projects. Threaded insert producers have the opportunity to grow and satisfy the growing demand in countries like Brazil, Mexico, South Africa, and the United Arab Emirates.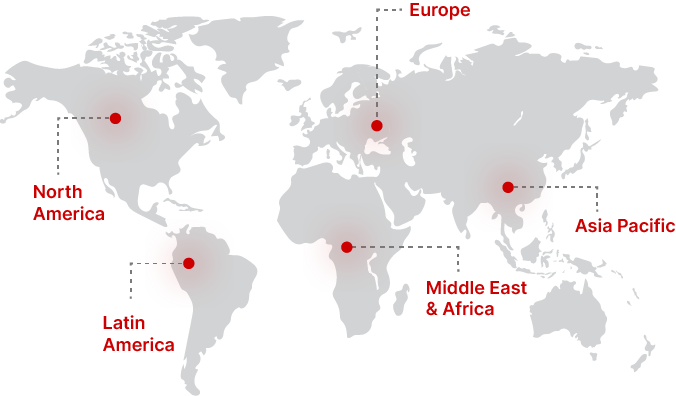 Regional Growth Insights
Download Free Sample
Key Players
Blum Inc
Hettich
Accuride
Hafele
GRASS
Taiming
Formenti & Giovenzana S.p(FGV)
Allegion
Spectrum Brands Holdings (HHI)
Salice
King Slide Works Co. Ltd
The J.G. Edelen
Yajie
Recent Developments
Focus on sustainability
The business sector is becoming more concerned about sustainability. To lessen their influence on the environment, manufacturers engage in eco-friendly practices including recycling materials and using energy-efficient production techniques.
Threaded Inserts Market Segmentations
Segmentation By Type
Segmentation By Application
Frequently Asked Questions